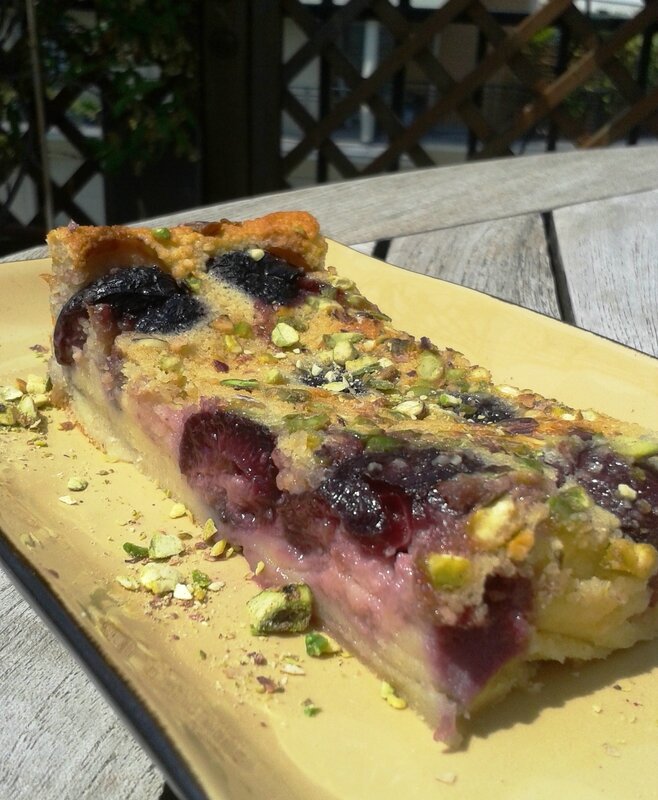 Le temps des cerises...Profitons-en rapidement car il est vraiment trop bref ! Passée l'épreuve du dénoyautage (oui, je sais qu'il y a débat à ce sujet et que les cerises entières seraient plus parfumées, mais personnellement, je préfère que ma famille/mes invités ne se cassent pas les dents sur des noyaux lol), le reste de la recette n'est qu'une formalité ! En terme de texture, on est assez proches du flan avec un goût lacté assez prononcé dû au beurre et à la bonne quantité de lait, mais la poudre d'amandes apporte aussi une certaine profondeur et bien sûr un parfum délicieux : amande/cerise, l'association a déjà fait ses preuves...En bref, un dessert estival vite fait, bien fait ! Je l'ai d'ailleurs aussi décliné aux abricots en utilisant la même base (voir photo en bas), c'est tout aussi bon !
Cherries...why is their season so short, it is quite frustrating ! So to make the best of these little red treasures, let's do an easy recipe, so easy that you can actually make it again and again until the end of the season. And the good news are that you can use the same batter with other fruits like peaches, apricots (see my picture below), raspberries, plums, the possibilities are endless. It tastes like a baked custard, with quite a strong milky flavour and a very smooth texture. The almond meal brings moistness and a rich nutty taste and we all know that it perfectly pairs with cherries. If you were looking for the perfect quick-and-easy summer dessert, you may have found it here !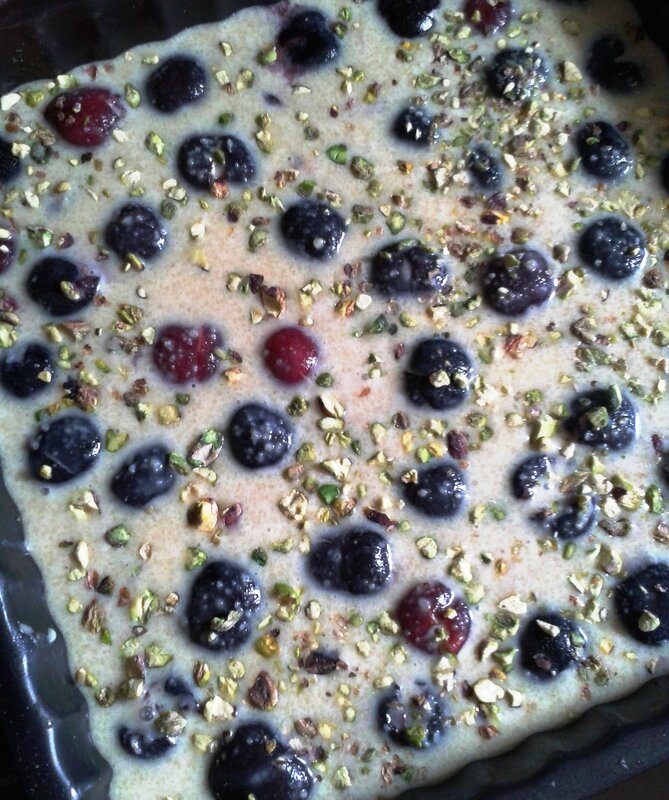 Ready for the oven/prêt à être enfourné
Clafoutis aux cerises et aux amandes
Inspiré du blog "le rond de serviette"
(Pour un plat carré de 25 x 25 cm soit pour 8 personnes)
350 à 400g de cerises, dénoyautées
70 gr de beurre demi-sel
125 gr de cassonnade
60 gr de poudre d'amande
100 gr de farine
4 oeufs
25 cl de lait
1 c. à café d'extrait de vanille
Des pistaches non salées concassées
Préchauffez le four à 180°C.

Dans un grand saladier, faites fondre le beurre au micro-ondes puissance 500W pendant 1 minute. Utilisez un peu de ce beurre fondu pour bien en badigeonner le moule.

Disposez harmonieusement les cerises dans le fond du moule beurré.

Dans le saladier du beurre fondu, ajoutez la cassonade et battez jusqu'à obtention d'un mélange homogène.

Ajouter la farine et la poudre d'amandes et bien mélanger. Petit à petit, versez le lait tout en mélangeant avec un fouet. Terminez par les oeufs (que vous aurez préalablement battus en omelette) et l'extrait de vanille.

Versez ce mélange sur les cerises, saupoudrez de pistaches concassées et enfournez pour 45 minutes. Le clafoutis doit être bien doré sur les côtés.

Sortez du four et laissez refroidir. Sevez chaud, tiède ou à température ambiante, selon votre goût.
Cherry and almond Clafoutis
Inspired by the french blog "rond de serviette"
(For a 10 x 10 x 2-inches square pan, makes 8 servings)
350 to 400 grams (12 to 14 oz) cherries, pitted
70 grams (1/4 cup) salted butter
125 grams (1/2 cup) brown sugar
60 grams ( 1/2 cup) almond meal
100 grams ( 1 cup) all purpose flour
25 cl ( 1 cup) milk
4 eggs
1 tsp vanilla extract
unsalted pistachios, coarsely crushed
Preheat oven to 180 ° C or 350°F.

In a large bowl, melt the butter in the microwave over 500W power for 1 minute. Use a little bit of this melted butter to grease the pan.

Arrange the cherries on a single layer at the bottom of the buttered pan.

In the bowl with melted butter, add brown sugar and beat.

Add flour and almond meal and mix well. The mixture is quite dry. Gradually pour in the milk while mixing with a whisk. Finish with eggs (that you will have previously beaten) and vanilla extract.

Pour this mixture over the cherries, sprinkle with chopped pistachios on top and bake for 45 minutes. The sides of the clafoutis should be golden brown.

Remove from the oven and let cool. Seve hot, warm or at room temperature, as you prefer.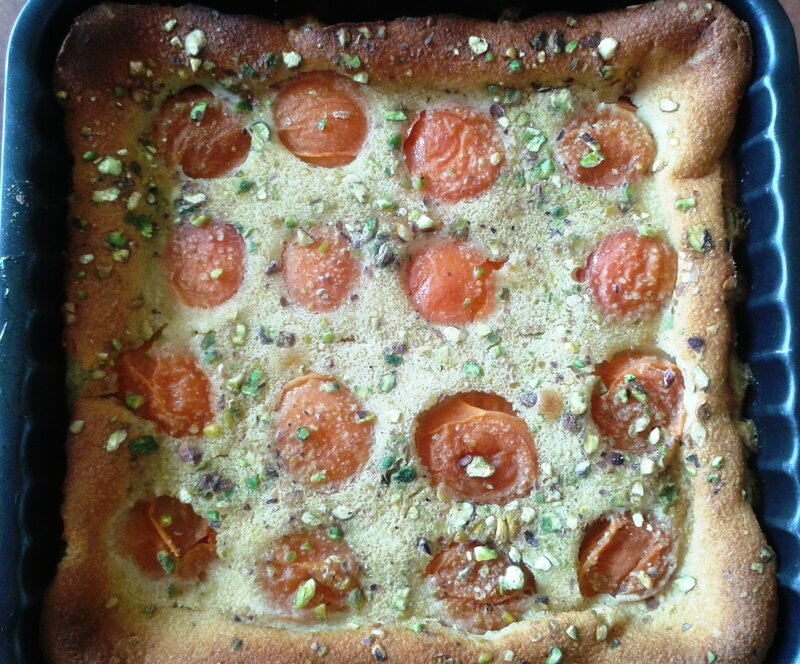 Apricot clafoutis, using the same batter.