18 décembre 2013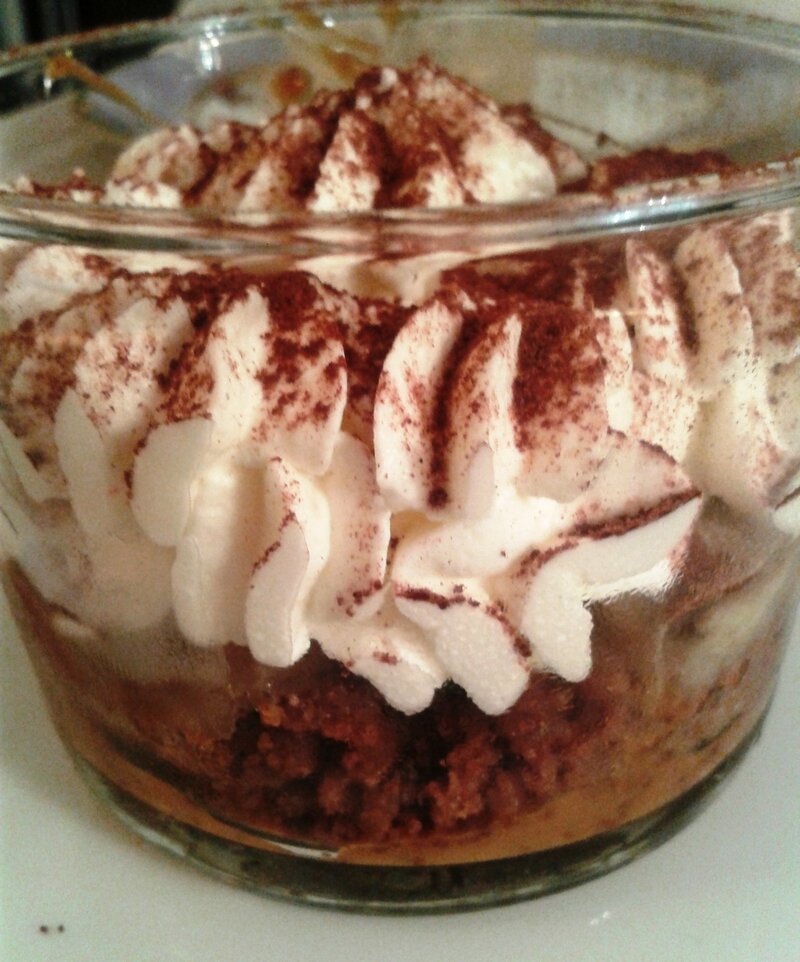 Vous vous demandez probablement ce qu'est un "banoffe" ? J'avoue n'avoir pas trop su non plus ce que c'était jusqu'à ce que je goûte une "banoffee pie" dans un nouveau restau de burger "tendance", il y a une dizaine de jours : ce dessert se présentait sous forme de tarte avec un fond de biscuit proche de celui d'un cheesecake, des bananes cuites, du caramel et une couche de chantilly parsemée de chocolat en poudre. C'était dé-li-cieux ! Lorsque, dernièrement, j'ai eu à régaler 13 personnes dans une période très chargée professionnellement, je savais que je n'aurais pas le temps de me lancer dans de la pâtisserie sophistiquée et j'ai donc décidé de la jouer en mode "cool". En reprenant les éléments de la banoffee qui hantait mes nuits (!), je me suis dit que cela serait un peu plus original et plus festif de la destructurer et de la présenter dans des verrines. Voici le résultat ! En terme de goût, cela a dépassé mes attentes. J'ai mis du caramel de lait pour la gourmandise et ai choisi une crème à monter à base de mascarpone de la marque elle&vire. Elle est très facile à monter, sans devoir la mettre au congélo au préalable pour bien la refroidir, et elle présente une texture plus dense et un goût plus intéressant que la crème liquide classique. Vous la trouverez facilement en rayon frais. Je précise que ce billet n'est absolument pas sponsorisé par cette marque : lorsque je "rencontre" des produits intéressants, j'en parle de façon totalement désintéressée et là, il y a un vrai "plus" produit. Pour en revenir à ce dessert de manière plus globale, en préparer 13 m'a pris une demi-heure tout compris, de la cuisson des bananes au montage des verrines ! Parfait pour les fêtes, je vous dis ! Et pour alimenter les conversations à table, sachez que le mot "banoffee" vient de la contraction de "banana" et de "toffee" (caramel) ! Joyeux Noël !
You probably know what a "banoffe" is (in case you don't, it is an english dessert made with banana, toffee and whipped cream). It is something we are not accustomed to eat, here in France. I tasted it for the very first time a couple of weeks ago in a new trendy burger restaurant in Paris. Their banoffee pie was to die-for ! When I had to treat 13 people in the middle of a very busy week, I knew I could not get into a sophisticated or time-consuming menu. I made a buffet of several savory snacks, followed by 2 roasted chicken with clementines and fennel (a recipe by Ottolenghi, soon on my blog) and for dessert, the banoffee pie came to my mind. But as I wanted something festive, I chose to put the ingredients in a jar/glass. In terms of taste, it exceeded my expectations. I made a mascarpone-based whipped cream : the taste is scrumptious and the texture is thicker than a regular whipped cream. We are lucky enough to find a mascarpone based heavy cream in France but if you don't have it in your country, feel free to whip together half heavy liquid cream and half sweet mascarpone cheese. It took me less than half an hour to make this dessert for 13 people : 10 minutes for cooking the bananas in a pan and the crust in the oven, 10 for whipping the cream and another 10 for assembling the glasses (of course I do not count the rest period in the fridge). Happy Holiday Season !
Banoffee destructuré, à ma façon
Pour une douzaine de personnes (format verres à tapas comme sur la photo)
Pour la base en speculoos :
250g de speculoos (Bastogne pour moi)

100g de beurre fondu (doux ou demi-sel selon vos goûts)
Pour la banane :
10 bananes mûres de taille moyenne

2 CàS de cassonade
Pour la confiture de lait :
120g de confiture de lait de qualité ou maison
Pour la crème montée :
45 cl (450g) de crème liquide entière ou crème fluide au mascarpone à fouetter de Elle&Vire (bien meilleure)

90g de sucre en poudre
Décoration :
Chocolat amer en poudre (type Van Houten)
Préparez les biscuits : Mixez-les grossièrement. Versez dans un bol, puis ajoutez le beurre fondu. Mélangez. Prenez un moule à tarte et étalez la pâte au fond du moule. Faites cuire 10 minutes au four (180°C), laissez refroidir puis mettez au frais.
Pelez les bananes et coupez-les en rondelles. Faites cuire à feu doux dans une casserole avec la cassonade. Dès que les bananes sont compotées, retirez du feu et laissez refroidir.
Préparez la confiture de lait si vous la faites vous-même.
Montez la crème en chantilly en ajoutant le sucre au fur et à mesure. Goûtez régulièrement pour arrêter de sucrer lorsque cela vous convient. Dès que la crème est bien ferme, mettez-la au frais.
Une heure avant de servir, montez les verrines : commencez par remélanger grossièrement les biscuits qui étaient au frais. Répartissez-les entre les 12 verrines. Recouvrez avec les bananes cuites. Mettez ensuite 2 cuillères à café de confiture de lait par verrine, par-dessus les bananes. Ne choisissez pas des verres de trop grande contenance, ce dessert est très riche.
Disposez la crème montée dans une poche avec douille cannelée et recouvrez joliment chaque verrine en formant des petits pics. Mettez au frais les verrines jusqu'au service.
Juste avant de servir, saupoudrez de chocolat amer en poudre à l'aide d'une passoire fine (comme pour un tiramisu).
Banoffee in a jar/glass, my way
For a dozen people
For the crust :
250g (9 oz) speculaas or digestive biscuits

100g melted butter ( regular or salted, depending on your personal taste)
For the bananas:
10 medium-sized ripe bananas
For the dulce de leche or caramel spread :
120g (4 1/2 cups) store-bought or home-made dulce de leche or caramel spread
For the whipped cream :
45 cl (2 cups) heavy cream or mascarpone heavy cream (or half heavy whipping cream and half sweet mascarpone cheese)
For the decoration :
Prepare biscuits: Crush them roughly and put in a large bowl. Add melted butter and mix. Spread the mixture in the bottom of a pie pan, bake for 10 minutes (180°C/350°F), let cool and refrigerate.
Peel the bananas and cut them into slices. Cook over low heat in a saucepan together with the brown sugar . When bananas are cooked , remove from the heat and let cool.
Prepare the dulce de leche if you make it yourself .
Whip the cream , adding the sugar little by little. Taste regularly. Once the cream forms peaks and the taste is OK for you (enough sugar), refrigerate.
An hour before serving , assemble the glasses : Cover the bottom of each glass with the crushed biscuits. Arrange cooked bananas on top (about 1 tbsp), then 2 teaspoons dulce de leche. Place the whipped cream in a pastry bag assembled with a fluted tip. Squeeze to form cute little peaks of whipped cream (see picture). Repeat with all glasses/jars. Refrigerate.
Just before serving , sprinkle each glass with some chocolate powder, using a sieve (like in a tiramisu ).
26 mars 2009
Ravioli au Nutella, Menthe Fraîche
Nutella Ravioli, Fresh Mint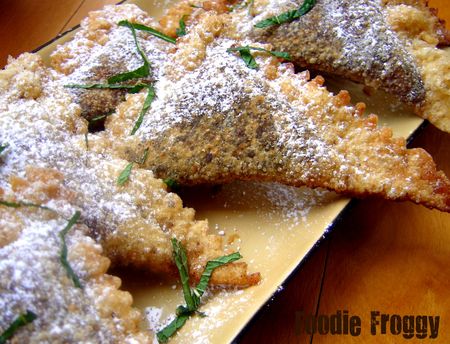 I apologize for my way-too-long absence here. A lack of free time combined with a surprisingly tiring throat infection kept me away from my baby blog for almost two weeks. In other words, an eternity. I can't believe how time flies.No cooking neither apart from next Daring Bakers Challenge and this very simple recipe from Giada de Laurentiis, totally unknown here in France but a superstar in the States.No need to make your own pasta dough, use wonton wrappers (available in asian grocery shops), fill them with nutella, fry them and...voilà ! A no-stress recipe but with a "wow" effect guaranteed : what else can one ask for ? May I suggest that you serve them with a fresh fruit salad ? Awesome !
Une absence longue, bien trop longue, j'en ai conscience. Gestion du temps approximative + angine carabinée m'ont tenue éloignée de ce blog pendant presque 2 semaines. Autant dire une éternité. Pas de cuisine non plus, sauf pour le prochain Daring Bakers Challenge dévoilé samedi prochain. Bon, bref, me voici, je suis là et bien là. Je vous propose un retour en douceur avec ces ravioli sucrés, pour changer. D'une simplicité enfantine, pas de pâte à faire, il suffit d'utiliser des feuilles de wontons asiatiques. Quant à Giada (De Laurentiis), vous vous demandez peut-être de qui il s'agit : c'est une Chef Américaine d'origine Italienne aussi jolie que talentueuse et qui a toujours le chic pour trouver des recettes faciles, sans stress mais néanmoins avec effet "wouah" garanti. Que demande le peuple ? Je vous suggère de servir ces ravioli accompagnés d'une salade de fruits frais ou de lamelles de mangues fondantes. Comme disent les américains : "awesome" !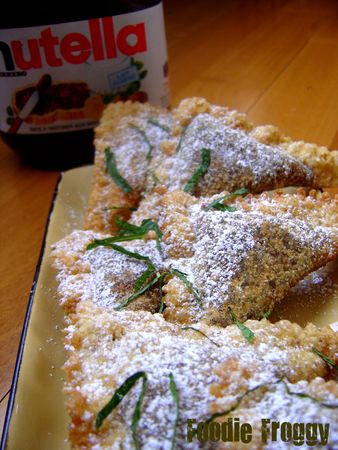 Giada's Nutella Ravioli
4 servings
16 wonton wrappers
1 egg, beaten to blend
1 cup chocolate-hazelnut spread (recommended: Nutella)
Vegetable oil, for frying
16 fresh mint leaves, thinly chopped
Powdered sugar, for dusting
Line a baking sheet with plastic wrap. Place 1 wonton wrapper on the work surface. Brush the edges of the wrapper lightly with egg. Spoon 1 tablespoon of chocolate-hazelnut spread into the center of the wrapper. Fold the wrapper diagonally in half over the filling and press the edges of the wrapper to seal. Place the ravioli on the prepared baking sheet. Repeat with the remaining wonton wrappers, egg, and chocolate-hazelnut spread.
Preheat the oven to 200 degrees F. Add enough oil to a heavy large frying pan to reach a depth of 2 inches. Heat the oil over medium heat to 350 degrees F.
Working in batches, carefully add the ravioli to the hot oil and cook until they are golden brown, about 45 seconds per side. Using a slotted spoon, transfer the ravioli to a plate lined with paper towels to drain. Then, transfer the cooked ravioli to another baking sheet and keep them warm in the oven while frying the remaining ravioli. (The fried ravioli can be prepared 1 day ahead. Cool them completely, then cover and refrigerate. Before serving, place them on a baking sheet and rewarm in a preheated 375 degrees F oven just until they are heated through, about 7 minutes.)
Arrange 4 fried ravioli on each plate. Dust the ravioli with powdered sugar, garnish with mint leaves and serve.
Les Ravioli au Nutella de Giada
4 personnes
16 feuilles de ravioli chinois (wonton)
1 oeuf, battu
300g de Nutella
Huile végétale pour friture
16 feuilles de menthe fraiche
Sucre glace pour la déco
Couvrir une plaque à pâtisserie de film plastique.
Placer 1 feuille de wonton sur le plan de travail. Badigeonner les bords avec l'oeuf battu et mettre une cuiller de Nutella au centre de la feuille. Replier la feuille sur elle-même en diagonale et appuyer sur les bords pour bien les faire adhérer l'un à l'autre. Placer ce ravioli sur la plaque recouverte de film plastique et recommencer l'opération avec les autres feuilles de wonton.
Préchauffer le four à 100°C. Verser de l'huile végétale dans une poêle à frire ou un wok jusqu'à 4 ou 5 cm de hauteur. Chauffer l'huile.
Travailler par lot de 4 ravioli : mettre les 4 ravioli dans l'huile chaude avec précaution, laisser jusqu'à ce qu'il soient bien dorés, puis les retirer à l'aide d'une écumoire et les poser sur du papier absorbant. Puis, les transférer vers une plaque recouverte de papier cuisson et mettre au four pour maintenir au chaud au fur et à mesure que vous faites frire les autres ravioli.
Sur chaque assiette, présenter 4 ravioli saupoudrés de sucre glace et la menthe fraiche ciselée.Servir immédiatement ou si vous les préparez à l'avance, les réchauffer 5 minutes dans un four à 180°C.
10 mars 2009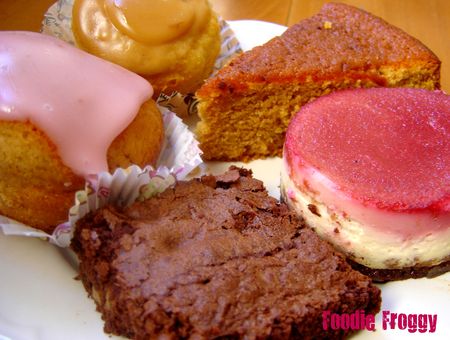 A laid-back sunday afternoon with friends...Add to this a common love for the USA, and you will obtain an american tea-party ! Yes, far, very far from the sophisticated British High Tea, but so less stuffy and so more convivial .Very convenient for both adults and kids.
A great occasion for me to share Christophe Felder (a renowned Pastry Chef in France) 's Brownie recipe. What makes his brownie special is that he adds a scrumptious ganache on top. But as I had many kids at home that afternoon, I chose to make it ganache-free, the cake would have been too "dark-chocolatey" for their taste. But, really, feel free to follow his recipe, I am sure it must be to die for.
On the photographed plate : a slice of caramel cake, a brownie square, a pear muffin with coffee icing, a raspberry muffin with girly icing and a mini raspberry cheesecake.
My recipes :
Caramel Cake : click here
Pear Muffins : click here
Raspberry Muffins : click here
Raspberry Cheesecake : click here
Petite après-midi détendue entre amis. Ajoutez à cela une petite envie d'Amérique, et voilà ce que cela donne : une tea-party made in USA. Ah, ça, c'est sûr qu'on était très loin du High Tea typiquement British, mais c'était tellement moins guindé et tellement plus convivial !! Adultes et enfants y ont trouvé leur bonheur.
J'en profite pour partager avec vous la fameuse recette de Brownie de Christophe Felder (un pâtissier renommé, pour ceux qui découvrent ce nom). A noter que lui, rajoute une ganache par-dessus, mais la présence de nombreux enfants m'a retenue, le brownie aurait été trop trop "chocolat noir" à leur goût.
Sur la photo, une part de Caramel Cake, de Brownie, un muffin aux poires/glaçage café, un muffin aux framboises/glaçage girly et un petit cheesecake au coulis de framboises.Enjoy !
Mes recettes :
Caramel Cake : cliquez ici
Muffins poires : cliquez ici
Muffins framboises : cliquez ici
Cheesecake coulis de framboises : cliquez ici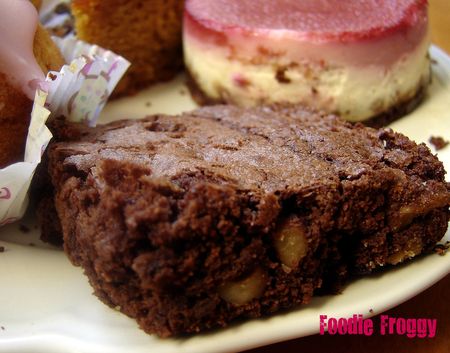 Christophe Felder's Brownie
3.2 oz dark chocolate (70% cocoa)
3/4 cup unsalted butter
3 egg yolks
3 egg whites
1/2 cup brown sugar, packed
1/2 cup granulated sugar
1/4 cup all purpose flour
2 tbsp cocoa powder (unsweetened)
2/3 cup walnuts, coarsely chopped
Ganache (optional, but certainly delicious)
5.2 oz dark chocolate (70% cocoa)
5 fl oz liquid whipping cream
1 tsp unsalted butter, softened
Preheat oven 350°F.
Line a rectangular pan (8-in x 11-in x 2 in, or approaching )with parchment paper.
Sift flour and cocoa powder. Whipp egg whites until not too stiff.
Melt chocolate and butter in the micro-wave two minutes over medium poer (500W). Mix. Stir in egg yolks, brown and granulated sugars. Mix again.
Add flour and cocoa, chopped walnuts and egg whites. Mix carefully and pour the batter into the prepared pan.
Bake for 20 to 25 minutes.
For the ganache :
Coarsely chop chocolate and arrange in a mixing bowl. Heat liquid whipping cream in a sauce pan and bring to a boil. Pour heated cream over chocolate in the mixing bowl in 3 steps, mixing carefully between ech step.
Spread ganache over cooled brownie. Let sit in the fridge for at least 15 minutes.
Using a sieve, coat brownie with cocoa powder, then cut into squares and serve.
Le Brownie de Christophe Felder
90g de chocolat à 70% de cacao
170g de beurre
3 jaunes d'oeufs
3 blancs d'oeufs
115g de cassonade
115g de sucre semoule
40g de farine
10g de cacao amer en poudre
75g de cerneaux de noix hachés
Ganache (facultative, mais certainement délicieuse)
150g de chocolat à 70%
15cl de crème liquide
1 cc de beurre, pommade
Préchauffer le four à 180°C.Chemiser un plat rectangulaire de 20x30cm de papier sulfurisé.
Tamiser la farine avec le cacao.Monter les blancs en neige souple.
Faire fondre le chocolat et le beurre. Pour moi, micro-onde puissance moyenne (500W) pendant 2 minutes. Mélanger.Incorporer les jaunes d'oeufs, la cassonade et le sucre.Mélanger de nouveau.
Incorporer la farine tamisée avec le cacao, les noix hachées et les blancs d'oeufs montés.Mélanger délicatement et verser dans le moule préparé.
Enfourner de 20 à 25 minutes.
Pour la ganache : Hacher le chocolat et le mettre dans un saladier résistant à la chaleur. Dans une casserole, faire bouillir la crème liquide et la verser sur le chocolat en trois fois. Mélanger.Etaler sur le brownie et laisser prendre au frigo pendant 15 minutes.
Servir coupé en carrés et saupoudré d'une fine couche de cacao à l'aide d'une passoire fine.
28 février 2009
White&Black Chocolate Cake, no-ice-cream-maker Mascarpone Ice-cream, Easy Caramel Syrup
Gâteau au Chocolat Black&White, Glace Mascarpone sans sorbetière, Sirop de Caramel facile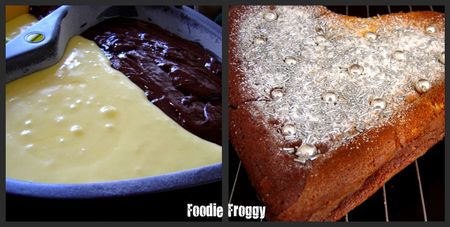 An easy challenge this month, but with a touch of technique skills though for we were asked to make our own ice-cream and topping to accompany this wonderfully melting-in-the-mouth flourless chocolate cake. Everything went great since I had already made a mascarpone ice-cream (with no ice-cream maker necessary !) some months ago (click here) as well as a caramel syrup this month for the infamous NOLA's burnt sugar Cake. Both of them are extremely easy, do not hesitate to read the recipes carefully, you will be amazed when you see how simple to make they are.Please also have a look at the other wonderful Daring Bakers chocolatey Challenges, the blogroll is here.

Un challenge d'apparence facile ce mois-ci, avec une petite pointe de difficulté tout de même puisqu'il nous a été demandé de faire nous-même la glace ainsi que le coulis accompagnant ce merveilleux gâteau au chocolat sans farine. Mission accomplie en fouillant dans mes archives : j'ai retrouvé ma recette de glace au mascarpone super-facile (et sans sorbetière) ainsi que le sirop de caramel du fameux NOLA's burnt sugar cake. "Finger in the nose", tout ceci s'accordait très bien. N'hésitez pas à aller visiter les autres "Daring Bakeuses" et leurs créations chocolatées : cliquez ici pour la liste des participantes.

The February 2009 challenge is hosted by Wendy of WMPE's blog and Dharm of Dad ~ Baker & Chef.
We have chosen a Chocolate Valentino cake by Chef Wan; a Vanilla Ice Cream recipe from Dharm and a Vanilla Ice Cream recipe from Wendy as the challenge.
Flourless Chocolate Valentino
Preparation Time: 20 minutes
You need a 8 inch pan (heart-shaped or not)
8 ounces of semisweet chocolate, roughly chopped
8 ounces white chocolate, roughly chopped
½ cup (1 stick) plus 2 tablespoons of unsalted butter
5 large eggs separated
Mascarpone ice-cream (a day ahead):
14 oz unsalted mascarpone cream
7 oz confectionner's sugar
4 egg yolks
3 tbsp cherry syrup (optional)
Caramel Syrup :
2/3 cup (5 oz) sugar
2/3 cup (5 fl oz) boiling water

A day ahead, make mascarpone ice-cream :
Beat egg yolks with sugar until pale yellow and frothy. Add mascarpone and cherry syrup and continue beating until smooth. Pour in a plastic container, cover and put in the freezer overnight.
Make caramel syrup :
Cook the sugar in a heavy saucepan over medium heat.When it begins to liquefy, whisk until dissolved and dark brown. Then add the boiling water (be careful of spatters), whisk until blended then boil without stirring until reduced to 1/2 cup. Pour in a heat-proof glass measuring pitcher and set aside to cool.
Make the Cake :
Preheat oven 375°F.
Put semi-sweet chocolate and half the butter in a heatproof bowl and set over a pan of simmering water (the bottom of the bowl should not touch the water) and melt, stirring often.Do the same with white chocolate and the remaining half of the butter. While your chocolate butter mixture is cooling, butter your pan and line with a parchment circle then butter the parchment.
Separate the egg yolks from the egg whites and put into two medium/large bowls.
Whip the egg whites in a medium/large grease free bowl until stiff peaks are formed (do not over-whip or the cake will be dry).
With the same beater beat the egg yolks together.
Divide the egg yolks by half to each cooled chocolate (semi-sweet and white).
Divide the egg whites by half into the chocolate mixtures and fold until no white remains without deflating the batter.
Pour both batters simultaneously into prepared pan, side by side, like in my picture. The batters should fill the pan 3/4 of the way full, and bake at 375F/190C
Bake for 25 minutes until an instant read thermometer reads 140F/60C.
Note – If you do not have an instant read thermometer, the top of the cake will look similar to a brownie and a cake tester will appear wet.
Cool cake on a rack for 10 minutes then unmold.Cut into slices and serve with mascarpone ice-cream and caramel syrup.

Gâteau au Chocolat Valentino sans farine
Temps de Préparation : 20 minutes
Matériel : moule à cake (en cœur ou non d'environ 20 cm de diamètre)
225g de chocolat noir ou au lait, grossièrement haché
225g de chocolat blanc, grossièrement haché
150g de beurre doux
5 gros œufs, blancs et jaunes séparés
Glace maison au Mascarpone (à faire la veille):
400g de mascarpone
200g de sucre glace
4 jaunes d'œufs
3 CS de sirop de cerise (facultatif)
Sirop de Caramel
150g sucre
16cl d'eau bouillante

La veille, faites la glace :
Battre les jaunes d'œufs avec le sucre glace jusqu'à obtenir un mélange mousseux et jaune pâle. Ajouter le mascarpone et le sirop de cerise et continuer à battre. Verser dans un bac en plastique, fermer et mettre au congélateur.
Faites le sirop de caramel :
Faites cuire le sucre dans une casserole à fond épais, sur feu moyen. Quand le sucre commence à fondre, remuez jusqu'à coloration brune. Ajoutez alors l'eau bouillante en faisant attention aux éventuelles éclaboussures. Mélangez et faites bouillir jusqu'à réduction d'environ un tiers. Versez dans un verre gradué résistant à la chaleur, vous devriez avoir environ 12cl de sirop.
Faites le gâteau Black&White :
Préchauffez le four à 190°C.
Mettez le chocolat foncé de votre choix et la moitié du beurre dans un saladier et faites fondre au micro-onde 1 à 2 minutes sur puissance moyenne (500W). Faites de même avec le chocolat blanc et l'autre moitié du beurre. Mélangez bien chaque saladier afin d'avoir des textures homogènes.Laissez refroidir et profitez de ce temps pour beurrer et fariner un moule à gâteau en forme de cœur.
Séparez les œufs dans des saladiers distincts. Montez les blancs en neige avec une pincée de sel.Battez les jaunes dans leur saladier.
Répartissez les jaunes en faisant couler une moitié dans chaque chocolat fondu.Mélangez.
Répartissez les blancs en faisant couler une moitié dans chaque mélange précédent (chocolat +jaunes).Mélangez délicatement en soulevant la préparation avec une spatule en caoutchouc.
Versez simultanément les deux mélanges (foncé et clair) dans le moule préparé, côte à côte (voir photo). Votre moule devrait être rempli au 3/4.
Enfournez dans le four préchauffé. Faites cuire environ 25 minutes (testez avec le pointe d'un couteau, qui doit ressortir sèche).
Sortez du four, laissez refroidir le moule sur une grille puis démoulez.
Coupez des parts, servez avec la glace et le sirop de caramel.
07 décembre 2008
As you probably know, I am far away in a warm and exotic country. Nevertheless, I am not abandoning you : I am aware that many among you are already panicking about the preparation of the holidays meals. This is why I am leaving you with last year's yule log. I can assure you that it is less complicated than it looks. See you soon, I'll be back on december 12th. Click on the picture to read the recipe.
Comme vous le savez, je suis loin, très loin, dans un pays chaud et exotique. Cependant, je ne vous oublie pas, je suis consciente que nombre d'entre-vous stressent déjà au sujet des repas des fêtes de fin d'année. Ma bûche est celle de l'an dernier, mais elle est quand même jolie, non ? Et je vous assure que c'est beaucoup moins compliqué que ça n'en a l'air ! A bientôt ! Je serai de retour le 12 décembre. Cliquez sur la photo pour accéder à la recette.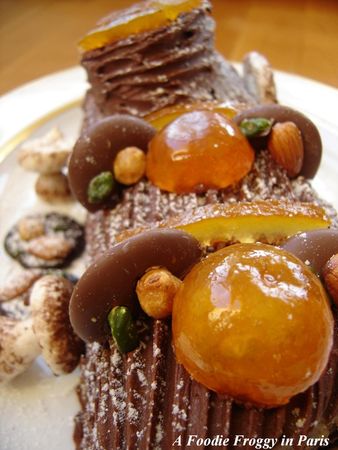 24 novembre 2008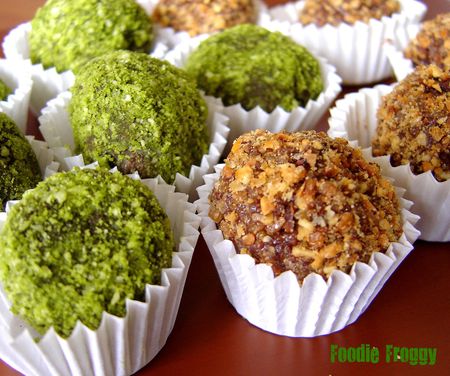 No need to tell you whose restaurant is "Spring" in Paris : Daniel Rose is one of the most popular Chefs in Paris and he is american (more precisely from Chicago) ! I have told you in this blog all about the wonderful meal I had there and the very laid-back, though intensive, cooking class I took last year. He is also the superstar of the culinary press both in France and in the States and I found his chocolate truffles recipe in last december's issue of "Elle à Table". Quite simple : make an english custard, melt chopped chocolate in the warm custard and refrigerate. As you will find yourself with 5 non-used egg whites, may I suggest that you also make these very easy meringues ?

On ne présente plus Daniel Rose, le Chef américain le plus populaire de Paris. Je vous ai parlé de mon excellent dîner chez lui ici ainsi que son cours de cuisine très détendu mais néanmoins intensif (ici). Il a eu les honneurs de nombreux magazines culinaires à la fois français et américains, et cette recette figurait dans le "Elle à Table spécial fêtes" de l'an dernier. Il s'agit simplement de faire une crème anglaise infusée à l'épice de son choix, de recouvrir le chocolat avec la crème chaude pour le faire fondre, puis de mélanger et mettre au frais.Comme il vous restera 5 blancs d'œufs non utilisés, enrichissez votre "offre gourmande" avec des meringues maison, instructions ici.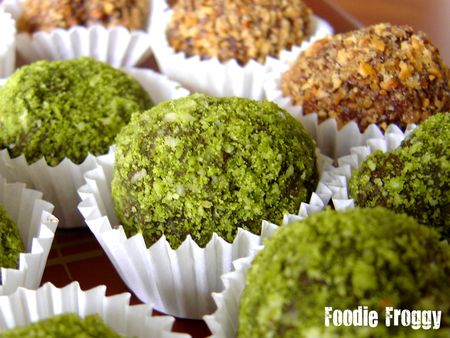 "A la Spring" Spiced Truffles
Source : "Elle à Table" december 2007
Makes 12 truffles
250g dark chocolate (70% cocoa)
5 egg yolks
2 tbsp granulated sugar
20cl milk
spices of your choice : cinnamon stick, star anise, cardamom,...
For the decoration : cocoa powder or toasted almond slices, pistachio powder, green tea powder, golden edible powder, and so on...

Chop chocolate, using a large sharp knife. Arrange in a large heatproof mixing bowl.
Brink milk to a boil in a sauce pan. Infuse with spice for 5 minutes and remove spice.
Whisk egg yolks and sugar in a large (heatproof) mixing bowl. Pour a third of the hot milk on the yolks and whisk vigorously. Pour this mixture back in the milk saucepan over low heat.Stir continuously without ever bringing it to a boil. Continue whisking until the custard is thick and smooth, which will happen as soon as it reaches simmering point.
Pour this custard cream on the chopped chocolate and whisk until chocolate is melted. Let cool at room temperature then refrigerate for at least 3 hours.
to make the truffles, take heaped half teaspoons of the truffle mixture and roll each piece into a ball. Then roll them in the powder of your choice. For me, green tea mixed with hazelnut powder and praline powder. Place them immediately into paper cases. Obviously the less handling the better as the warmth of your hands melts the chocolate.

Truffes épicées à la Spring
Source : Elle à Table décembre 2007
Pour 12 truffes
250g de chocolat noir 70% de cacao
5 jaunes d'œufs
2 CS de sucre
20cl de lait
épices au choix : cannelle, anis, cardamome,...
cacao amer, amandes grillées, poudre de pistache, poudre de thé vert, poudre dorée comestible,copeaux de chocolat blanc,poudre de zestes d'agrumes séchés...

Hachez le chocolat à l'aide d'un gros couteau.
Portez le lait à ébullition. Infusez avec l'épice de votre choix (pour moi, anis étoilée). Fouettez ensemble les jaunes d'œufs et le sucre. Versez une partie du lait bouillant sur ce mélange en fouettant vivement. Versez ce mélange dans la casserole de lait et mélangez sans cesse à feu doux sans jamais laisser bouillir, jusqu'à ce que la crème nappe la cuillère.
Versez la crème sur le chocolat haché et mélangez jusqu'à ce que le chocolat soit fondu. Laissez refroidir puis réfrigérez au moins 3 heures.
Formez les boules en roulant entre les paumes de vos mains.
Roulez les boules de chocolat dans les poudres de votre choix ( amandes, pistaches, thé vert). Pour moi : thé vert mélangé avec poudre de noisettes, et pralin.
This recipe is submitted to "Eat Christmas Cookies" event hosted by FoodBlogga.
See other bloggers entries here.

21 novembre 2008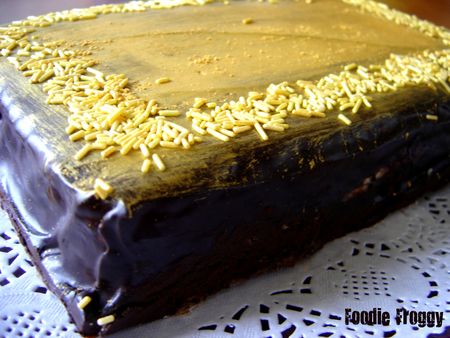 Help ! My kitchen is a disaster, everything gets broken, one thing after the other ! Mixing valve tap : broken, dishwasher : leaking, sink : blocked, oven : not working properly. Making a cake in these post-war-like conditions ? No panic ! I have a recipe of a super-moist no-bake chocolate cake.The basic principle is very easy : tea-biscuits (or digestive biscuits) soaked in coffee, arranged in layers, separated by a light buttercream, and the whole cake covered with chocolate ganache.It really tastes like an Opera cake, yes, I swear this is true.And you can make any shape you want : rectangle, square, round, flower,...I have found, in one of my favorite pastry supplies shops (Mora in Paris), a cute little box of edible gold powder. I had so much fun with it that I think you will see plenty of "bling-bling" recipes from now on...
This cake is submitted to next SHF event (created by the Domestic Goddess) about "all that glitters" hosted by Susan and "the ultimate chocolate cake" challenge from "not quite nigella" foodblog.
Au secours ! Une malédiction s'est abattue sur ma cuisine ! Tout s'est déglingué en même temps : le tuyau du mitigeur fuit, le lave-vaisselle aussi et l'évier est bouché...Quant à mon vieux four, il faiblit à vue d'œil...Faire un gâteau dans ces conditions ? Pas de panique, je ressors cette recette de gâteau au chocolat sans cuisson. Un classique : des biscuits bruns trempés dans le café tiède et empilés, séparés par des couches de crème au beurre légère et le tout recouvert d'un glaçage au chocolat. Le goût et la texture sont étonnamment proches de l'Opéra, si si je vous assure. Ce gâteau peut prendre la forme que vous voulez : rectangle, carré, rond, fleur, cœur,...et en 20 minutes chrono, il est terminé (sans compter la nuit de repos au frais) ! C'est pas beau, ça ? J'ai trouvé chez Mora de la poudre dorée comestible que l'on applique au pinceau et je me suis follement amusée avec ! Je crois que vous n'avez pas fini de voir du "bling bling" sur mon blog, et en plus avec les fêtes, cela tombe à pic...
Ce gâteau est soumis au prochain SHF organisé par mon amie Susan sur le thème "all that glitters" (tout ce qui brille), ainsi qu'au challenge "the ultimate chocolate cake" (le gâteau au chocolat suprême) du blog "not quite nigella".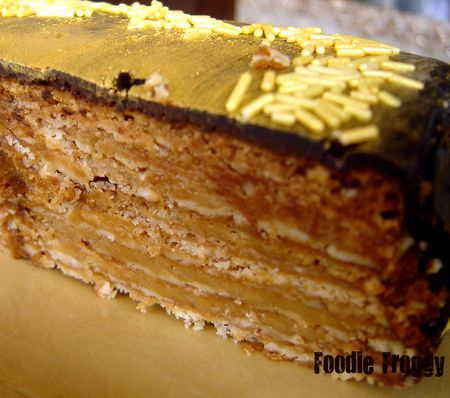 No bake "bling bling" Chocolate Cake
For a large rectangular birthday cake (serves 12) (2 biscuits width, 5 biscuits lenghth, 5 biscuits height)
To be made one day ahead of time
78 square tea biscuits
2 cups expresso coffee (tepid)
120g (4.2 oz) granulated sugar
120g (4.2 oz) unsalted butter, at room temperature, until "soft"
4 eggs, at room temperature
200g (7 oz) dark chocolate (mine is baking chocolate from Lindt)
25cl (1 cup) liquid whipping cream
1 tbsp grand marnier (optional)

In a mixing bowl, mix egg yolks and sugar until pale yellow. Then add "soft" butter.
Mix well, using a whisk (or an electric mixer if you find it easier).
Whip the egg whites until stiff. Combine them carefully with the "buttery" mixture until smooth.
Line a loaf cake mold with film paper.
Pour the coffee in a soup plate (1 cup first, and when empty, the second cup).
Add grand marnier in the coffee plate if desired. Soak 10 teabiscuits in the coffee,one by one, and place them side by side, in a single layer, making a rectangular shape (2 biscuits * 5 biscuits).Beware, if the coffee is hot, the biscuits will collapse.
Cover with a fourth of the cream mixture. Repeat with the other biscuits 4 times (4 more layers of 10 bicuits each, each covered with a 1/4 of the mixture, but the 5th layer (the top layer) must not be covered with cream.
Refrigerate overnight.
The day after (at least 3 hours in advance), remove from the fridge and unmold the cake by inverting the mold on a pastry sheet lined with parchment paper.
Heat liquid cream in a sauce pan. When simmering, add chopped chocolate.Mix (out of the heat), until smooth.
Cover the cake (top and sides) with the melted chocolate cream. Do not worry if the chocolate spreads everywhere in the plate : after a few hours in the fridge, the chocolate will be more "solid" and you will be able to cut the sides properly.
Let stand one hour at room temperature then in the fridge for at least 3 hours.
Decorate with golden edible powder, using a pastry brush.Add golden edible glitters if you like. To serve, cut into slices just like a loaf cake.
Gâteau au Chocolat "bling-bling" sans cuisson
Pour un grand gâteau (2 biscuits de largeur x 5 de longueur, 5 couches), 12 personnes :
78 Petits Brun Extra (paquet bleu et argent, ce sont les meilleurs)
2 grosses tasses de café fort à peine tiède
120g de sucre en poudre
120g de beurre « pommade »
4 œufs à température ambiante
200g de chocolat noir amer
25cl de crème liquide
1 CS de grand-marnier (facultatif)

Séparer les blancs des jaunes d'œufs. Dans un saladier, mélanger les jaunes d'œufs et le sucre jusqu'à ce que le mélange blanchisse. Ajoutez alors le beurre pommade.
Bien mélanger avec un fouet ou un batteur électrique.
Montez les blancs en neige ferme.Mélanger les blancs à l'appareil précédent, avec précaution.
Tapissez un moule à cake de papier film.
Versez la moitié du café tiède dans une assiette creuse. Ajoutez le grand-marnier si vous le souhaitez.
Trempez 10 petits bruns très rapidement dans le café, un par un, et disposez-les à plat dans fond du moule, côte à côte (2 en largeur x 5 en longueur).
Recouvrez cette première couche de biscuits d'un quart du mélange œufs/beurre.
Recommencez l'opération pour les 4 couches suivantes.Disposez une 5ème couche de biscuits trempés, mais ne les recouvrez pas de crème.
Mettez au frais pour la nuit.
Le lendemain (au moins 4 heures à l'avance), faites chauffer la crème liquide dans une casserole. Quand cela frémit, ajoutez le chocolat en morceaux. Mélangez bien, hors du feu, afin d'obtenir un mélange lisse.
Démoulez le cake sur une plaque à pâtisserie recouverte de papier sulfurisé. Recouvrez le gâteau de chocolat fondu (le dessus et les côtés).Ne vous inquiétez pas si le chocolat se disperse dans le plat.
Laissez à température ambiante pendant une heure puis au moins trois heures au frais.
Pour servir, transférez le gâteau bien froid sur un plat de service.
Décorez selon votre fantaisie (ici de la poudre dorée alimentaire appliquée au pinceau à pâtisserie, et quelques paillettes dorées comestibles). Ce gâteau se coupe en tranches, comme un cake.

04 novembre 2008
Chestnut and Hazelnut Fondant Cake,Chocolate Glaze. Moelleux Marrons et Noisettes, Glaçage Chocolat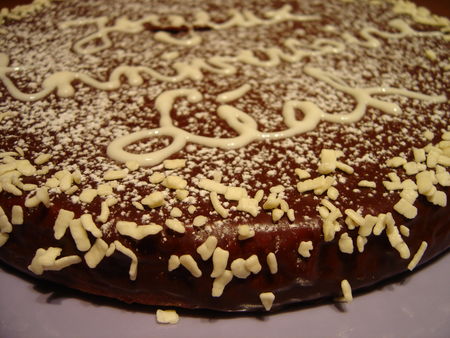 Three days away from home...and the day I was back, it was my elder daughter's birthday (she turned 12). A quick inspection of my fridge : empty ! a true Siberian desert ! Apart from 5 eggs and half a stick of butter. What about my pantry ? Not a lot to declare, I am afraid...Oh yes, some milk chocolate, hazelnut powder and ...chestnut spread (yoohoo). Now, let's go for a totale improvisation in trying to make something festive. The result : a chesnut and hazelnut cake, glazed with chocolate. What else ? Very little flour for a fudgy texture.Yummy, easy to make, and totally in season...Perfect for "ber" months birthdays (september through december).

Trois jours passés loin de la maison...Le jour du retour était celui de l'anniversaire de ma grande (12 ans)...Rapide coup d'œil dans le frigo : le désert de Sibérie. Enfin, quelques œufs et une demie-plaquette de beurre quand même...Dans le placard, rien...Ah si ! de la crème de marrons et du chocolat au lait. Et de la poudre de noisettes ! Bon, ben, on va improviser un gâteau festif avec tout ça. M'en suis pas trop mal sortie, ma foi : une base fondante marrons/noisettes et un glaçage chocolaté. Pratiquement pas de farine, ce qui donne un côté moelleux très sympathique. Miam ! Délicieux et ultra rapide, idéal pour les anniversaires des mois en "bre" (septembre à décembre).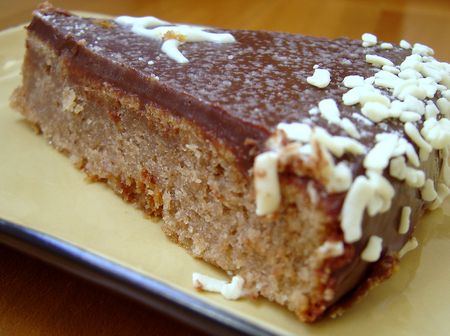 Chesnut and Hazelnut Fondant Cake, Chocolate Icing
4.5 oz, 1/2 cup unsalted butter, softened
5 eggs
16 oz, 1 lb chestnut spread
4.5 oz, 1/2 cup hazelnut powder
3 tbsp all purpose flour
No sugar, the chestnut spread is very sweet
icing
7 oz, 4/5 cup milk or dark chocolate, chopped
1 cup liquid whipping cream

Soften the butter : remove from the fridge at least two hours in advance or better, put in the microwave over 350 watts for a minute.

Preheat oven 350°F.

Butter and flour a round cake pan.

Separate whites and yolks. Put yolks in a large mixing bowl, add softened butter and beat (use a hand_held mixer). Add chestnut spread, then hazelnut powder and flour. Beat until you obtain a smooth texture.

In another bowl, beat egg whites (with a pinch of salt) until stiff.

Fold the whites in the chesnut mixture, very carefully, a third at a time.

Pour the mixture into the floured cake pan. Bake for 25 minutes. Check with a knife.
Unmold on a rack or a plate.

Prepare the icing : heat cream in a sauce pan over medium heat. When cream is simmering, add chopped chocolate and remove from the stove. Whisk until smooth.

Let chocolate cool a minute or two then pour on top of the cake. Spread evenly, even on the sides. Put in the fridge until glaze is firm enough.

Decorate according to your taste. For me, it was icing sugar on top and white chocolate chips on the sides.

Important : remove cake from the fridge one hour in advance, it is much better at room temperature.

My verdict : very very rich, but absolutely delicious. The texture is very "fudgy", almost "wet". And so easy to make...
Moelleux marrons/noisettes, glaçage chocolat
125g de beurre doux, mou
5 œufs
450g de crème de marrons
125g de poudre de noisettes
3 CS de farine ordinaire
Pas de sucre car la crème de marrons est assez sucrée à elle seule.
glaçage
200g de chocolat au lait ou noir
20cl de crème liquide.

Faites ramollir le beurre : soit vous le sortez du frigo 2 heures à l'avance soit, comme moi, vous pouvez le mettre 1 minute au micro-ondes à 350W.
Préchauffez le four à 180°C.
Beurrez et farinez un moule à manqué.
Séparez les blancs des jaunes. Mettez les jaunes dans un saladier, ajoutez le beurre mou et battez l'ensemble. Ajoutez la crème de marrons, puis la poudre de noisettes et la farine et battez encore jusqu'à obtention d'un mélange lisse.
Dans un autre saladier, montez les blancs en neige ferme avec une pincée de sel.
Incorporez délicatement les blancs au mélange aux marrons. Mélangez par tiers.
Versez le mélange dans le moule et faites cuire 25 minutes. Vérifiez la cuisson avec un couteau.
Démoulez sur une grille ou un plat.
Préparez le glaçage en chauffant la crème liquide dans une casserole sur feu moyen. Quand la crème frémit, ajoutez le chocolat coupé en morceaux. Fouettez hors du feu afin d'avoir un mélange homogène.
Laissez refroidir quelques minutes, puis versez sur le gâteau démoulé. Répartissez bien sur les côtés également. Faites durcir le glaçage au frais avant de décorer par-dessus.

Décorez selon votre goût. Pour moi, sucre glace sur le dessus et copeaux de chocolat blancs sur les bords.
Important : sortez le gâteau du frais une heure avant dégustation; il est bien meilleur à température ambiante.
Mon verdict : très très gourmand mais vraiment délicieux. La texture est très moelleuse, presque "mouillée". Si rapide à faire que c'en est presque honteux.

08 octobre 2008
Milk Chocolate and Salted Caramel Mousse
Mousse au Chocolat au lait et Caramel au Beurre Salé
Salted Caramel in itself is already to-die-for. So I let you imagine how scrumptious it can be, mixed with chocolate ! The perfect occasion to mention Trish Deseine's book about Caramel. (Trish is an Irish living in France and writing in french but most of her books have been translated into English). It is not really a new cookbook, for it has been first published in 2005, but it is my latest gourmet purchase. I simply adore this book, it is extremely sensual and most importantly it does not make you feel guilty as Trish is a strong supporter of the pleasure of eating without counting the calories ! How could I agree more ? I really hate diet products, they are so depressing…Hooray for Trish, Hooray for Caramel and Hooray for Chocolate !

Le Caramel au Beurre salé en soi-même, c'est déjà une tuerie, mais avec du chocolat (noir ou au lait), là, on frise l'indécence… L'occasion rêvée d'évoquer le livre de recettes de Trish Deseine « du caramel plein la bouche » (rien que le titre, déjà…), qui certes, n'est pas une nouveauté (publié en 2005), mais malgré tout une découverte pour moi car il vient tout juste d'enrichir ma bibliothèque culinaire. C'est bien simple, je l'adore, il est d'une sensualité étonnante et surtout il nous déculpabilise totalement car Trish revendique haut et fort le droit au plaisir gourmand sans tabous et sans limite de calories. Alors là, moi je dis bravo ; les produits allégés me filent un de ces bourdons... Vivent les rondeurs et vive le caramel « plein la bouche » !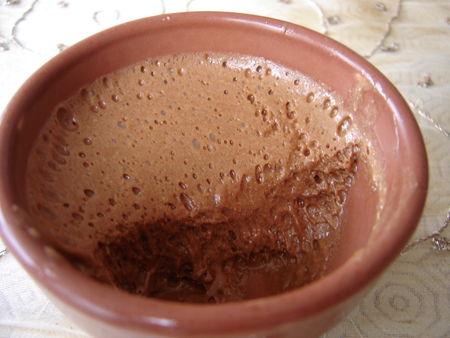 Milk Chocolate and Salted Caramel Mousse
For 6 servings
100g (1/2 cup) granulated sugar
2 tbsp water
2 tbsp salted butter
¾ cup liquid whipping cream
200g (4/5 cup, 7 oz) milk chocolate, cut into chunks
3 eggs, separated.
Prepare a caramel: melt sugar in a heavy-bottom saucepan over low heat. If you do not use a heavy-bottom pan, add 2 tbsp water to the sugar. When it bubbles, move the saucepan in a circular pattern, holding the handle. When you get a golden color, remove from the heat immediately. Out of the heat, add butter then cream. Put again on the heat, and stir to get a smooth mixture.
Let cool a little out of the heat, add chocolate. Mix well.
Transfer mixture to a large bowl. Let cool. Add egg yolks, mix well, and then add whipped (stiff) egg whites.
Leave in the bowl or transfer to individual ramequins.
Refrigerate for at least 4 hours.
Mousse au Chocolat au lait et Caramel au Beurre Salé
Pour 6 personnes
100g de sucre
2 CS d'eau
30g de beurre salé
20cl de crème fleurette
200g de chocolat au lait (Nestlé Dessert)
3 œufs, séparés.
Préparez un caramel en faisant fondre le sucre dans une casserole à fond épais, sur feu doux. Si votre casserole n'est pas à fond épais, ajoutez 2 Cs d'eau. Quand ça bouillonne, tournez doucement la casserole par la poignée afin de répartir les points de cuisson. Quand la couleur désirée est atteinte, retirez immédiatement du feu. Quelques secondes de trop peuvent ruiner un caramel.
Hors du feu, ajoutez le beurre et la crème puis chauffez de nouveau pour obtenir un caramel bien lisse.
Laissez refroidir un peu, puis ajoutez le chocolat en morceaux. Mélangez bien.
Transférez vers un saladier large. Laissez refroidir et ajoutez les jaunes d'œufs, puis les blancs montés en neige.
Laissez dans le saladier ou répartissez dans des ramequins individuels.
Mettez au frais au moins 4 heures.
Le verdict : cette mousse est simplissime et vraiment succulente. On sent bien le caramel salé, mais ce n'est pas du tout écœurant. Malgré sa facilité, vous pouvez la servir sans honte à vos invités car elle les surprendra agréablement.

31 août 2008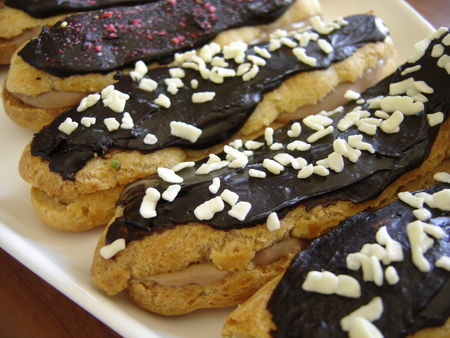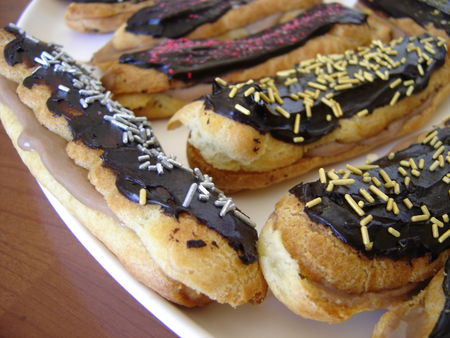 Not proud at all of this month's challenge…Nothing to do with Meeta's choice : on the contrary, I was extremely happy to have the opportunity to make PH's Chocolate Eclairs. No, I meant that I just spoilt it all with my ugly decorations! Where was my head when I made…this? Probably still on holidays (yes, I know, very bad excuse).
Anyway, they were delicious, even though I found the Chocolate glaze extremely time-consuming compared to the ordinary glazes. But, after all, Monsieur Pierre Hermé is not an ordinary man…I just made a little change (allowed by Meeta): I used Pralinoise (a mixture of chocolate and Praliné) for the pastry Cream. Yummy, I love its hazelnut taste.
As a consolation and to forget these scary visions, I used the puff Dough and egg whites leftovers to respectively make very cute little "chouquettes" and lovely meringues…
I promise, I'll do better next time…
Pas fière, mais alors pas fière du tout de mes éclairs au chocolat. J'ai, comme qui dirait, légèrement raté la déco et en plus, on dirait que j'ai appliqué le glaçage à la truelle. Plus kitsch que ça, tu meurs…Mais qu'est ce qui m'est donc passé par la tête ? Probablement le cerveau encore en vacances, bloqué sur la touche "pause"…(ouh, la mauvaise excuse).
Bon, enfin, ils étaient délicieux, même si j'ai trouvé le glaçage au chocolat extraordinairement compliqué pour pas grand-chose. La crème pâtissière Pralinoise (ma petite liberté personnelle, autorisée par la Haute Autorité « Daring Bakoise ») était très sympa, même si pas assez ferme. Pour me consoler de ces visions d'horreurs, j'ai confectionné des minuscules chouquettes toutes mimis et de jolies meringues avec les restes respectifs de pâte à choux et de blancs d'œufs. Recettes dans les prochains jours.
Bon, promis, je ferai mieux la prochaine fois…
Chocolate Eclairs by Pierre Hermé
(source : "Chocolate Desserts by Pierre Hermé", by Dorie Greenspan)
Read the recipe in English here.
The only change I made : I used Pralinoise (a mixture of chocolate and Praliné) instead of Bittersweet chocolate in the pastry cream. This change was allowed by Meeta, this month's host.
Eclairs au Chocolat de Pierre Hermé
(source : Chocolate Desserts by Pierre Hermé, de Dorie Greenspan)
Pour 15 à 20 éclairs
La pâte à choux
125g de lait entier
125g d'eau
115g de beurre doux, coupé en huit morceaux
¼ cc de sucre
¼ cc de sel (pour moi, plutôt une entière)
140g de farine ordinaire
5 gros œufs, à température ambiante
La crème patissière à la Pralinoise
500g de lait entier
Dans la recette originale, PH utilise du chocolat noir, mais je l'ai remplacé par de la Pralinoise. J'aime son goût de noisettes.
4 gros jaunes d'œufs
75g de sucre en poudre
3 CS de maïzena
200g de Pralinoise ou chocolat noir (selon votre goût), fondu
40g de beurre doux à température ambiante
Sauce au Chocolat
250g d'eau
130g de chocolat noir
125g de crème fraîche
70g de sucre
Le glaçage au Chocolat
100g de chocolat noir, haché
80g de crème liquide entière
20g de beurre doux, en quatre morceaux, à température ambiante
110g de la sauce au chocolat ci-dessus
La pâte à choux :
Dans une casserole, portez le lait, l'eau, le beurre, le sucre et le sel à ébullition.
Ajoutez la farine en une seule fois et réduisez le feu à moyen et mélanger vigoureusement à l'aide d'une spatule en bois. La pâte doit former une boule qui se détache des parois. Desséchez-la encore 2 à 3 minutes.
Après avoir transféré la pâte dans un bol, ajoutez les œufs un par un, en mélangeant bien à chaque fois. La pâte se sépare au début, mais redevient homogène si vous la mélangez bien.
La pâte doit être utilisée immédiatement et doit être encore tiède.
Recouvrez deux plaques à pâtisserie de papier cuisson. Préchauffez le four à 190°C.
Remplissez une poche à douille de la préparation, avec une douille lisse de 2cm. Formez des « doigts » d'environ 12 à 14 cm sur le papier à l'aide de la poche à douille. Espacez-les d'au minimum 2cm et disposez-les en quinconce. Faites de même sur la seconde plaque.
Disposez les deux plaques dans le four (une dans le tiers supérieur, l'autre dans le tiers inférieur).Faites cuire 7 minutes four fermé, puis 13 minutes four entrouvert. A mi-parcours (soit au bout de 10 minutes), intervertissez les plaques du haut et du bas. Temps de cuisson total : 20 minutes.(En fait, pour moi, plutôt une demi-heure).
Pendant la cuisson, confectionnez la crème pâtissière.
Retirez les éclairs et laissez refroidir. Quand ils sont refroidis, coupez-les en deux horizontalement, à l'aide d'un couteau dentelé.
La crème pâtissière à la Pralinoise :
Dans une petite casserole, portez le lait à ébullition.
Dans une autre casserole, mélangez les jaunes, le sucre et la maïzena et fouettez bien.
Quand le lait bout, mettez-en une à deux CS dans le mélange aux jaunes d'œufs, mélangez, puis ajoutez le reste du lait progressivement en fouettant bien.
Passez le mélange à travers un chinois vars la première casserole et laissez épaissir en amenant à ébullition. Ne jamais cesser de fouetter.
Ajoutez le chocolat ou Pralinoise fondu et retirez la casserole du feu. Mélangez bien. Transférez la crème dans un bol positionné dans un plus grand bol rempli de glace, afin de stopper la cuisson. Mélangez jusqu'à ce que la crème ait refroidi et soit prête à être réfrigérée, recouverte de film alimentaire.
La sauce au chocolat :
Vous obtiendrez environ 500g de sauce au chocolat. Seuls 110g seront utilisés, stockez le reste au frais (deux semaines maximum) et utilisez-la pour des gâteaux, glaces et tartes.
Pour faire la sauce au chocolat tout d'abord, mélangez tous les ingrédients de la sauce (chocolat, eau, crème fraîche et sucre) dans une casserole et faites bouillir. Réduire le feu et continuer à mélanger jusqu'à ce que la sauce épaississe.
Le Glaçage :
Dans une autre casserole, amenez la crème liquide à ébullition, retirez du feu et ajoutez le chocolat haché. Ajoutez le beurre en mélangeant bien, puis 110g de la sauce au chocolat que vous venez de confectionner plus haut.
Assemblage des éclairs :
A l'aide d'une spatule plate métallique, étalez le glaçage au chocolat sur tous les « hauts » des éclairs.
Remplissez une poche à douille de crème pâtissière et remplissez les « bas » des éclairs.
Replacez les « hauts » sur les « bas ».
Décorez le dessus à votre goût.
Servez immédiatement.