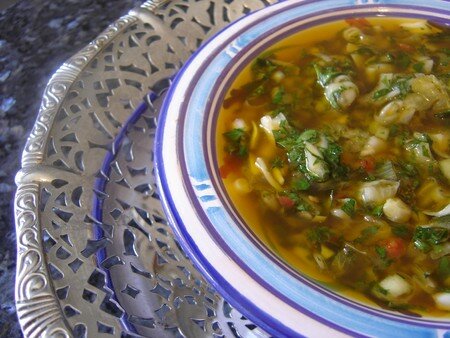 With the approaching sunny days, what could be better than a good old barbecue party ? OK, I know, there is a discussion about how "risky" this cooking method can be : skin burns, smoke, risks for health due to uncooked meat, and so on. But hey, come on, isn't it great to have the opportunity to throw an add-libbed barbecue party and simply invite your dear friends around a "petite" salad, tasty grilled meat and a melty chocolate cake ? And not to mention the bottle of Rosé Wine ! To accompany the poor lonely grilled meat, I have my little secret that makes everyone ask for a refill even when they are "oh soooo full" : The Arabian barbecue sauce ! Nothing to do, of course, with the dark red and thick barbecue sauce you might think of. No, mine is made with lemon flesh, fresh herbs, harissa (Tunisian spicy paste) and olive oil. Moreover, it is a very open-minded sauce that will not only glorify her cousin, the "merguez" (spiced sausage), but also any piece of beef, lamb, chicken or even fish !
A l'approche des beaux jours, quoi de meilleur qu'une bonne vieille grillade ? Bon, je sais, il y a débat sur certains côtés néfastes de ce mode de cuisson : les brûlures, la fumée, les riques pour la santé (les bactéries des viandes pas assez cuites), etc...etc...Mais, franchement, allez, avouez, c'est quand même tellement sympa, lorsque l'on a la chance d'avoir un jardin ou une terrasse, de convier ses amis à la dernière minute ("allez, venez, on fera simple, des grillades"), sans chichi : une p'tite salade et un verre de rosé, un gâteau au chocolat fait à l'arraché et le bonheur est dans le pré, enfin le jardin. Mais,en revanche, pour la grillade en elle-même, moi j'ai mon p'tit secret, mon truc en plus qui fait que l'on se ressert encore et encore, même si la boutonnière du pantalon est au bord de l'implosion : la sauce "orientale". Très large d'esprit, elle ne se contente pas de sublimer sa cousine la merguez, oh non ! Elle est aussi merveilleuse avec les entrecôtes, les côtes d'agneau, les cuisses de poulet et autres brochettes variées. Même les poissons grillés se sentent bien avec elle ! Goûtez-y et vous vous demanderez comment vous avez fait "sans" avant !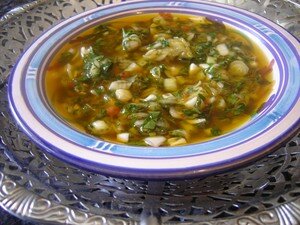 "Psal ou Manouch" Sauce for Barbecues
For 4 servings (adjust accordingly for more)
The flesh of ½ lemon, chopped
Juice of 1 lemon
3 spring onions, cleaned and thinly minced
½ bunch flat leaf parsely, cleaned and finely chopped
3 cloves fresh spring garlic, cleaned, thinly chopped
1 teaspoon harissa (tunisian spicy paste, available in middle-eastern groceries)
1 cup extra virgin olive oil
Sea Salt
Freshly ground pepper
Just mix all ingredients together in a mixing bowl and transfer to a nice soup plate. Adjust "harissa" accordingly to your taste.
Sauce "Psal ou Manouch" pour Grillades
Pour 4 personnes (à ajuster selon le nombre d'invités)
La chair d'un ½ citron, haché
Le jus d'un citron
3 têtes de petits oignons blancs, hachées
½ bouquet de persil plat, nettoyé et ciselé
3 têtes d'ail frais, nettoyés, hachés
1 Cuillère à café d' harissa (rayon exotique supermarchés ou épiceries cachères)
1 tasse d'huile d'olive extra vierge
Sel marin
Poivre du moulin
Mélangez simplement les ingrédients dans un saladier et transférez dans une jolie assiette creuse ! Ajustez la quantité d'harissa selon vos goûts.