Contrarily to what you might think, I am not spending all my vacation time eating and eating again. Not at all, I am also very busy...napping and sleeping at night, lol ! Well, for me, that's what good holidays are about : enjoying the local gourmet treasures and relaxing. Is there something wrong with that ? For you today, two restaurant reviews (you see, I also spend some time working hard at the local Internet Café just to share my good moments with you...).

Vous avez l'impression que je passe mon temps à m'empiffrer en ce moment ? Désert total en termes de recettes mais beaucoup de restaus ? Ben, quoi, les vacances, c'est fait pour se reposer, pas pour cuisiner (en plus, même si j'ai accès à une cuisine très bien équipée, je sais pas, je ne suis pas à mon aise lorque je n'ai pas mes ustensiles chouchous). Alors, c'est vrai...je profite au maximum des plaisirs gastronomiques que la station de sports d'hiver la plus gourmande de France a à m'offrir.
Petit tour d'horizon rapide (car n'oublions pas que je communique avec vous depuis un cybercafé, et mon temps de connexion m'est compté, au propre comme au figuré...)

La ferme de Victorine
Regional Cuisine in the warm and cozy atmosphere of a typical "Chalet" a few minutes away from Megève by car. Nice service, and the Chef, Denis Vinet, uses the local produce with a creative and modern touch. Three course menu at 26 euros.
Cuisine régionale dans une authentique ferme retapée, à quelques minutes de Megève. Un accueil sympa, un cadre rustique et réconfortant. Un Chef, Denis Vinet, qui aime travailler les produits locaux avec une touche de modernité. Menu de la Ferme à 26 euros (entrée-plat-dessert).

Nems de roblochon et granny smith puis épaule d'agneau confite au romarin,
pommes de terre écrasées et légumes printaniers
"Springroll" with roblochon cheese and granny apples, followed by slowly roasted lamb shoulder with rosemary, mashed potatoes and spring vegetables.
Le trio de crèmes brulées (vanille, verveine et chocolat) ou la tarte briochée aux abricots coulis de fruits rouges.
Three kinds of crèmes brûlées (vanilla, verbena, chocolate) or briochey apricot Tart with berries coulis.
La Ferme de Victorine
73590 Notre Dame de Bellecombe
Tél : +33 4 79 31 63 46
website : http://www.la-ferme-de-victorine.com/

Le Refuge

I had the pleasure to dine there last christmas and I had the best sweet soufflé of my whole life : with candied chestnuts and chestnuts ice-cream . It was to die for and I really wondered if the Chef was a wizard since the soufflé never deflated a second while I was eating it !! At summertime, the terrace is very pleasant and the food was as good as in my christmas memories. Three course menu : 27 euros. The pictures are "yellowish" since we dined under a yellow tent on the terrace.

J'ai eu l'occasion d'y dîner l'hiver dernier et je m'étais régalée du meilleur soufflé sucré de toute ma vie : à la crème de châtaignes et glace marrons. Une merveille qui défiait les lois de l'apesanteur puisqu'il ne s'était pas écroulé un seul instant de toute la dégustation ! Y aurait-il un sorcier aux fourneaux ? La terrasse estivale est très agréable et le menu à 27 euros tient la promesse des bons souvenirs de Noël. Les photos sont jaunâtres car nous avons déjeuné sous un auvent "poussin" en terrasse.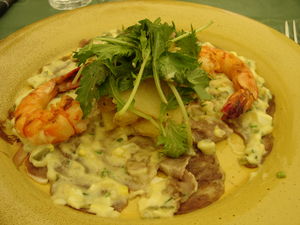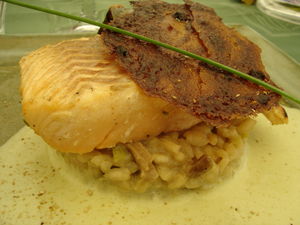 Carpaccio de tête de veau, gambas grilées et salade de pommes de terre/Veal head slices with grilled shrimps and potato salad
Pavé de saumon grillé, risotto cèpes et crème de poireaux à l'huile de truffe/Roasted Salmon Fillet with cep risotto and leek cream with truffle oil.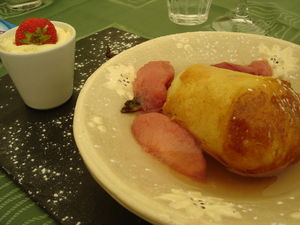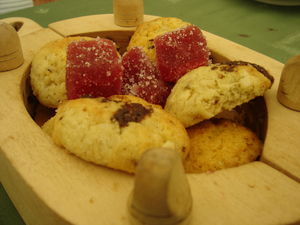 Baba au rhum avec pêches pochées verveine citronelle et crème fouettée à la passion/Rum Baba with poached peaches in a verbena and lemongrass syrup and aside, a whipped passion fruit cream
Café gourmand avec pâtes de fruits et sablés maison/Coffee served with home-made biscuits and fruit jellies.
Le Refuge
Hameau du Leutaz
74120 Megève
Tél : +33 4 50 21 23 04
website : http://www.refuge-megeve.com/