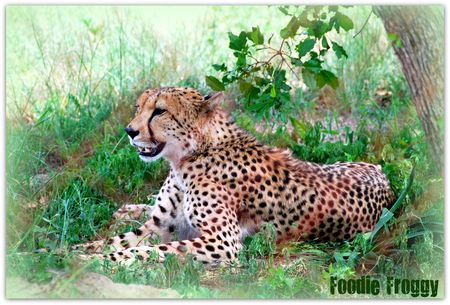 The travel of a lifetime...the diversity of South Africa has been often described in books, guides or magazines, but I can assure you that you have to see it to believe it...In one country the craggy Drakensberg mountains, the Kruger Park's bush, the vineyards, wonderful beaches, and Victorian architecture of Capetown, the sheer cliffs of Cape Peninsula...Three monthes later, my husband and I simply can't stop evoking all our numerous fond memories : many emotions, thrills and most importantly many laughters. In one word, you have understood that we seriously fell in love with South Africa, its wonderful landscapes and its inhabitants.These pictures (all taken by yours truly) are just a few samples of what we experimented, but, well, better than nothing ! Have a good visit ! Next post will be about my best foodie moments in South Africa. Don't miss it !
Le voyage d'une vie... on parle beaucoup de la diversité de l'Afrique du Sud, mais je vous assure qu'il faut le voir pour le croire... dans un même pays, les montagnes escarpées du Drakensberg, le bush du Park Kruger, les vignobles, les superbes plages et l'architecture victorienne du Cap, les falaises abruptes de la peninsule du Cap...C'est bien simple, plus de 3 mois après notre retour d'Afrique du Sud, mon mari et moi ne nous en sommes toujours pas remis. Il ne se passe pas un jour sans que l'on n'évoque l'un des (nombreux) merveilleux souvenirs de cette échappée lointaine. Que d'émotions, de rires et de sensations fortes ! Bref, vous l'aurez compris, nous sommes tombés fous amoureux de ce pays, de ses paysages et de ses habitants. Ces quelques photos vous aideront peut-être à vous faire une idée de ce que nous avons vu, et surtout ressenti. Bonne visite ! Mon prochain billet vous fera partager mes meilleurs moments gourmands en Afrique du Sud. A ne pas manquer !
Click on the pictures to enlarge them ! Cliquez sur les photos pour les agrandir !
Safari at the Kapama Private game Reserve (Kruger Park) /Safari à la réserve de Kapama (Parc Kruger)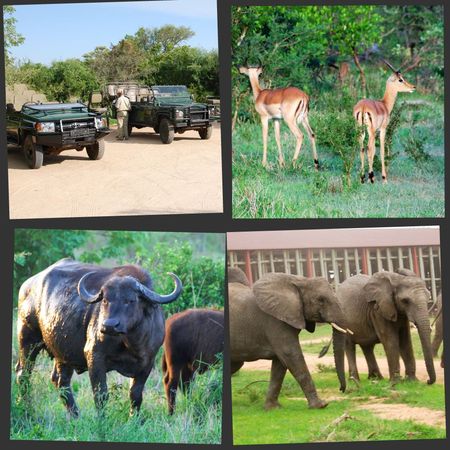 Photo principale et photos 1 à 8 : Safari au Kapama Private Game Reserve. Une journée-type de safari : lever à l'aube, départ à 6h, petit-déjeuner frugal (café et biscuit) sur les pistes, retour au lodge vers 9h pour le vrai petit-déjeuner buffet, afternoon tea vers 17h, second safari de 18 à 21h avec apéro sur les pistes, accompagné de la fameuse viande séchée, le biltong. Il faut voir les fameux "big five" pour pouvoir dire qu'un safari est réussi : buffle, rhinocéros, élephant, lion et léopard. Enfin, personnellement, les girafes, zèbres et gazelles m'impressionnaient tout autant !Photos 9-12 : Survol du Park Kruger en Montgolfière.
Main picture and photos 1 to 8 : Safari at the Kapama Private Game Reserve. A typical safari day is : early wake up at 5am, first safari at 6am, light breakfast in the middle of the bush, breakfast buffet at the lodge at 9am, afternoon tea at 5pm, second safari at 6pm with a cocktail and biltong in the bush, and back to the lodge for dinner at 9pm. You have to see the infamous "Big Five" (Buffalo, Rhino, Elephant, Lion and Leopard) : the term does not refer to their size but to the difficulty to actually see them during a safari.Photos 9-12 : Hot air balloon flight over Kruger Park.
Capetown and its surroundings / Le Cap et ses environs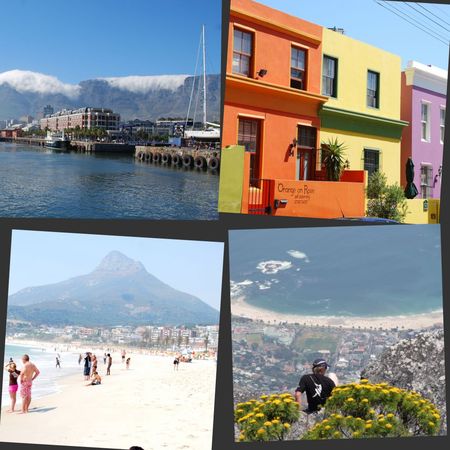 Photo 13 : le Waterfront au Cap, trendy Waterfront in Capetown Photo 14 : Bo-Kaap, le quartier Malais haut en couleur du Cap, Bo-Kaap, the colorful Malay quarter Photo 15 : la sublime plage des Beautiful People : Camp's Bay, the awesome beautiful people's beach : Camps Bay Photo 16 : Panorama sur le Cap depuis la Montagne de la Table, beautiful panoramic view from the Table Mountain.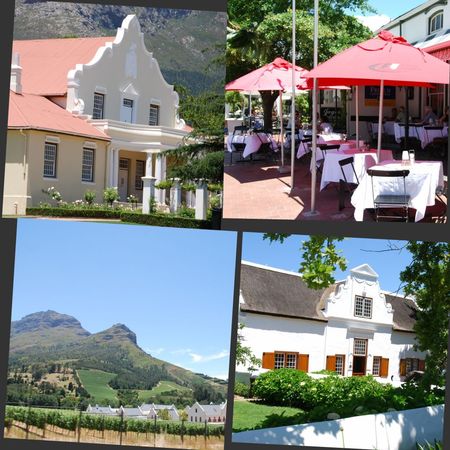 Photos 17-20 : La Route des Vins, avec ses maisons d'architecture Cape-Dutch et ses petites terrasses à Stellenbosch et Franschhoek. The Wine Route with its vineyards, the towns of Stellenbosh and Franschhoek and their CapeDutch houses and little restaurants with terraces.
Photos 21-24 : Sur la Route du Cap de Bonne Espérance : les manchots de Boulders, les vagues s'écrasant sur les rochers de Cape Point, la plage de Hout bay, les paysages sublimes se succèdent sur la route côtière.On the road to Cape Point : Boulders and its african penguins, Cape Point's rough sea, beautiful Hout Bay's beach, one of the numerous wonderful landscapes on the way back to Capetown.
Victoria Falls in Zambia, les Chutes Victoria en Zambie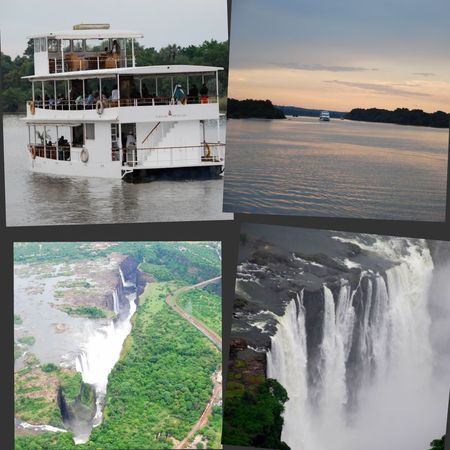 Photos 25-27 : le Royal Livingstone Hotel au bord du fleuve Zambeze et à deux pas des Chutes Victoria, The Royal Livingstone Hotel facing the Zambeze River and a few steps from the impressive Victoria Falls Photo 28 : le train à vapeur Livingstone Express, the Livingstone Express Steam Train.
Photos 29-30 : Croisière au coucher du soleil sur le fleuve Zambeze, sunset cruise on the Zambeze River
Photos 31-32 : les chutes Victoria, vues d'hélicoptère, Victoria Falls seen from an helicopter
Mes adresses/My addresses :
Kapama River Lodge
Klaserie, Kapama Private Game Reserve,
Mpumalanga, South Africa
(Close to eastgate airport)
website : click here
Victoria & Alfred Hotel
On the Waterfront Pierhead,
Cape Town, South Africa, 8001
website : click here
Royal Livingstone Hotel
Mosi-oa-Tunya Road
Livingstone , Zambia
website : click here
All pictures/Toutes les photos : Copyright Foodie Froggy