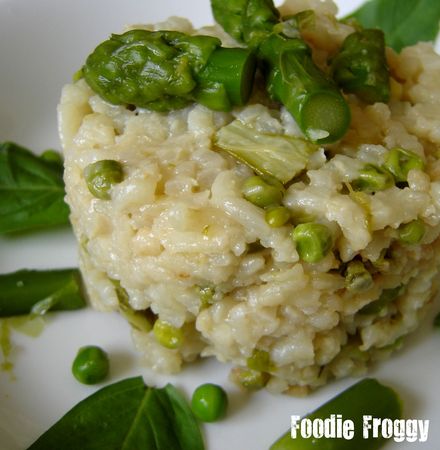 No, I haven't changed my eating habits, I still love meat, poultry and fish, but when one has a lacto-ovo-vegetarian guest, one has to be irreprocheable about respecting the rules. This is a matter of respect. And it was quite fun actually. Here in France, vegetarianism is not as popular as in Great Britain or the USA (only 2% of the population versus 10-20%) so even though it was not an easy task, I think the menu I proposed was truly enjoyed by my guest. We started with slow-roasted Tomato Tatin Tartlets, followed by the risotto below (using a vegetable stock, bien sur) and finally dessert was a Strawberry and Raspberry Tiramisu. An authentically seasonal and market-food meal. Click on the words in bold to read the recipes.
Non, je n'ai pas "viré ma cuti" pour rejoindre les hordes grandissantes de végétariens de ce bas-monde, je suis bel et bien omnivore et je m'assume totalement. Il faut savoir qu'en France le végétarisme est une pratique encore peu courante avec moins de 2% de la population adepte, tandis qu'au Royaume-Uni et aux Etats-Unis, de 10 à 20% de la population est concernée. Mais lorsque l'on reçoit une personne, qui elle, obéit aux règles strictes de la "diète végétale", on se doit d'être irréprochable sur ce plan. Heureusement, mon hôte était ovo-lacto-végétarienne (oeufs et produits laitiers acceptés) et voici donc le menu proposé : Tartelettes Tatin de tomates confites, un de mes classiques, à mourir, suivi d'un risotto bien de saison aux asperges et petits pois, avec bouillon de légumes et non de poulet bien évidemment. Enfin, le dessert : un Tiramisu aux Fruits Rouges. Un vrai menu de marché comme on les aime...
Cliquez sur les mots en gras pour accéder aux recettes.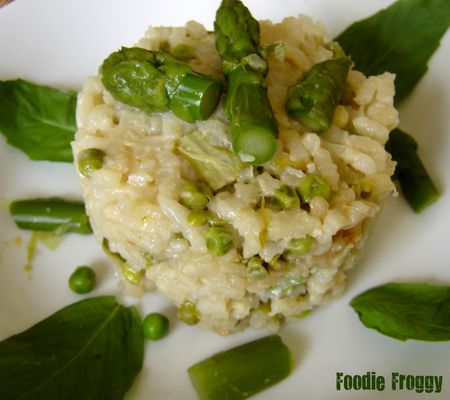 Asparagus, Peas and Parmesan Risotto
You need for 4 servings :
Vegetable Stock :
2 large onions
2 medium carrots
3 stalks celery (not the leaves, too bitter)
1 garlic
Bay Leaf
Risotto :
½ pound asparagus
2 handfuls frozen peas
3 Tbsp plus 1 teaspoon butter
2 chopped shallots
1 cup arborio rice
1/2 cupdry white wine
About 3 1/2 cups vegetable stock
(you can substitute some of the asparagus cooking water for stock)
1/2 cup freshly grated Parmesan cheese
Salt and pepper
(Recipe by Simply recipes). Make vegetable stock : Let all vegetables (cut into large pieces) simmer for an hour in enough water to cover them. Drain.
Prepare the asparagus by discarding the tough ends (about the last inch of the spear). Cut into 1 to 1 1/2-inch pieces (tips longer, base shorter). If your asparagus are especially large, cut into even smaller (bite-size) pieces. Bring a saucepan with a quart of water to a boil. Blanch the asparagus pieces and the peas for 2 minutes. At the end of two minutes, use a slotted spoon to remove them to an ice water bath to shock them into a vibrant green color and to stop the cooking. Drain from the ice water bath and set aside.
In a nonstick skillet, heat 3 Tbsp butter on medium heat. Add the shallots and cook for a few minutes until translucent. Add the rice and cook for 2 minutes more, stirring until nicely coated.
While the shallots are cooking, bring the stock to a simmer in a saucepan.
Add the wine. Slowly stir, allowing the rice to absorb the wine. Once the wine is almost completely absorbed, add 1/2 cup of stock to the rice. Continue to stir until the liquid is almost completely absorbed, adding more stock in 1/2 cup increments. Stir often to prevent the rice from sticking to the bottom of the pan. Continue cooking and stirring rice, adding a little bit of broth at a time, cooking and stirring until it is absorbed, until the rice is tender, but still firm to the bite, about 15 to 20 minutes. Remove from heat.
Gently stir in the Parmesan cheese, the remaining 1 teaspoon butter, and the asparagus and peas. Add salt and pepper to taste. Decorate with basil leaves (optional) and serve immediately.
Risotto Asperges, Petits Pois et Parmesan
Pour 4 personnes :
Bouillon de légumes :
2 gros oignons
2 carottes moyennes
3 branches de céleri (pas les feuilles, trop amères)
1 tête d'ail
1 bouquet garni
Risotto :
250g d'asperges
2 poignées de petits pois surgelés
3 CS + 1 cc de beurre doux
2 échalotes finement hâchées
185g de riz rond spécial risotto (arborio ou carneroli)
12 cl de vin blanc
80cl de bouillon de légumes (voir plus haut) ou d'eau de cuisson des asperges
50g de parmesan fraîchement râpé
Sel et poivre
(Recette de Simply recipes). Faites le bouillon de légumes : Coupez les légumes en larges tronçons et laissez les cuire à frémissement pendant une heure dans suffisement d'eau pour les recouvrir. Passez le bouillon à travers une passoire vers une autre casserole afin de retirer les morceaux et les herbes.
Préparez les asperges en retirant réchauffez 3 CS de beurre. les pointes dures et coupez des tronçons de 2 à 3 cms.Si les asperges sont vraiment épaisses, coupez-les également dans la largeur. Portez de l'eau à ébullition dans une casserole, et blanchissez les asperges et les pois 2 minutes. Retirez à l'aide d'une écumoire et placez dans un bol d'eau glacé pour obtenir une belle couleur verte et stopper la cuisson. Retirez de l'eau glacée et réservez.
Dans une poêle non adhésive, faire chauffer 3 Cs de beurre. Ajoutez les échalotes et cuire encore jusqu'à ce qu'elles soint "translucides". Ajoutez le riz et cuire encore 2 minutes, jusqu'à bien imprégner le riz de beurre et d'échalotes.
Pendant ce temps, porter le bouillon à frémissement.
Ajoutez le vin au riz. Quand le vin est complètement absorbé, ajouter une louche de bouillon.Continuer à mélanger jusqu'à ce que le liquide soit complètement absorbé. Continuer à ajouter le bouillon par louche jusqu'à épuiser les 80cl. Le riz doit être cuit mais encore un peu ferme. Compter environ 15 à 20 minutes pour cela puis retirer du feu.
Ajouter le parmesan, la dernière cuiller de beurre puis les asperges et les petits pois.Rectifier l'assaisonnement. Décorer avec des feuilles de basilic (facultatif) et servir de suite.
My other Risotti, mes autres Risotti :
Cep Mushroom and Chicken Risotto/Risotto aux Cèpes et Poulet
Fig and Hazelnuts Risotto/Risotto aux Figues et aux Noisettes