New York is a city where it is easy to grab food in the street, because of the abundance of vendors selling not only giant pretzels or Hot Dogs, but also full meals from different origins : asian, east european, middle eastern, mexican and so on...Some of them have also gone upscale : Adam Perry Lang of Daisy May's BBQ USA has a cart specialized in chili and pork sandwiches, and Danny Meyer, the famous owner of such reknowned restaurants like Union Square café and Gramercy Tavern, has opened the Shake Shack (hamburgers, hot dogs and frozen custards) in Madison Square Park and Upper West Side.
Historically, it all begun with the first Irish immigrants selling roasted potatoes over open fires. They were followed by the Italians with their sausages and zeppole (fried dough with granulated sugar) and the Lower East Side vendors where one could get hot dogs with sauerkraut for a nickel. Totally adapted to New Yorkers' busy and trepidant lifestyle but it seems that the Parisian in me was not ready yet to eat while actually walking. This is why I found the perfect place to enjoy my take-away food : Bryant Park with its numerous tables, umbrellas, and even an open-air library ! If you can't find street food close-by, there is always Grand Central Terminal's food court a stone-throw from there.
For Memorial Day, I had the priviledge to have an accelerated overview of what the city has to offer in terms of food stalls : Lexington on may 24th then 7th avenue on may 25th were closed to traffic and packed with sidewalk stands. Look at my pictures below.
New York est une ville où il est facile de se sustenter dans la rue de par l'abondance et surtout la variété des stands de nourriture ambulants : on n'y trouve pas seulement des bretzels géants ou des hot-dogs mais on peut également se constituer un vrai repas complet : chinois, japonais, mexicain , d'europe de l'est, etc. Certains sont même très recherchés : Adam Perry de Daisy May's BBQ USA a un stand renommé pour son chili épicé et ses sandwiches au porc, et même Danny Meyer, propriétaire des célèbres restaurants Union Square Café (j'y ai dîné, un délice et une vraie ambiance new-yorkaise, courez-y), Gramercy Tavern, le Modern, etc a ouvert deux "Shake Shack", petits kiosques de hamburgers chics sur Madison Square et Upper West Side.
Historiquement, tout a commencé à New York avec les premiers immigrants Irlandais qui proposaient des pommes de terre grillées à même le feu, puis les Italiens ont élargi l'offre avec leurs saucisses et leurs "zeppole", des beignets au sucre. Dans les années 1900, il n'était pas rare de trouver des hot dogs avec de la choucroute pour un nickel (5 cents). Parfaitement adaptés au rythme de vie trépidant des New Yorkais qui n'hésitent pas à manger tout en marchant, la fin de la street food n'est pas pour demain. Quant à moi qui suis incapable de faire de même, j'ai trouvé l'endroit idéal pour me régaler de la street food locale, mais assise : Bryant Park. Regardez mes photos, c'est superbe, ombragé, plein de tables et il y a même une bibliothèque gratuite en plein air ! Un petit tour au food court de Grand Central Terminal juste à côté, et le tour est joué !
Pendant mon séjour dans la Grosse Pomme, j'ai eu la chance de bénéficier d'un tour d'horizon en accéléré des street vendors grâce au Memorial Day, où Lexington (le 24 mai), puis 7ème avenue (le 25 mai) étaient fermées à la circulation et envahies par les kiosques alimentaires. Diaporama ci-dessous.
My fav' place to enjoy street food ? Bryant Park ! Lovely !
Mon endroit préfére pour savourer sa street food ? Bryant Park ! Superbe et très paisible !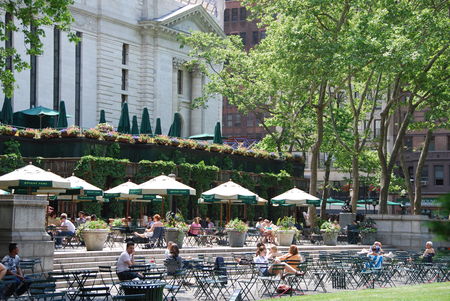 More about street food in NYC ? Read this great blog !