Panna Cotta au "Buttermilk" et compotée de figues blanches à la Noisette
Buttermilk Panna Cotta with white figs compote and Hazelnuts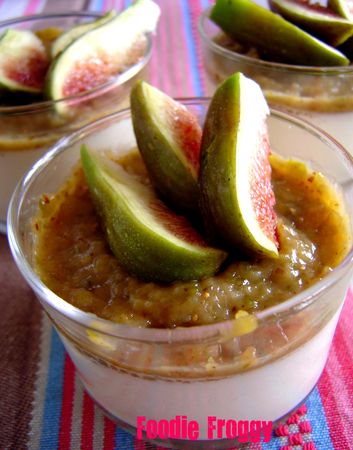 Life can be funny sometimes...I have just spent almost a month in the USA, and I really fell in love with buttermilk. The revelation came from the amazing pancakes served every morning for breakfast at our hip hotel in Seattle.They were so moist and airy at the same time, mmmm, divine...I knew I had to bring some buttermilk back to Paris because I was convinced this product simply did not exist in my home country, but alas, as it is a refrigerated product : mission impossible. As I am quite a stubborn person, I made a google search as soon as I was back home and I realized that buttermilk was what we call here "lait ribot", not a very common product and very rarely used in french food recipes but quite easy to find though. On top, I chose fresh figs, simply because... they caught my eyes at my local greenmarket. I cooked them with hazelnut meal and carameley butter, which made for a rich, flavorful and quite thick mixture. An interesting contrast with the smoothness of Panna Cotta.
C'est marrant parfois, la vie...Cet été, j'ai passé presque un mois aux Etats-unis et j'ai eu un véritable coup de foudre pour le buttermilk grâce aux fabuleux pancakes servis au petit-dej à notre hôtel branchouille de Seattle. Le buttermilk les rendaient particulièrement moelleux, tout en étant légers, une pure merveille...Très titillée, je m'étais mise en tête d'en ramener à Paris mais étant vendu au rayon frais, le transport en avion n'était malheureusement pas envisageable...Mais ceux qui me connaissent savent que lorsque j'ai une idée dans la tête...Dès mon retour, j'ai effectué une recheche google pour savoir où m'en procurer ici et quelle ne fut ma surprise de constater que le buttermilk était tout simplement...du lait Ribot !!! Bon là, les bloggeurs(ses) qui me lisent vont se foutre de moi car je suis convaincue que cette info leur était familière depuis des lustres, mais moi, sincèrement, je suis tombée de ma chaise. J'avais bien vu fleurir sur les blogs ces derniers mois pléthore de recettes faisant appel au lait Ribot, mais quant à faire le rapprochement avec le buttermilk américain, alors là, c'était trop en demander à mon petit cerveau...Pour les non-bloggeurs, le lait Ribot est un lait maigre fermenté avec un goût un peu acide proche du yaourt à boire. Pas très sexy écrit comme ça, mais il apporte un vrai plus dans plein de recettes : les américains en mettent PARTOUT dans leurs pâtisseries (feuilletez un magazine culinaire US et vous verrez), et même dans certains plats salés en guise de marinade avec des épices. Attention, il ne faut pas le faire bouillir. Vous en trouverez facilement au rayon frais de n'importe quelle grande surface bien achalandée (Monop' pour moi).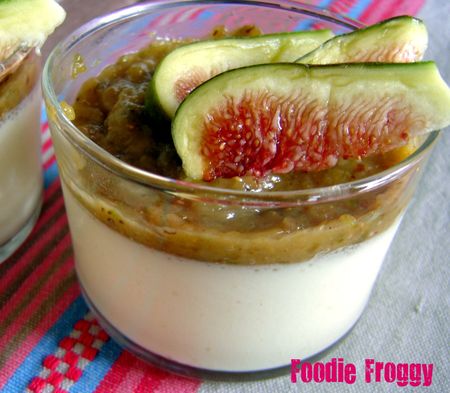 Buttermilk Panna Cotta, White Figs Compote
For 4 little panna cotta
To be made a day ahead.
Panna Cotta :
1-1/2 cup whipping cream
¾ cup buttermilk
2 oz or 4 tablespoons granulated sugar
2 gelatin leaves softened in cold water and squeezed or 1 tsp of agar-agar
1 vanilla bean
Fig Compote with hazelnuts
9 oz fresh white figs + 2 figs for the decoration
2 to 3 tbsp hazelnut meal
1/2 stick salted butter
1/4 cup brown sugar
Cinnamon powder (optional)
Make the Fig Compote : Coarsely chop the figs. In a skillet over medium heat, melt butter. Add sugar and stir until caramelized. Add figs, hazelnut meal and cinnamon (optional, 1 teaspoon). Let cook about 15 minutes over low heat. Remove from the heat. Blend in a food processor until pureed. When at room temperature, refrigerate.
Using small sharp knife, scrape seeds from vanilla bean.
In a sauce pan over medium-heat, heat cream and sugar. When hot, add agar agar and let boil for one minute, stirring. If you use squeezed gelatin, do not boil mixture, just heat enough for gelatin to melt. Stir in buttermilk and vanilla seeds. Remove from the heat.
Divide among 4 glasses, wait until at room temperature and refrigerate the panna cottas overnight (or at least 3 hours).
The day after, divide fig compote on top of the panna cotta mixtures (make sure that the panna cotta are firm enough).Decorate with fig slices from the two reamining figs.
Panna Cotta au Buttermilk (lait Ribot) et compotée de figues
Pour 4 petites Panna Cotta dans des verres à tapas
A faire la veille.
Panna Cotta :
30 cl de crème liquide
15 cl de lait ribot
50g de sucre en poudre
2 feuilles de gélatine ramollies dans l'eau froide puis essorées ou 1g d'agar-agar (1 cuiller à café )
1 gousse de vanille
Compotée de Figues :
250g de figues fraîches + 2 entières pour la déco
30g de poudre de noisettes
50g de beurre salé
Cannelle en poudre (facultatif)
Préparer la compote de figues : Couper grossièrement les figues. Dans une poêle sur feu moyen, faire fondre le beurre. Ajouter le sucre puis remuer jusqu'à obtenir un carmel doré. Ajouter les figues, la poudre de noisettes et la cannelle (facultatif, une pincée). Faire cuire un quart d'heure sur feu doux jusqu'à ce que l'ensemble soit compoté (plus si nécessaire).Réduire en purée dans un mixer. Laisser refroidir à température ambiante puis mettre au frais.
A l'aide d'un couteau fin, couper en deux la gousse de vanille et retirer les graines. Les mettre de côté.
Dans une casserole, faire chauffer sur feu moyen la crème et le sucre. Quand le mélange est chaud, ajouter l'agar-agar et faire bouillir une minute, tout en remuant. Si vous utilisez la gélatine essorée, ne pas faire bouillir, chauffer suffisement pour la faire fondre. Ajouter le lait ribot et les graines de vanille. Remuer et retirer du feu.
Verser dans les verres à tapas, laisser refroidir un peu et faire « prendre » au frais pendant la nuit.
Le lendemain, disposer la compotée de figues sur les panna cottas. Attention, assurez-vous d'abord que les crèmes soient bien « prises ».
Remettez l'ensemble au frais jusqu'au service. Décorez avec des lamelles de figues fraîches.