Date of dinner : June 2007
Résumé en français : Mon cher Inaki, cela faisait plus d'un an que je "tannais" mon mari pour que l'on aille dîner chez toi ! Enfin ! Mais keskicé donc passé ce soir-là ? Nous étions 4 et nous avons tous été déçus ! Certains plats étaient vraiment fades et d'autres sans grand intérêt. Ahlala , voilà ce qui arrive quand on a des attentes trop élévées ! Bon, allez, je reviendrai peut-être pour le déjeuner avec des copines ! On m'a dit que les plats étaient plus "sages" le midi...et les serveurs aussi mignons !!

The Chef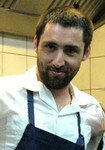 Inaki Aizpitarte is originally from the French Pays Basque. He is one of the stars of the young Generation of French Chefs. He used to be Chef de Partie at the "Café des Délices", then at "La Famille". He's been the Chef for a trendy museum restaurant ("Le Transversal" at the Mac Val museum in Vitry) and now spends all his time at his fully owned restaurant, Le Chateaubriand. By the way, don't you think he looks like the guy from "Lost" ??
The Food
Le Chateaubriand proposes a 40 euros Tasting Menu, but here, this is the only choice (or should I say non-choice). No other menu or a la carte items to choose from !! As soon as you sit at the table, the waiter gives you a sheet of paper displaying the menu of the day.Unfortunately, my husband hates it when I take pictures of the food, so no photos for this review !! :-(

First plate ( an amuse-bouche actually) was a "Bouillon Miso blond-carottes, duxelle de girolles" (Miso broth, carrots foam, thinly minced orange wild mushrooms). The foam was quite bland but the mushrooms were tasty.
Second plate : "Petits pois, Saumon, Amandes Fraîches" (green peas, Salmon, fresh almonds). The dish looked pretty, with a nice contrast of colors betweeen the (very) green peas and the orange color of the salmon. The peas were just boiled, and the salmon was chopped (almost pureed). But really the overall taste of that dish was disappointing : it was really bland ans seemed not salted at all. We had to request for salt. Amusingly enough, I read an interview of Ignaki in which he said that his worst nightmare would be to serve oversalted plates !!
Then came the "Maquereaux, Vittelotte, Nori and Salicorne" (mackerel, purple potatoes, nori (kind of seaweed) and salicorne (seaweed too). The mackerel seemed to be glazed with soy sauce and was really fresh and tasty. The nori and salicorne were flavourful and I was glad to taste Vitellote (the purple potato) : it was puréed but has a pleasant thick texture and a flavour which, to me, evoked chestnuts.
Last savoury dish was veal cheek and spring vegetables : probably the best dish of the meal. The veal cheeks were melting in the mouth and the spring vegetables were cooked to the perfection (I love it when the vegetables are "al dente" : just cooked enough to be edible but yet crunchy).
Then as we had to choose between a cheese selection (3 cheese) and dessert, we decided that 2 of us would have cheese and 2 the dessert so we could share. The cheese were good, particularly the fresh goat cheese.But the dessert was really bland and too special for our palates. Probably very trendy but we really did not like the "Graines de Basil, Fruits Rouge, Basilic" dessert (basil seeds, berries and basil).Basil seeds are gelatinous seeds that look a bit like tapioca. Where was the sugar ?? We felt sad to finish the meal on this bad impression. I am not at all against gelatinous textures but we did not see the point in this dessert. All 4 of us agreed to say "aucun intérêt" ! It is always frustrating to end a meal with a dessert you really dislike...

Overall impression on the food : Out of 5 dishes, 2 were very good (mackerel and veal), one was OK (Miso and carrot broth) and the rest was really so-so. The word "bland" used many times in this review seems the most appropriate to describe our dinner. For a restaurant with such rave reviews, we did not expect "just above average" food.Maybe our expectations were too high.
The presentation of the dishes was fine.
The wine
We followed the waiter's advise and had a red wine from a small producer with a beautiful name : "en septembre". It was a good choice.

The customers and the decoration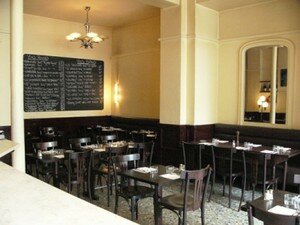 Mostly French customers, apart from a couple seated next to us who was from Ohio and seemed to be pleased with their meal.Actually I chatted with them and they told me that they had come some days before and were so pleased that they came back ! But I don't know what they thought of their meal that evening !
The decoration is very basic with a nice bar and very large windows. This is a very trendy restaurant and the customers were quite young and "bobo chic".
The Service
No problem with the service. Our waiters were friendly and oh my, ours was so good looking !! Ladies, this restaurant is worth a visit just for the waiters !! Gentlemen, don't read what I have just written !! The dishes were well explained, the advise about wine was thoughtful. Anyway, he could have said anything, my friend Catherine and I were totally under his charm, lol !!

The choice and the Cost
Well, we had no choice. The only menu "available" was the 40 euros tasting menu. So if you are not flexible about what you want to eat, don't go there ! As for me, I like the principle of tasting menus because it allows me to taste things that I would not have ordered in other circumstances (like the veal cheek, for example, which was indeed excellent).
As a conclusion
Mixed feelings again. I really can't honestly say that the food was bad : it is obvious that the produces are freshly bought from the market and carefully selected, as are the cheese and the wines (from small producers) but we really thouroughly enjoyed only 2 dishes out of 6. Well, I thought I was quite open minded about food : I like odd pairings (like bellpepper and chocolate for instance), new textures (foams, gelatinous dishes), but maybe my palate is not ready yet for creative dishes !! But strangely enough, my husband and our friends shared my opinion !
I have been told that the lunch menu is more traditional. So I might try to go back there for a "girly" lunch where we will be able to flirt with the "mignons" waiters without being reprimented by our jealous husbands !! Just kidding, of course !
Practical Information
129 avenue Parmentier- 75011 Paris. Tél : 01 43 57 45 95
Open everyday except sunday, monday and saturday for lunch.
All pictures : copyright l'Internaute.