A short visit to Turin, Italy - Une petite visite de Turin, Italie
As one member of our party had a business meeting in Turin, we decided to go with him and enjoy everything Italy has to offer : wonderful gelati, the best cappuccini served with tiny pastries coated with melted sugar, pastas from another world and ...shopping ! Turin is not the nicest Italian City but it has its own charm, especially the center with its beautiful shops under old arcades. A walk on the borders of the Po River is also a must-do. And most important, it is only 3 hours by car from our place in the French Alps.
Une personne de notre petit groupe ayant une réunion d'affaires à Turin, nous avons décidé de nous joindre à lui (sans vraiment lui demander son avis!) et de profiter de ce que l'Italie a de mieux à nous offrir : les bons expresso avec leurs viennoiseries recouvertes de sucre fondu, les glaces aux parfums délirants, les pâtes à tomber et bien sûr le shopping ! Turin n'est pas la plus belle ville d'Italie mais elle a vraiment son charme bien à elle, particulièrement dans le centre avec ses magasins en arcades (très agréables par temps de canicule) et surtout les alentours du lac de Po. Et surtout ce n'est qu'à 3 heures en voiture de la Haute Savoie.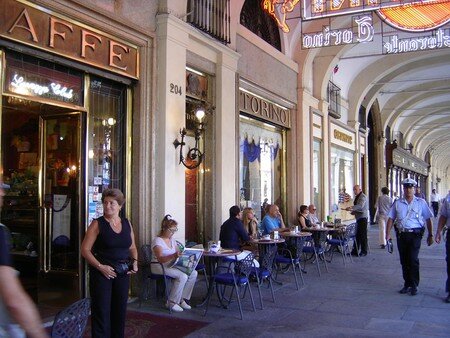 The arcades. The lady in black is my Mum.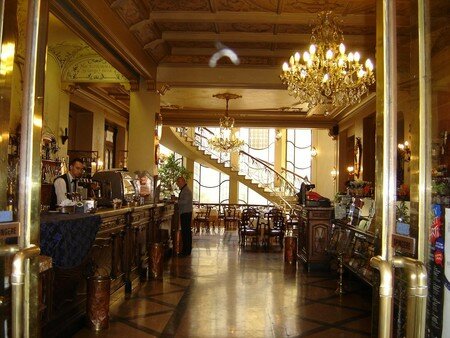 Interior of the Caffe Torino, the local institution
Outside Caffé Torino, the bull is a lucky charm and walking on it brings you health and happiness !
Granizzato alla amarena and caffe expresso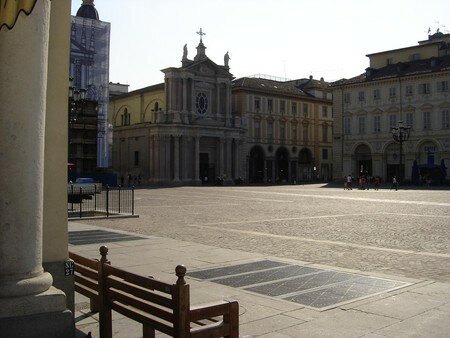 Piazza Castello
Amaretti. Yum !!