Gâteau aux petit-suisses, poudre d'amandes et Nutella
Nutella, almond meal and petit-suisse (cream cheese) Cake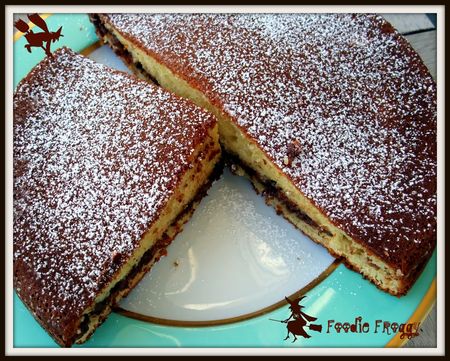 Haha ! Tell me the truth : what did you expect ? A spider-shaped cake with blood fudge ? No, no, no actually, even if I am a big fan of the USA, Halloween has never really been my type of celebrations. Even my daughters are not excited by it, yet the eldest one was born two days after halloween ! So, no ugly recipe, just a simple cake instead. Well, it seems simple, but actually it is the result of many brainstormings of mine : I had made many yogurt cakes before but I was just not totally satisfied with them : I wanted something richer, moister and tastier. Richer : I substituted petit-suisse (cream cheese) with yogurt, Moister : almond meal was the answer, Tastier : what about some orange juice ? The result was beyond my expectations ! I know it is hard to believe that such a simple recipe can make someone so enthousiastic, but believe me : it was magical. And the Nutella spread in the middle of the cake : totally sinful !
Haha ! Avouez, vous vous attendiez à une recette bien effrayante en forme d'araignée ou de tête de mort et tartinée de coulis de sang ou de bave de crapaud. Non, non, pas de ça chez moi; même si j'adore les Etats-Unis, j'avoue que je ne suis pas tombée dans la marmite Halloween quand j'étais petite ni maintenant non plus, d'ailleurs...Pour mes filles, idem, et pourtant l'aînée est née en pleine période de festivités morbides...En fait, très très loin de tout cela, c'est plutôt une démarche bien terre à terre qui m'a menée vers cette recette : je cherchais tout bêtement à améliorer mon gâteau au yaourt (oui, je sais, ma vie est so glamour...). Mes dernières tentatives étaient sympas, mais sans plus; j'étais à la recherche d'une texture plus moelleuse, plus riche, en d'autres termes, plus gourmande. Alors, voilà, mes cogitations m'ont amenée à remplacer le yaourt par des petits-suisses, à ajouter de la poudre d'amandes et enfin quelques centilitres de jus d'orange. Pour la final touch qui tue, j'ai découpé le gâteau en deux dans la hauteur et l'ai tartiné de Nutella...Et...yes, ça y est, je l'ai, la fameuse recette qui restera gravée dans le marbre funéraire. C'était tout simplement...mortel, mouhahaha !!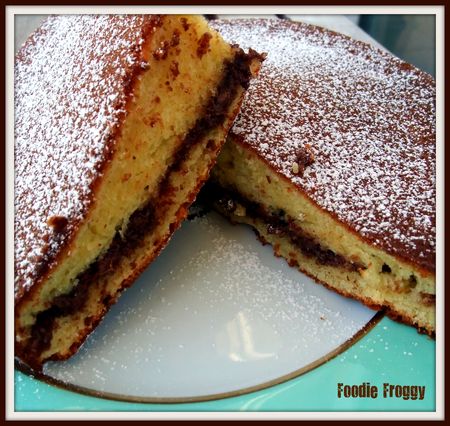 Ze to die for Nutella Cake
For 8 servings ( a 10-inch round cake pan)
0.8 cup de petit-suisses nature (can be replaced by cream cheese)
1 cup granulated sugar
2 cups all-purpose flour
1/2 cup almond meal
1/2 cup vegetable oil
4 tablespoons orange juice, freshly squeezed
3 eggs
1/2 pack (1 teaspoon) dry yeast
1 pack (2/3 tbsp) vanilla sugar
0.8 cup Nutella
powder sugar (optional)
Preheat oven 400°F.
Mix all ingredients one by one, following the order on the list above (except nutella and powder sugar). Beat well until smooth. Pour batter in the buttered and floured pan.
Bake for 30 minutes or until a knife inserted comes out clean. If cake tends to get too brown quickly, cover with foil.Remove from the oven and let cool.
Use a long serrated knife to cut the cooled cake horizontally in half, using a sawing motion and turning the cake as necessary, while keeping the opposite hand atop the cake to steady it.
Spread one half with Nutella and cover with the second layer.
Sprinkle top with powder sugar.
Gâteau au Nutella qui tue
Pour un moule à manqué de 27cm de diamètre
Unité de mesure : pot de yaourt standard (125g)
1 pot et demi (à yaourt) de petit-suisses nature
2 pots de sucre en poudre
3 pots de farine ordinaire
1 pot de poudre d'amandes
1 pot d'huile de tournesol
5cl de jus d'orange fraîchement préssée
3 oeufs
1/2 sachet de levure chimique
1 sachet de sucre vanillé
200g de de Nutella
Sucre glace (facultatif)
Préchauffez le four à 200°C.
Mélangez les ingrédients dans l'ordre de la recette (jusqu'au sucre vanillé), en battant entre chaque ajout. Versez dans un moule à manqué bien beurré et fariné.
Faites cuire environ 30 minutes ou jusqu'à ce qu'un couteau inséré ressorte propre. Si le gâteau brunit trop vite, recouvrez de papier alu. Sortez du four et laissez refroidir.
Coupez en deux dans l'épaisseur avec un long couteau fin, retirez la partie supérieure, tartinez de Nutella et reposez le haut du gâteau.
Saupoudrez de sucre glace.