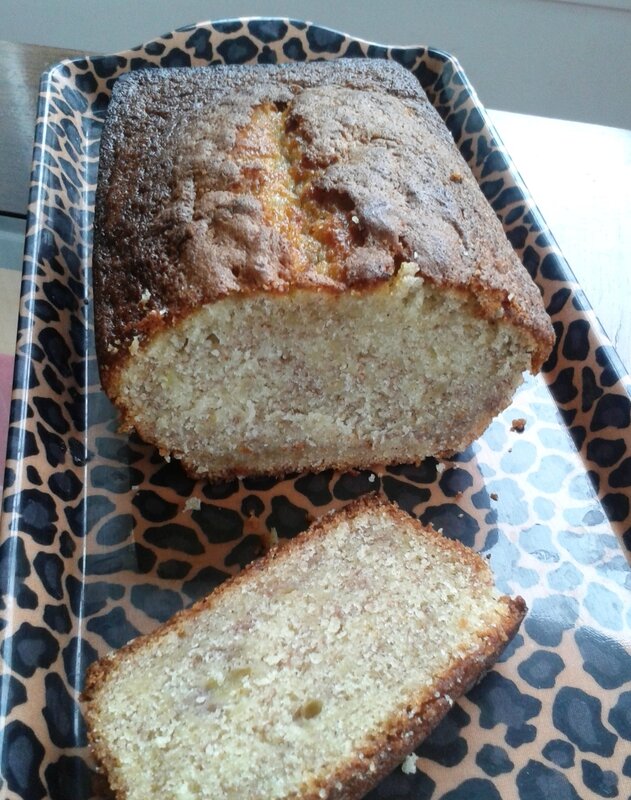 Le meilleur, oui, je peux l'affirmer d'autant plus facilement que je ne suis pas l'auteur de cette recette. Le vrai papa en est Dominique Ansel, un pâtissier français installé à New York et célèbre dans le monde entier pour son fameux "cronut", création hybride entre le croissant et le donut. Comme lui et contrairement à de nombreux américains, je n'ai pas grandi avec le banana bread; chez moi c'était plutôt cakes marbrés ou pâtisseries orientales de mes grands-mères. D'ailleurs, la première fois que je l'ai vu mentionné dans un menu de petit-déjeuner aux USA, je me suis dit "beurk, un pain à la banane !!" (et oui, je n'avais aucune idée qu'en fait, il s'agissait d'un cake. En même temps, le nom porte vraiment à confusion). Cette recette était ma troisième tentative de banana bread, j'avais auparavant testé une version québécoise dont la texture caoutchouteuse m'avait quelque peu déroutée, celle de Donna Hay avec des noix (un peu sèche) avant d'être finalement comblée par la texture dense de celle-ci, son moelleux incomparable et sa croûte bien dorée. Depuis, je ne pense qu'à une chose : la refaire le plus vite possible !
I can easily say that this recipe is the best, since the "author " is Dominique Ansel, not me. You may have heard of this French Pastry Chef who lives in New York City, since he is the "father" of the infamous Cronut, a pastry hybrid which looks like a donut but has the flaky texture of a croissant. It is quite ironical that a person who has never had banana bread in his childhood (like any french people, including me) is now totally in love with this very american iconic cake. He tasted it for the first time, thanks to one of his employees, after he established in the USA. As for me, the first time I saw a banana bread featured on a menu in the USA, I thought "what ? A bread with bananas ? yuck !!" (truth is the name is quite confusing, isn't it ?). Today's recipe is my third attempt : first one was a canadian version which was too chewy and second one was a Donna Hay's recipe with walnuts (too dry). I am so glad I finally found the perfect banana bread, with a very dense and moist texture and a caramelized crust. I can't wait to make it again !
Le meilleur banana bread du monde
Recette de Dominique Ansel, sur le site Tasting Table
Pour un moule de dimension 25x15x7 cm (le mien fait 24x10x7cm, il m'est resté de la pâte pour faire 2 mini-cakes)
400g (2 cups) de sucre en poudre (je n'ai mis "que" 350g de sucre, pour moi cela suffit)

250g (2 cups) de farine ordinaire + un peu pour fariner le moule à cake

¾ cuillère à café de bicarbonate de soude

1 cuillère à café de levure chimique (pour ma part, j'ai remplacé le bicarbonate + la levure par un demi-sachet de levure chimique, soit environ 5g)

¾ cuillère à café de noix de muscade râpée (je l'ai remplacée par 1 cuillère à café de vanille en poudre)

4 bananes très, très mures, écrasées

200g de beurre doux, fondu, plus un peu pour graisser le moule à cake (fondu 2 minutes au micro-ondes puissance 500W pour moi)
Préchauffez le four à 180°C. Beurrez et farinez le moule à cake.
Dans un grand saladier, mélangez à la cuillère en bois ou au fouet le sucre, la farine, la levure et le bicarbonate, la noix de muscade râpée (vanille en poudre pour moi) et le sel.
Dans un autre saladier, fouettez les oeufs et mélangez-les aux bananes écrasées. Ajoutez le mélange bananes/oeufs au saladier des ingrédients secs (farine, levure, etc). Mélangez bien, à la spatule ou cuillère en bois (pas de robot, la texture risquerait d'être caoutchouteuse). Enfin, versez le beurre fondu et mélangez jusqu'à ce qu'il soit bien incorporé.
Versez l'appareil dans le moule beurré et enfournez pour une heure et dix minutes (pour moi, 55 minutes ont suffi, alors surveillez bien la cuisson. (update du 06/01/15 : je l'ai refait ce matin, dans un moule de 16cm x 24 cm, et là, une heure et 15 minutes ont été nécessaires dans mon nouveau four à chaleur tournante. Tout cela pour dire que la durée de cuisson varie énormément selon votre four et la taille de votre moule). Dès que le cake est doré, testez régulièrement la cuisson avec la pointe d'un couteau). Laissez refroidir 20 minutes avant de le démouler et le découper.
Dominique Ansel le sert recouvert de mascarpone et le trempe dans du "dulce de leche". Selon moi, il se suffit à lui-même.
Best banana bread ever
Recipe by Dominique Ansel, in Tasting Table
2 cups sugar ( I put only 1 3/4 cups )

¾ teaspoon nutmeg, grated (1 tsp vanilla powder for me)

4 overripe bananas, mashed

14 tablespoons unsalted butter, melted, plus more for greasing pan ( I melt the butter in the microwave, 2 minutes on power 500w)
Preheat the oven to 350°. Grease a 10" x 5" x 3 ½" loaf pan and set aside.
In a large bowl, combine the sugar, flour, baking soda, nutmeg, salt and baking powder.
In a separate bowl, beat the eggs and combine with the mashed bananas. Pour the wet ingredients over the dry ingredients and mix together until just combined. Stir in the melted butter until fully incorporated.
Pour the batter into prepared pan and bake until golden brown and a cake tester inserted in the center of the loaf comes out clean, about 1 hour and 10 minutes ( for me, 55 minutes were enough, so be careful and check frequently from 45 minutes). (January 6th, 2015 update : I made the bread again this morning in a larger pan and in my new oven, and this time, it needed 1 hour and 15 minutes to be perfectly cooked. So it really varies a lot depending on your oven and the size of your pan). Allow to cool for 20 minutes before slicing.
Dominique Ansel says in an interview that "he soaks bits of it into sweetened condensed milk for tres leches and smears layers of mascarpone over the milky bread to make a decadent tiramisu". Feel free to do the same. As for me, I think the cake is so good that it does not need any additional ingredient.