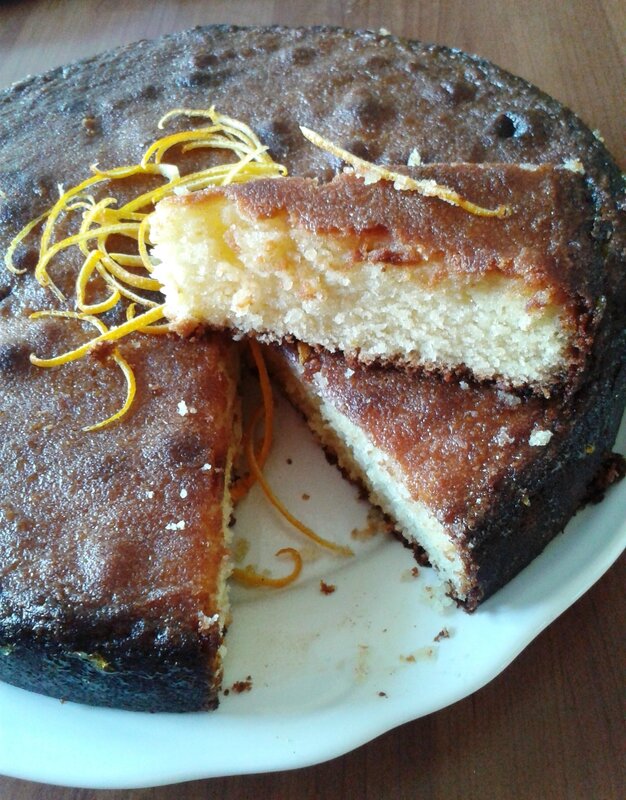 For me, there are two kinds of cookbooks : the ones you enjoy but quickly put in your bookshelf to use only when you need a specific recipe. And the ones you keep close to you, on your bedside table, and that you read little by little, every night, until you fall asleep. These are more than just cookbooks, they are a sum of wonderful memories, beautiful pictures and great recipes of course, in a word they tell a story. "Jerusalem" by Yotam Ottolenghi and Sami Tamimi (already mentioned here) is clearly part of the second category. It is a beautiful object in itself and I love the fact that the writers are both Jerusalemites, one from the israelian part (Yotam) and the other from the palestinian side (Sami) and very close friends though. "The flavors and smells of Jerusalem are our mother tongue" : I love that quote ! This quite traditional syrupy cake with almonds and clementines is really special for me since it reminds me of my (much missed) grandmothers' harissa (nothing to do with the spicy condiment), a spongy cake flavored with orange blossom and made with semolina.
Il y a des livres de cuisine que l'on a pris plaisir à acheter mais que l'on range bien vite après les avoir rapidement parcourus. On les "ressort" uniquement en cas de besoin, lorsque qu' un plat précis doit être réalisé. Et il y a ceux qui restent sur la table de chevet, que l'on feuillette chaque soir avant de s'endormir et qui racontent une histoire. « Jerusalem », de Yotam Ottolenghi et Sami Tamimi (déjà évoqué ici) fait indéniablement partie de la seconde catégorie. L'objet est beau, le contenu est riche de souvenirs d'enfance et surtout transmetteur d'un message de paix auquel on aimerait croire : les deux auteurs sont en effet natifs de Jerusalem, chacun d'un côté de la "barrière", mais la passion de la cuisine les a réunis et en a fait les meilleurs amis du monde. Comme eux-mêmes aiment à le dire : "les saveurs et les odeurs de Jerusalem sont notre langue maternelle". Ce gâteau sirupeux aux amandes et aux clémentines, assez traditionnel, m'a rappelé celui de mes regrettées grands-mères, la harissa (rien à voir avec le condiment épicé), un gâteau spongieux imbibé d'eau de fleurs d'oranger et réalisé avec de la semoule de blé.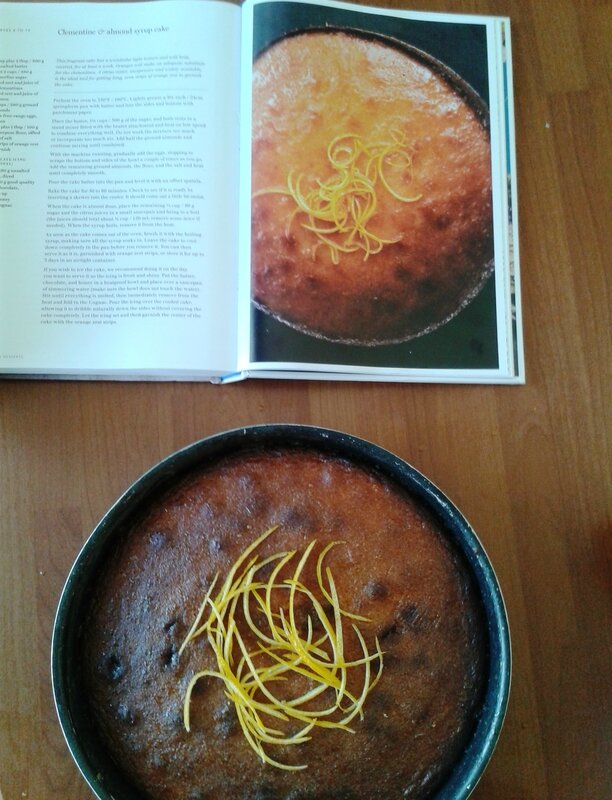 Clementine and Almond Syrup Cake (from the "Jerusalem cookbook by Yotam Ottolenghi)
3/4 cup plus 2 tbsp (200g) unsalted butter
2 cups (380g) caster sugar
Grated zest and juice of 4 clementines
Grated zest and juice of 1 lemon
2 1/2 cups (280g) ground almonds
5 large free-range eggs, beaten
3/4 cup plus 1 tbsp (100g) plain flour, sifted
A pinch of salt
Long strips of orange zest, to garnish
Heat the oven to 350°F (180C). Lightly grease a 9 1/2-inch 24cm spring-form tin and line the sides and base with baking parchment. (As for me, I have simply greased and floured the pan, no baking paper).
Put the butter, 1 1/2 cups (300g) of the sugar and the lemon and clementine zests in a mixer bowl and use a beater attachment on a slow speed to combine everything – do not work the mix too much or incorporate much air. Add half the ground almonds and continue mixing to fold through.
With the machine running, gradually add the eggs, scraping the bottom and sides of the bowl a couple of times as you go. Add the remaining ground almonds, flour and salt, and work them in until the mix is completely smooth. Spread the batter inside the cake tin and level it off with a palette knife.
Bake for 50–60 minutes ( for me, 40 minutes were enough, so be careful)– check that it's ready by inserting a skewer: it should come out a little bit moist.
When the cake is almost cooked through, put the remaining sugar and the citrus juices (you need around 1/2 cup (120ml), so remove some if need be) in a small saucepan and bring to a boil. The moment it comes to a boil, remove the pan from the heat.
As soon as the cake comes out of the oven, brush the boiling syrup over the top, until it has all soaked through. Leave the cake to cool down completely in the tin, then remove from the tin and serve it as it is, garnished with orange strips, or store it for up to three days in an airtight container.
Gâteau au sirop aux amandes et clémentines (recette du «Jérusalem cookbook" de Yotam Ottolenghi)
200g de beurre doux
380g (300 + 80) de sucre en poudre
Le zeste râpé et le jus de 4 clémentines
Le zeste râpé et le jus de 1 citron
280 g d'amandes en poudre
5 gros œufs, battus
100g de farine ordinaire, tamisée
Une pincée de sel
De longues bandes de zestes d'oranges, pour décorer

Préchauffer le four à 180 ° C . Beurrer et fariner un moule à manqué de 24 cm de diamètre .
Mettre le beurre , 300g de sucre et les zestes de citron et de clémentine dans le bol de votre robot (crochet K) ou dans un grand saladier. Battre à vitesse moyenne- ne pas trop travailler le mélange ni incorporer d'air. Ajouter la moitié des amandes et continuer à mélanger.
Ajouter petit à petit les oeufs battus en raclant le fond et les côtés de la cuvette (ou du saladier) de temps en temps. Ajouter le reste de poudre d'amandes , la farine et le sel , et travailler jusqu'à ce que le mélange soit complètement homogène . Verser la pâte dans le moule à manqué et lisser le dessus à la spatule.
Enfourner pendant 50 à 60 minutes (pour moi , 40 minutes ont suffi , alors soyez vigilant ). Vérifier la cuisson à l'aide d'un couteau pointu : la lame doit ressortir juste un peu humide.
Quand le gâteau est presque cuit , mettre le reste du sucre (80g) et les jus d'agrumes (environ 12cl) dans une petite casserole et porter à ébullition . Lorsque le liquide bout, retirer la casserole du feu .
Dès que le gâteau sort du four , le badigeonner de sirop bouillant , jusqu'à ce tout le sirop soit utilisé . Laisser le gâteau refroidir complètement dans le moule , puis le démouler et le servir , garni de bandes de zestes d'oranges (obtenues grâce à un zesteur ou à un économe et un grand couteau). Ce gâteau peut se conserver trois jours dans un contenant hermétique.