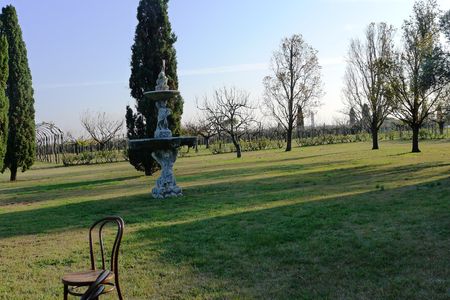 Mes bonnes résolutions pour ce début 2012 ? Vous faire rêver, vous faire voyager et partager avec vous les moments beaux et forts qui ont marqué mon année 2011 ! Et Dieu sait si elle en a été pourvue ! Rassurez-vous cependant, je ne me pencherai pas que sur le passé...
La semaine dernière, je vous ai transportés dans l'antre potager de Passard en compagnie de "Peau d'âne", une journée qui fût déjà à marquer d'une pierre blanche...Mais si vraiment je me devais de retenir UN moment riche en émotions de 2011, ce serait sans conteste ce week-end à Venise fin novembre, organisé par notre très cher ami Paul-Maxime pour son anniversaire. "Organisation" ne serait d'ailleurs pas le terme approprié, "travail d'orfèvre" serait plus adapté, tant ce séjour fût un enchantement. La moindre minute en a été pensée avec un sens du détail qui dépassat l'entendement, mais surtout avec beaucoup, beaucoup d'amour. Par amitié pour Paul-Maxime, je ne m'attarderai pas trop car je le sais très pudique. Admettons tout simplement qu' il nous a traités nous, ses meilleurs amis (nous étions 7 couples), comme des rois et des reines en leur palais ! J'évoquerai plus loin les restaurants découverts pendant ce week-end gastronomique, mais je tiens à commencer par ce déjeuner dans l'unique villa de l'ïle de Torcello. Les photos parleront d'elles-mêmes. Nous y étions comme des enfants, émerveillés par cette ravissante demeure du XVIIe et cette table gourmande proposée par Luca, le propriétaire et sommelier du fameux restaurant "Osteria alle Testiere". Allez, je vous guide, suivez-moi, et je prends l'engagement qu'à la fin de ce billet, un sourire éclairera votre visage...
My resolutions to start this brand new year ? To make you dream and travel, and to tell you all about my fondest memories of 2011 ! All that through this blog ! I know it sounds a bit presomptuous, but all I really want is share with you, my dear readers, the blessings I have received last year.No worries,though, I will also post about future events, of course !
Last week, I took you to starred Chef Passard's vegetable garden, a day that marked a milestone in my 2011 gourmet adventures ... But if I really had to choose ONE fond memory , it would be without any doubt our weekend in Venice, Italy, late November, organized by our dear friend Paul for his birthday. "Attention to the slighest detail" is what could best characterize him : this trip was a pure delight, but as I don't want him to feel uncomfortable reading these lines, I will make it short : we (his 15 best friends !) have been treated like kings and queens ! And I am not exagerating ! I will post later about the restaurants we had the opportunity to test during this gourmet weekend , but I wanted to start with the amazing lunch that took place at the only villa on the island of Torcello. The pictures speak for themselves. We were like children, enchanted by this delightful country-house from the seventeenth century and by the gourmet table proposed by Luca, the owner and sommelier of the famous restaurant "Osteria alle Testiere". Follow me, I will guide you step by step...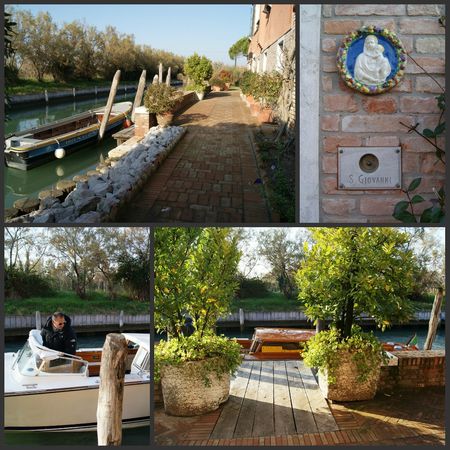 Nous y arrivons en Riva (quel luxe !) sur un mini-débarcadère en bois et briques qui se trouve être directement devant la villa ! Sur notre programme du jour, élaboré à la main par notre ami, une seule mention, bien mystérieuse : "déjeuner champêtre à Torcello"...Our journey started in a private boat that took us to Torcello,directly in front of the porch of a beautiful house !
A peine avons-nous eu le temps de traverser la maison, joliment décorée de pièces d'antiquités et de meubles de bois sombre, que l'on aperçut une immense étendue verte et quelques chaises, là, au bout du couloir ! The house was beautifully decorated with antiques and dark wooden furnitures, but what immediately caught our eyes was the garden we could briefly catch sight of, at the end of the corridor !
Etait-ce possible, étions nous toujours à Venise ? Ce parc gigantesque parsemé de vignes, de pins parasols, de peupliers, de magnifiques grenadiers (une première rencontre pour moi !), de ruines antiques (véridique). Et là, au bout, une piscine !! Un véritable havre de paix, loin de l'agitation (toute relative) de l'île principale. Et je vous rappelle que nous étions fin novembre, avez-vous relevé le temps ? Incroyable ! Wow, are we really still in Venice ? Who could guess the island had hidden luscious gardens as big as this one, with vineyards, stone pines, pomegranate trees, antique ruins (you read well) and a gorgeous pool ? And the weather...incredible for an end of november !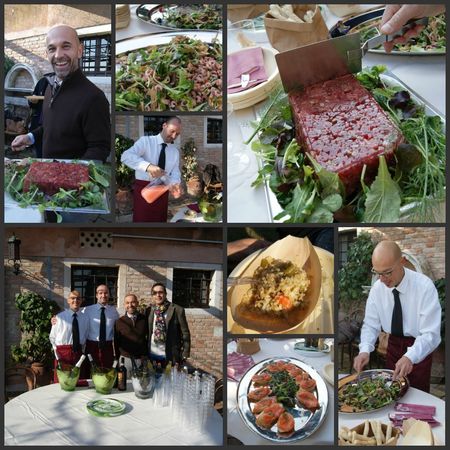 Quelle table mes amis ! Luca de son charisme incroyable, Bruno (les lunettes) de son sourire si attachant, et Paul-Maxime notre hôte (avec l'écharpe) nous ont proposé quelques spécialités vénitiennes. En antipasti, des toasts de "baccalà mantecato", une sorte de brandade de morue sans pomme de terre. A ce propos, saviez-vous que Venise est de toujours le premier importateur de morue ? Puis ont suivi quelques tartines de saumon mariné, viendront ensuite une salade de crevettes grises de la Lagune, une salade de verdures mixtes parsemée de baies rouges, un Boulgour tiède aux filets de Saint-Pierre, carottes, courgettes et céleri, et enfin un Tartare de ventrèche de thon fièrement exhibé par Luca (assaisonné de céleri, câpres et d'huile d'olive). What a wonderful lucnh, and what great people prepared and served it ! The good-looking and charismatic Luca was very proud of his tuna Tartare (seasoned with celery, capers and olive oil), the always-smiling-Bruno (with the glasses) masterfully assembled the salad greens with berries and the shrimps (from the laguna) salad. We also had marinated salmon, bulgur ( a sort of couscous) with john dory, zucchini, celery and carrots. Not photographed : a "baccallà mantecato" (cod-based spread).
La pièce maîtresse ? Lasagnes de légumes verts dont j'ai observé l'élaboration et la cuisson en cuisine. Les légumes que Luca utilise proviennent de l'île de Sant'Erasmo, aussi appelée "le jardin de Venise", ce qui leur confère un léger goût salé complètement naturel. The masterpiece : a green vegetable lasagna, all vegetables originating from Sant'Erasmo island, also nicknamed "the garden of Venice". This origin gives them a slightly salted taste (all natural !).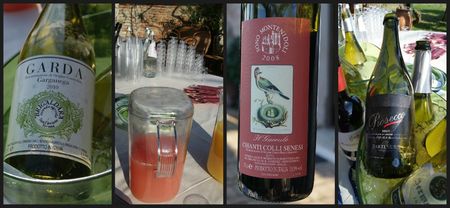 Les boissons ? Un prosecco brut Bartenura (cacher), un Garda Garganega, cépage de raisins blancs au léger arôme d'amande et d'agrume, un chianti Colli Senesi pourvu, parait-il, d'un peu de cépage blanc ce qui est très rare, et un vin de la vigne du jardin ! Et bien sûr, un Bellini bien rose (cocktail de prosecco et de jus de pêche de vigne). En prime : un Vino Dorona, qui si j'ai bien compris, porte une histoire tout à fait remarquable dans la mesure où son cépage, datant du XVe siècle et ayant disparu, aurait été redécouvert et "restauré" l'an dernier.What drinks did we have ? A kosher wine, Prosecco Bartenura, a Garda Garganera which is a white wine with a slight citrus fruit and almond flavour, a Bellini cocktail (prosecco mixed with vine peach juice). Not photographed : we were also served a Vino Dorona, a wine with a beautiful story : this grape variety dated from the 15th century and had dispapeared, but last year, they found a way to re-create it !
Le dessert, un "semi-freddo de crema di mascarpone". Conseil de Luca, lorsque nous préparons un tiramisu , il faut doubler la quantité de mascarpone de la recette si celui-ci est français car il serait beaucoup moins dense que l'italien. Enfin, un minuscule espresso, petit mais costaud, je vous le garantis ! Of course, dessert was a "semifreddo de crema di mascarpone", followed by a tiny but very strong espresso...
C'est fini ! Nous quittons les lieux avec regret...ça vous a plu ? Alors, ce sourire...j'avais raison, n'est-ce pas ? Good things always come to an end, and it was with a heavy heart that we left this magical place...
Si vous êtes intéressés pour louer ce lieu ou y séjourner, faites-le moi savoir par commentaire et je vous mettrai en contact avec la personne adéquate. If you are interested in renting this place for a day or several nights, let me know and i will put you in contact with the right person.
Billet lu et approuvé par LibéFood !
Copyright : all pictures Toutes les photos : Foodie Froggy