Dégustation de dim sum chez le second "Yoom", dans le 6ème! A "dim sum" lunch at "Yoom" in the 6th !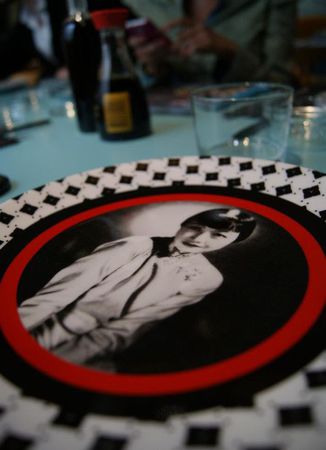 Comme tout un chacun, j'avais déjà goûté les bouchées vapeur (dim sum) de mon petit chinois de quartier mais plus pour me donner bonne conscience avant les vacances estivales et l'épreuve du maillot de bains que par véritable envie. Ce qui m'avait toujours dérangé avec ces bouchées vapeur, c'est que l'on ne savait pas trop ce qui se trouvait à l'intérieur : on avait clairement affaire à des Objets Gourmands Non Identifiés...Et puis même si les formes variaient, les goûts se ressemblaient furieusement. Bref, munie de ce léger "passif", je dois avouer que lorsque j'ai reçu l'invitation à découvrir le second restaurant parisien "Yoom" spécialisé en dim sum, j'étais quelque peu perplexe. Mais la curiosité a été la plus forte, et je ne le regrette pas, oh que non ! J'ai vraiment adoré la cuisine de Mikaël Petrossian et de Benoît Guilbeau, leurs dim sum sont incroyablement goûteux et riches en saveurs variées : des crevettes, certes mais aussi du boeuf, du poulet, des saint-jacques, du canard et plein d'herbes fraîches et d'épices ! Ne me reste plus maintenant qu'à convertir un autre grand sceptique : Mr Froggy ! Je l'aurai, un jour, je l'aurai ! ;-)
Like everyone, I had already tasted "dim sum" (bite-size steamed chinese food) at my local Asian restaurant but it was more in an attempt to feel guilt-free before the summer vacations than a real craving. What has always upset me with these dumplings is that I never really "found out" what they were made of : for me, they clearly were Unidentified Eating Objects ! And even if the shapes varied, they were quite similar in flavors (IMHO). I must confess that when I received the invitation to discover the second Parisian restaurant "Yoom" specialized in dim sum, I hesitated to answer "yes". But curiosity did not kill the frog (lol) and it led me to discover a wonderful new gourmet place ! I really loved Mikael Petrossian and Benoit Guilbeau's food, it was incredibly tasty and very varied in tastes : the stuffings were not only made with shrimp, but also beef, chicken, scallops, duck and lots of fresh herbs and spices! Now, my "Mission : Impossible" is to convert another skeptical guy to "dim sum" : Mr Froggy himself ! ;-)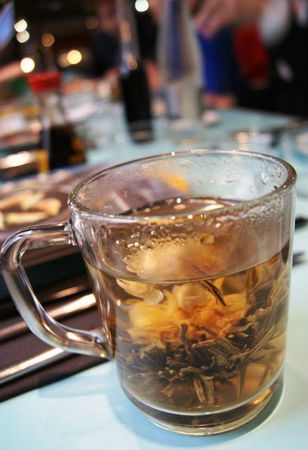 Pour ouvrir ses papilles et pour le plaisir des pupilles, rien de mieux qu'une fleur de thé qui s'épanouira avec grâce pendant le repas...Blooming tea in a heatproof glass, is there a prettier way to start an asian meal ?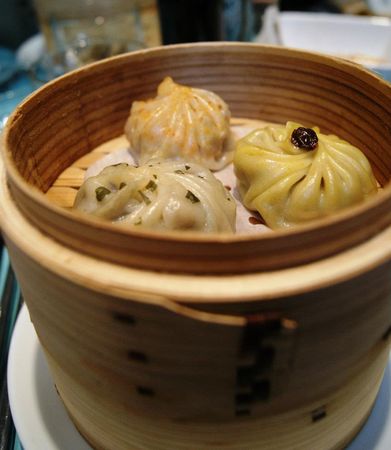 On commence fort avec trois petites "bourses" vapeur au boeuf, gingembre et basilic thaï / boeuf épicé et curry rouge / curry de légumes et lait de coco. Les couleurs variées de la pâte sont obtenues grâce à des épices, donc totalement naturelles : espelette (rouge), curcuma (jaune), thé matcha (vert)...Let's start with these three dim sum : Beef, thaï basil and ginger / beef and red curry / vegetables, curry and coconut milk. The dough has different colors due to the use of various spices : matcha tea for green, tumeric for yellow and chili pepper for red.
Etage inférieur : du porc épicé (non goûté) / poulet aux champignons noirs (le dim sum jaune) à tremper dans une sauce aux cacahuètes mortelle / dim sum végétarien avec une sauce au curry rouge. Il faut savoir que chaque bouchée a sa sauce propre, qui met en valeur ses saveurs. Spiced pork / chicken with peanuts / veggie dim sum, all served with both satay sauce and red curry dip
Ah, je suis tellement désolée d'avoir raté cette photo ! D'autant que ces boulettes thaï de crevettes et carottes confites étaient tout simplement fabuleuses ! OMG, I am so sorry for this bad-quality picture ! But I really wanted you to get an idea of this wonderful shrimp balls with cilantro and slowly-cooked carrots.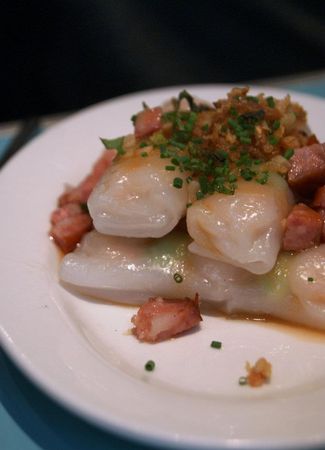 Alors, quand je vous disais que les formes et les saveurs étaient très variées chez Yoom ! Crêpes vietnamiennes aux crevettes et morceaux de saucisse de Montbéliard fumée. Oulala ! Remember when I told you that shapes and flavours were very varied at Yoom ? The proof with these Vienamese-style crepes, stuffed with shrimps, and topped with smoked sausage !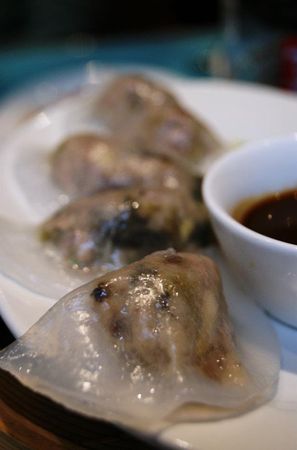 Je vous présente mon chouchou du jour : le croissant vapeur au canard laqué. Avec une sauce hoisin, c'est trop, trop bon ! My fav' of the day : let me introduce you to these steamed dumplings stuffed with Peking duck and served with hoisin dip.
A gauche, ravioli pékinois grillés à tremper dans une sauce vinaigrée, à ma droite ravioli shangaïen et sa sauce hong you (soja et sésame). Ah, non, finalement, je crois que c'était celui-ci mon préféré ! Rhôô, et puis zut, je ne sais plus... On my left, grilled Peking style croissants, on my right, shangai style dumplings with hong you sauce (sesame and soy). Another vote as "fav of the day" for the lattest one.
Et oui, chez Yoom, contrairement aux autres restaus asiates, même les desserts sont bons : ici des boules de riz gluant au sésame noir, dans du lait de coco. Et j'ai entendu dire que la version aux pralines et caramel de beurre salé était à mourir.Usually, desserts are not what asian restaurants in Paris do best, but I can tell you you're going to change your mind thanks to these Tang Yuan stuffed with sticky rice and black sesame, in a coconut milk "soup".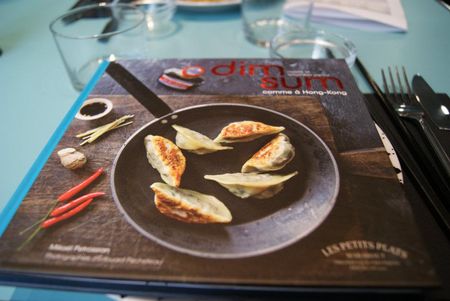 Pour finir, je vous recommande ce livre, écrit par Mikaël Petrossian lui-même et proposant la plupart des recettes du restau. C'est beaucoup plus simple qu'il n'y parait, je vais d'ailleurs me lancer d'ici peu, j'ai repéré des bouchées croustillantes aux wontons fort sympathiques ! Pour l'anecdote, Mikael a abandonné son job dans la finance pour lancer ses restaurants de dim sum. "Dim Sum comme à Hong Kong", collection "les petits plats" chez Marabout. You may have heard of the Petrossian family known for the eponymous caviar brand. Mikaël petrossian, a young thirty-something ex-day trader, gave up his career in Finance to open two dim sum restaurants in Paris. He is so passionate about asian food that he also wrote this cookbook, "dim sum just like in Hong Kong". Many great recipes but available in french only.
Informations pratiques/Useful information :
Yoom Paris 6ème (celui où je suis allée) - 5 rue Grégoire de Tours 75006 Paris - tel : 01 43 54 94 56
Yoom Paris 9ème - 20 rue des Martyrs 75009 Paris - tel : 01 56 92 19 10
Horaires d'ouverture : Déjeuner : 12h - 14h30 (lunch from noon to 2.30 pm) Dîner : 20h - 22h30 (diner from 8 pm to 10.30 pm). Fermeture hebdomadaire le dimanche et le lundi, closed on sunday and monday.
Crédits photos /copyright : A Foodie Froggy in Paris