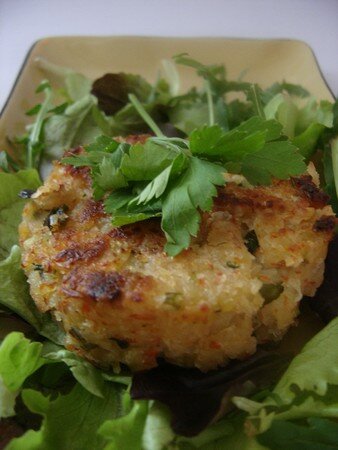 You might remember that, in my last post, I promised a savory and diet recipe ? Well, it seems that I only half-fulfilled my contract with this Crab Cake recipe, which is not exactly "light" . Oh, Come on, let's forget diet for a second, especially when it is freezing outside ! During winter, one's body needs extra calories, non ?
Caroline Rostang is the daughter of Michelin starred Chef Michel Rostang, and now not only has she got her own restaurants, but she is also the (scary) hostess of a French TV reality show , which purpose is to help ailing restaurants.
Lors de mon dernier billet, J'avais promis une recette salée et diététique. Force m'est de constater que je ne remplis que la moitié de mon contrat avec cette recette de Crab Cake, qui contient tout de même de la crème et de la mayonnaise et surtout qui est dorée à la poêle en fin de course !! Oh et puis après tout, au diable les kilos ! Quand il fait froid, on a besoin de calories supplémentaires, non ?
J'ai trouvé cette recette (que j'ai largement modifiée) dans un ancien numéro de Jasmin et j'avais eu du mal à reconnaître en la jeune personne souriante photographiée, la terreur des restaurateurs de l'émission de télé réalité de M6 « Panique en Cuisine ».
Recette en français en bas de page !
Crab Cakes
For 6 individual Crab Cakes
7 oz Crabmeat
5.3 oz interior of white sandwich bread
3 eggs, beaten
½ cup extra virgin olive oil
½ cup liquid whipping cream
½ bunch scallions, peeled, cleaned, and chopped (white and green parts)
3 tablespoons Dijon Mustard
1 tablespoon mayonnaise
3 tablespoons Worscestershire sauce
4 drops Tabasco sauce
Salt and Pepper
Tear up the bread and pulse in a food processor, finely. Transfer to a mixing bowl and add mustard, mayonnaise and beaten eggs. Add chopped scallions and crabmeat. Season with pepper, Tabasco and Worcestershire sauce. Add cream and olive oil. Salt.
Line a pastry sheet with parchment paper. Arrange 6 individuel cooking rings or a muffins silicon mold. Fill the rings or molds with the batter, to ¾. Bake 15 minutes in a warm oven (400°F).
Remove the Crab Cakes from the oven, unmold them carefully. To give them a nice golden color, sautée them in a hot pan with oil, very quickly, on both sides. Put them on absorbing paper. Serve hot or warm with salad greens and spiced dressing.
Crab Cakes revisités
Pour 6 petits Crab Cakes
200g de chair de crabe (ou de surimi haché si vous ne mangez pas de crustacés)
150g de mie de pain de mie
3 oeufs entiers, battus
10 cl d'huile d'olive
10 cl de crème fleurette
½ botte de ciboules, pelées, nettoyées et hachées (la partie verte aussi)
3 CS de moutarde forte de Dijon
1 CS de mayonnaise
3 CS de Worscestershire sauce
4 gouttes de Tabasco
sel et poivre
Mixer finement la mie de pain de mie. Mettez cette mie dans un saladier et ajoutez-y la moutarde, la mayonnaise et les œufs battus au préalable.
Ajoutez la ciboule et la chair de crabe (ou surimi). Assaisonnez avec le poivre, le Tabasco et la sauce Worcestershire, puis ajoutez la crème fleurette et l'huile d'olive. Goûtez et salez (généreusement).
Recouvrez une plaque à pâtisserie de papier sulfurisé. Remplissez 6 cercles de cuisson de 8 cm de diamètre ou un moule à muffins en silicone avec la préparation. Faites-les cuire 15 minutes à four chaud (200°C).
Sortez les Crab Cakes du four, démoulez-les délicatement. Afin de leur donner une jolie couleur dorée, les passer à la poêle chaude avec un fond d'huile de tournesol, recto-verso. Les poser sur du papier absorbant. Servez chauds ou tièdes avec une salade bien relevée.