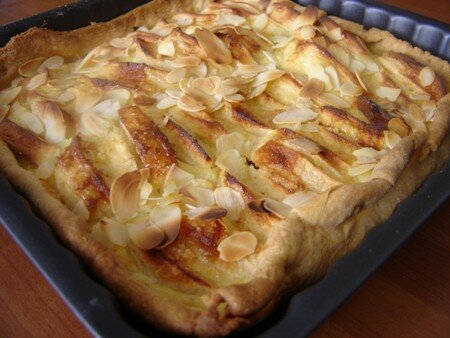 But what's wrong with me ? I have been craving for comfort (translate : simple and high-calories) food for the last couple of weeks ! Is it our current wintry spring following our "spring-like" winter that turns me upside down ? So, after the chocolate madeleines, let me introduce you to my classic Apple and Almonds Tart. I have been making this tart for years, long before I was even able to cook a proper meal. I promise that my next post will be more "reasonable" and...savory !
Mais que m'arrive t'il ? En ce moment, j'ai très envie de plats simples et réconfortants (et assez caloriques, j'ai remarqué !). Est-ce l'arrivée de ce "printemps hivernal" qui succède à notre "hiver printanier" qui me met dans cet état ? Alors, après les madeleines au chocolat, voici la tarte aux pommes et aux amandes qui est un de mes grands classiques depuis de nombreuses années, avant même que je ne sache cuisiner un repas décent. Promis, le prochain billet sera plus raisonnable et plus...salé !
Recette en français en bas de page !
You need for a large Tart (serves 6 to 8) :
6 apples (Rome or Jonathan)
3 eggs
2.5 oz granulated sugar
4 heaping tbsp heavy double cream
4 tbsp almond powder
2 tbsp thinly sliced almonds
1 sheet shortcrust pastry (see below)
Home made Shortcrust Pastry:
7 oz all purpose Flour
4.4 oz salted Butter
1 Egg
1 tbsp water
Make the shortcrust pastry : Cut the butter into 1.5cm (½ inch) dices and rub into flour, lifting the mixture to add air, until it resembles breadcrumbs. Make a well in the middle of the mixture and stir in the egg and water.
You obtain a soft but not sticky pastry. (If sticky, add flour).Cover tightly and sit in a fridge for 30 minutes.
Pre-heat oven 200°C (400°F).
Roll out the pastry to the required thickness. Place it at the bottom of the pan and evenly pierce with a fork.Cover with parchment paper and bake 15 minutes. Remove from the oven and let cool at room temperature.
Cut the apples in halves, core them, then peel them and cut into wedges. Cover the pre-cooked pastry with the apples, nicely arranged.
In a mixing bowl, beat the eggs and sugar until pale yellow. Add the cream and almond powder. Mix well. Cover the apples with this mixture. Sprinkle some almond slices on top.
Put the tart on a baking sheet, then bake for 30 to 35 minutes or until the pastry is golden brown.To be served with tea or home-made hot chocolate.
Recette en français
Pour une grande tarte (6 à 8 personnes) :
6 pommes (Booskop, Golden ou Canada)
3 oeufs
70g de sucre en poudre
4 cuillères à soupe de crème fraîche
4 cuillères à soupe de poudre d'amandes
une grosse poignées d'amandes effilées
Pâte brisée "maison"
Pour la pâte brisée "maison":
200g de farine
125g de beurre salé
1 oeuf
1 Cs d'eau
Faites la pâte brisée : Couper le beurre demi-sel ramolli en dés de 1.5 cms.Incorporer la farine, frotter avec les mains jusqu'à ce que cela ressemble à une chapelure grossière.
Former une puits au milieu et ajouter l'oeuf et l'eau.Mélanger.On obtient une pâte lisse mais non collante.
Recouvrir de film et laisser reposer 30 minutes au frais.
Aplatir la pâte avec un rouleau à patisserie à l'épaisseur désirée.
Pre-chauffer le four à 200°C.
Couper les pommes en deux dans la largeur, retirer le coeur, peler et couper en tranches assez fines.
Disposer la pâte dans un moule et faites la précuire 15 minutes à four chaud. Retirez du four et laissez refroidir quelques instants, puis disposez les tranches de pommes sur la pâte pré-cuite, joliment.
Dans un saladier, battez les oeufs et le sucre jusq'à ce que le mélange blanchisse. Ajoutez la crème fraîche et la poudre d'amandes. Mélanger bien et versez cette "pâte" sur le dessus des pommes, dans le moule. Parsemez quelques amandes éffilées et faites cuire 30 à 35 minutes, en surveillant. Le dessus doit être bien doré.
Servir tiède avec un thé ou un chocolat chaud maison.