Pistachio and Orange Blossom Madeleines
Madeleines à la Pistache et à la Fleur d'Oranger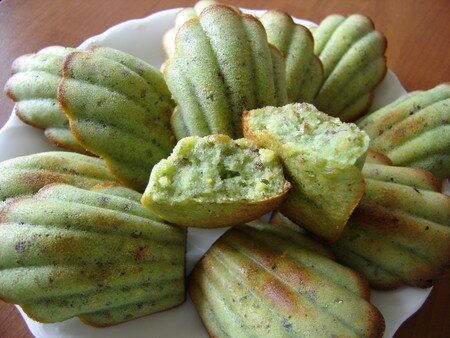 Every Sunday, I take advantage of my children's presence to cook with them : they got rid off homework the day before, no sports scheduled on sundays, so we have plenty of time for relaxation and baking activities ! Not only do we spend a great moment of gourmet intimacy, but it also prevents me from a panick attack in case of any surprise visit by relatives…Last time we made madeleines, my daughters chose the flavour (chocolate) so this time, Mummy was the boss ! I chose Pistachio and Orange Blossom…

Tous les dimanches, je profite de la présence de mes enfants pour cuisiner avec elles : les devoirs sont faits la veille, pas d'activités sportives au programme, donc priorité à la détente et à la pâtisserie !! Non seulement nous passons un bon moment de complicité gourmande, mais en plus cela me permet de parer à toute visite dominicale surprise. La dernière fois que nous avons confectionné des madeleines, elles avaient eu le dernier mot sur le choix du parfum (chocolat), donc cette fois-ci, c'était Maman qui décidait ! Va pour Pistache et Fleurs d'Orangers !!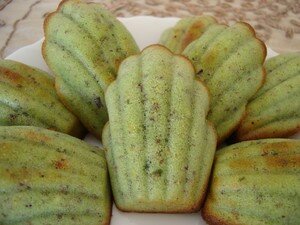 Pistachio and Orange Blossom Madeleines
For 15 to 18 madeleines
3.5 oz unsalted butter
1.8 oz all purpose flour
1 pinch of salt
1.8 oz granulated sugar
1.8 oz de pistachio powder (obtained with blended unsalted pistachio)
3 eggs
2 tablespoons liquid honey
1 tablespoon orange blossom water
Butter the madeleine molds if they are not in silicon.
In a large mixing bowl, assemble the pistachio powder, flour, sugar and salt. Mix well. Add the 3 eggs (already beaten) and whisk until smooth..
Melt the butter in a microwave 2 minutes over medium power or in a sauce pan until slightly golden. Add the melted butter to the batter, then the honey and orange blossom water.
Mix well until smooth.
Arrange the madeleines mold on a pastry sheet lined with parchment paper. Pour the batter in the molds and let sit in the fridge for 30 minutes.
Preheat oven 180°C.
Bake in the warm oven for 15 minutes. Unmold the madeleines and let cool on a rack.
Delicious with a berries salad.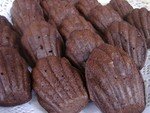 You prefer chocolate madeleines ? Read here !

Madeleines à la Pistache et à la Fleur d'Oranger
Pour 15 à 18 madeleines
100g de beurre doux
50g de farine
1 pincée de sel
50g de sucre en poudre
50g de poudre de pistaches (pistaches non salées broyées au mixer)
3 œufs
2 CS de miel liquide
1 CS d'eau de fleurs d'orangers
Beurrez le moule à madeleines s'il n'est pas en silicone.
Dans un saladier, assemblez la poudre de pistaches, la farine, le sucre et le sel.
Ajoutez les 3 œufs battus au préalable. Mélanger à l'aide d'un fouet.
Ajoutez le beurre fondu au micro-onde (2 minutes, puissance moyenne ou à la casserole jusqu'à « noisette »)). Ajoutez le miel et la fleur d'oranger. Bien mélanger jusqu'à mélange homogène.
Positionnez le moule vide sur une plaque à pâtisserie (surtout si le moule est en silicone). Versez la préparation dans les alvéoles. Réserver au frais pendant une demi-heure.
Préchauffez le four à 180 °C.
Faire cuire environ 15 minutes.
Démoulez et faites refroidir sur une grille.
Dégustez avec une salade de fruits rouges, c'est délicieux.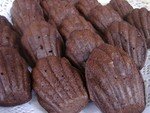 Vous préférez les madeleines au chocolat ? Lisez la recette ici !


.