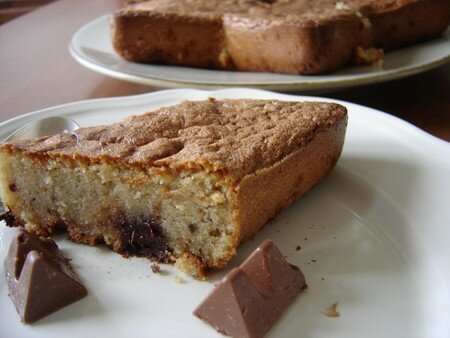 This recipe was made just after I realized how tired I was to see my daughters eat factory-made cakes and biscuits. Unfortunately, I am the person responsible for that, because I am the food shopper in the family. So, I have just promised myself that, in order to protect their good health and palate, I will stop buying those junk-cakes and bake at least 2 home-made cakes per week. Not sure that will be a good thing for their figure, but at least I have a total control on the ingredients. Will I keep my promise? Of course I will!! Well, I'll do my best…at least until the end of the year…or the month…or the week…
I found this recipe on Pascale Week's blog, but I have changed some ingredients and, the best part, I have added those decadent Toblerone triangles !!!
Cette recette est née d'un ras-le-bol. Oui, marre de voir mes filles se régaler de gâteaux industriels. Ceci dit, c'est moi qui les leur achète, donc tout est entièrement de ma faute !! Alors, pour me rattraper et surtout pour leur santé et leur palais, je me suis jurée de cesser totalement l'achat de Prince, Fingers et autres Mikados et de leur concocter au moins deux bons gâteaux maison par semaine. Pas sûre qu'elles y soient gagnantes en terme de diététique, mais au moins je sais ce qu'il y a dedans et surtout ce qu'il n'y a pas (conservateurs, colorants,…). Vais-je tenir ma résolution ? Mais bien sûr, voyons ! Comment ça, j'ai croisé mes doigts dans le dos ???
Cette recette est inspirée du gâteau aux noisettes de Pascale Weeks, revu et corrigé à ma sauce : j'ai remplacé une partie de la poudre de noisettes par du pralin et surtout, ai ajouté des éclats de Toblerone.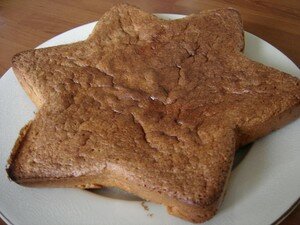 Hazelnut, Praline Powder and Toblerone Chip Cake
For a 7 to 8 in.round cake
5 eggs
4 1/2 oz granulated sugar
3 3/4 oz unsalted melted butter
4 1/2 oz Hazelnut powder
2 1/2 oz Praline powder
1 1/2 oz Toblerone triangles (beige carton), each triangle cut in 2 or 3 pieces
Pre-heat oven 350°F.
Separate white and yolks. Leave the whites at room temperature, they will inflate easily. Beat the yolks with the sugar until pale yellow. Add the melted butter little by little, beating constantly.
Add the hazelnut powder and the praline powder. Mix well. Add the toblerone triangles and mix again.
At the last moment, whip the whites with a pinch of salt. When stiff, add them little by little and very carefully to the hazelnut-praline batter.
Bake for 35 to 40 minutes. Serve with warm chocolate sauce.
Gâteau aux Noisettes, Pralin et Eclats de Toblerone
Pour 1 gâteau rond de 20 cm de diamètre
5 œufs
130g de sucre
100g de beurre doux fondu
125g de poudre de noisettes
75g de Pralin
50g de Toblerone (emballage jaune, taille standard), chaque triangle coupé en 2 ou 3
Préchauffer le four à 180°C.
Séparer les blancs des jaunes. Laisser les blancs à température ambiante, ils monteront mieux.
Battre les jaunes avec le sucre jusqu'à obtenir un mélange homogène jaune pâle. Ajouter le beurre fondu progressivement tout en mélangeant.
Ajouter la poudre de noisettes et le pralin. Bien mélanger. Incorporer les Toblerone et re-mélanger.
Au dernier moment, monter les blancs en neige avec une pincée de sel. Les ajouter progressivement au mélange précédent, très délicatement (en soulevant, plus qu'en mélangeant).
Verser l'appareil dans le moule beurré et fariné.
Faire cuire environ 35 minutes (si vous l'aimez un peu « humide » comme moi) ou 40 minutes. Servir avec une sauce au chocolat tiède.