Date of dinner : october 2007.
Résumé en français
Un excellent repas dans une ambiance extrêmement décontractée, sans chichi, à l'image du Chef, Daniel Rose. Le repas était très fin, goûteux et surtout extrêmement frais : ici l'emphase est mise sur les herbes fraîches, les légumes et fruits (souvent servis crus, mais très agréablement relevés), les épices. Les cuissons sont plutôt courtes, ce qui donne une impression de légèreté tout au long du repas. Une créativité maîtrisée, pas de travers « fashion » comme trop souvent dans les restaurants dits « à la mode ».Restaurant hautement recommandé. Cependant, réservez plusieurs semaines à l'avance.

The Chef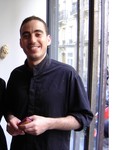 Daniel Rose. Who doesn't know him? He is the hottest new Chef in Paris, he is everywhere : newspaper, magazines (not only in the food related ones), TV, a cookbook very soon…But I had the pleasure of sharing a cooking class with him, and I can testify that he has remained humble despite the crazy media coverage about him.
Daniel Rose is only 31. He was born in Chicago, tried college in Santa Fe, enrolled at the American University in Paris, and took cooking classes at the Institut Paul Bocuse near Lyon. Later, he learnt many things working with Jean-Luc L'hourre, Chef at the Auberge des Abers in Brittany.His first real job was as the Head Chef at a hotel in Guatemala when he was 25 or so. Then, he went back to France and opened Spring 5 years later, in October 2006.

The Food
As you probably know, it is a 4-course fixed menu (39 euros), and no substitution is allowed. Actually, maybe he found us nice because when we told him that 2 of us did not eat pork (but that we knew the rules and did not mind if he could not substitute), he made a special dish for us!
We started with pigeon and ceps under a round shaped pastry, and served with finely diced raw beets, green apple and a flower (a "pensée") to decorate (I actually ate it !). Pigeon and ceps were perfectly cooked, raw beets and apples were very tasty !
Then the second starter was marinated mackerel fillets, with a "salad" of pomegranates and raddichio. A thin toasted bread which had been rubbed with chorizo was a pleasant touch too. This starter was spectacular! For the non-pork eaters, the bread had been rubbed with guinea fowl grease instead of chorizo.
Main dish was the pork, very nicely presented in a rectangular plate and topped with a baked apple that was incredibly smooth and shiny. At first, I did not realize it was an apple, I had to taste it ! Some grated lime on top of the dish. Mmm, yummy. Guinea fowl was the substitution for non-pork eaters. Perfectly cooked too.
The dessert was a trio of bite-size delicacies : kind of a dark chocolate ganache (DR explained to me that it was not really a ganache as there was no cream inside, but it was very close), a delicious tiny lemon curd, and a sort of cream with chestnut spread and pear chutney. The portions were really tiny, and we thought that is was only amuse-bouches, but it was the actual dessert. As they were all rich and filling, it was finally more than enough. A small glass of "lait de montagne" was a pleasant addition, it was flavoured with ginger. I loved it.
We all loved the whole menu and the presentation of the dishes was beautiful.
Our meal was simple in its technical aspect but creative in the association of flavours and ingredients. Nothing wild, though, but all very tasty and fresh. You can feel that all ingredients are carefully selected.
Bread was excellent, it was coming from the bakery next door.
The only bad thing was the coffee even though it was an expresso.
Then Rose gave a nicely wrapped large slice of banana bread to all, explaining it was his grand-mother's recipe and that it was for our breakfast the next morning! To die for!

The wine
As I arrived before my husband and friends, I was offered a glass of white wine while waiting for them. Daniel Rose took pity of the poor lonely me, and took time to chat with me. He had a new helper that night, so was probably more relaxed than usual.
During the meal, we had a sweet wine wine, a Montlouys, which was delicious. But, again, I am not a wine expert.
The customers and the decoration
Spring is located in a non-touristy street of Paris , it is in the South of Pigalle area, in the 9th.The restaurant is minuscule (tiny) with only 16 seats and an open kitchen. We could hear, see, and smell everything that what was being prepared. I think this is one of the explanations of his success. It is a very laid-back atmosphere, everyone seems very happy to be there, including Rose and his staff.
Half the customers were French, the other half Americans. My "neighbours", whom I chatted with while waiting for the rest of my party, were from San Diego.Rose told me that while he was happy to have Americans in his restaurant, he regretted that the Parisians had more and more difficulty to get a table : the foreign tourists reserve months in advance when planning their trip, while the locals are more used to call a few days ahead.
The decoration simply consists of marionette-like puppets on the wall. But no one cares: the show is in the kitchen !
The Service
The waitress was prompt and efficient but not really smiling that night, and she did not explain the dishes very well. Daniel Rose was much more precise and detailed when we got explanations from him.By the way, his french is excellent.
The choice and the Cost
One seating, a set menu. Cost is 39 euros for two starters, one main dish and one dessert.
Drinks, wine and coffee not included. Overall, the menu is a bargain.
I have heard that he is now open for lunch.You can check this info by calling him.

As a conclusion
As you can guess, I highly recommend "Spring" to anyone who wants to enjoy perfectly executed dishes, with a pleasant creative touch, and in a nice atmosphere.
I took a cooking class with him two weeks after this dinner and it was fantastic !!
You can read the class review here.
Practical Information/Infos pratiques :
Spring
28 rue de la Tour d'Auvergne
75009 Paris
tel : +33 (0)1 45 96 05 72
Open from Tuesday to Friday.
Website : http://www.springparis.blogspot.com
Pictures : copyright Spring, l'Internaute and FoodieFroggy.