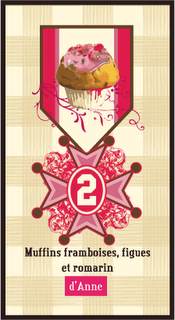 Il y a des Lundis plus difficiles...
Ce matin, j'apprends que mon Muffin Framboises, Figues et Romarin a remporté la deuxième place du Muffin Monday #10. Sur 58 candidatures, avouez quand même qu'il y a de quoi être fière...Je remercie donc le Jury, Flo, bien sûr, l'autre Flo, Yannick et Natte d'avoir fait preuve d'un goût certain, lol !! J'ai tellement adoré la médaille designée par Flo que j'ai eu envie de vous la montrer : personnalisée avec la photo du Muffin, s'il vous plait ! Quel professionnalisme...Bravo, Flo ! Et félicitations aux autres médaillées, particulièrement la grande gagnante Cuisine Plurielle et les deux médailles de Bronze Délice du Kerala et les Gourmandies de Hanae.
My Raspberry, Fig and Rosemary Muffin won the silver medal for Muffin Monday #10, out of 58 entries. Quite proud I am.


D'autre part, ce week-end, j'ai reçu un mail adorable de Christophe Felder qui me me remerciait du fond du coeur et me félicitait pour l'accomplissement de son Framboisier !! En plus, il m'a avoué que c'était son préféré de tout le livre...Et ben moi, je vous raconte pas comme j'ai rougi de la tête au pieds quand j'ai lu son adorable message...Aussi rose que mon muffin, j'étais !
I received a wonderfully warm email from Christophe Felder, the Chef whom Framboisier I made two weeks ago.He is very famous here, so I was very impressed and flattered he had stumbled upon my recipe.

Excellente semaine gourmande à vous tous !
Have an excellent week !