Date of lunch : october 2008.
Résumé en français
Vraiment, à ne pas louper ! Nous avons passé un excellent moment, entre la dégustation de mets très fins, la découverte de nouveaux ingrédients (Yuzu kushu, mojama, fleurs de coriandre, fleurs d'aneth, mouron des oiseaux,...), notre discussion très décontractée avec le Chef et son second....Un rêve de bloggeuse culinaire ! Même si la cuisine est épurée voire zen (beaucoup de cru et de cuissons courtes), il y a énormément de travail en amont dans la préparation des accompagnements, condiments, marinades et autres. Le cadre est agréable : un restaurant petit mais zen, une cuisine ouverte où l'on voit et entend tout mais sans odeurs désagréables. Pour tous les détails en français, je vous recommande vivement d'aller sur le blog de Lili qui a partagé ce repas avec moi; son diaporama est superbe !

The Chef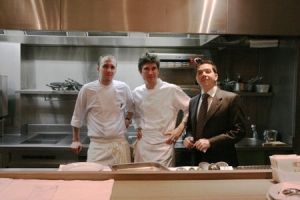 Sperenzi and Pelé (center). Copyright L'internaute.
Christophe PELE 's first restaurant positions were at Lasserre and Ledoyen in Paris. Later he worked at le Royal Monceau Hotel, where he was Head Chef of "Le Jardin" gastronomic restaurant (one michelin star) and found out about his passion for fish.
He opened "La Bigarrade" in 2007 and hired as a second the talented Giuliano SPERENZI, met at Ledoyen.
Pelé and Sperenzi seemed to be two very nice and warm persons. My friend and I took advantage that the restaurant was not full (and our table the closest to the open kitchen) to ask them plenty of questions about the dishes and the conversation followed on after the meal. I think they were happy to have such curious guests and they showed to us many things in the kitchen, gave us some recipes...Great teachers !!

The Food
Two tasting menus for lunch : 35 euros for fish/seafood only and 45 euros for fish/seafood and meat. We both chose the fish menu.It included 1 amuse-bouche, 2 starters, 2 main dishes, cheese and 4 desserts ! It seems quite pantagruelic written like this, but actually the portions are very small (bite-size), the quality prevails over the quantity there. Two friends of mine who are Rugby players (known for their insatiable appetites) love this restaurant, so if it is not a problem for them, the tiny portions should not be a problem for you neither, specially if you are looking for amazing flavors.
The amuse was an excellent focaccia served warm with a tasteful olive oil. It reminded me of an amuse I had in Barcelona in a wonderful restaurant of New Catalan Cuisine called Hisop (review to come) and we had been told there that the focaccia and olive oil were served to open one's appetite.

First appetizer was a a "velvet swimming crab" cream with carrot bites, topped with a foam and ciselered verbena herbs and served, in another plate, with raw red mullet fillets, cilantro flowers, soy sauce, sesame oil, topped with a sort of caviar. Everything was incredibly tasty and fresh. And I can't even describe how powerful (but not too overwhelming) the cilantro flowers were. Fisrt time I had them, and Pelé seems to enjoy edible flowers a lot, as you will see in the review.
Second appetizer was a bite of scallop carpaccio topped with little solid squares of salted almond butter, cilantro and yuzu kosho condiment. You may ask, yuzu kosho, what's that ? haha, I have to admit that I had to google it once back home, so here is what I found : it is a japanese sauce made from yuzu (asian citrus fruit), chile peppers and salt.The almond butter was caramelized and crunchy and it made a nice contrast with the softness of the scallop.
Then we had glazed eel, beetroot juice, dill flower, red and green radishes.The red color of the sauce made a beautiful contrast with the white plate and it was excellent. Different textures again, Pelé tends to serve the vegetable raw hence crunchy and they are great with the meltiness of the super fresh fishes.

Before serving the cod, we had a smoked vegetable broth, with borage flowers (beautiffully purple and star-shaped), absinthe wormwood and chervil. Wow, so many unknown flavors...A good "break" before the rest of the meal.The edible flowers and fresh herbs all come from the Batignolles organic market close-by.
Then it was onto the slightly roasted cod, sweet pepper sauce, mojama ( filleted salt-cured tuna) and an incredible ginger cut into paper-thin filaments marinated in rice vinegar and clove. The reason why I have so many details on all ingredients is that we chatted a long time with the Chef and his second Giuliano and we asked them everything about what what being served to us. This is how we realized how much work was done beforehand in the restaurant's kitchen and even though the dishes seem simple, almost zen-like, all the sauces, marinades, condiments, and accompaniments need long hours of preparation.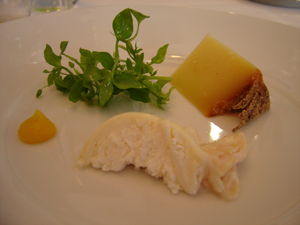 Cheeses were matured goat cheese and comté. Some edible chickweeds aside (Stellaria media) and a small drop of bitter orange cream (or was it grapefuit?). Cheese were excellent, they come from the Batignolles organic market (ask for Philippe).
For dessert, we had a quadrilogy of mini-desserts. We had to eat them in a certain order, from left to right. A delicious lemon mousse (not too tart) topped with mandarin jelly.A passionfruit frozen parfait with a coconut and rum whipped cream, topped with incredibly sweet and crunchy black olive shavings (yes, you have read well). A coffee and caramel mousse served with a cinnamon stick-shaped biscuit and cristallized squares of bitter orange (in french, a bigarrade is a variety of bitter orange, hence the name of the restaurant). Last but not least : an amazing chocolate fondant with celery syrup (yep). My friend and I were totally amazed by the desserts and the whole menu in general, especially for that price.
With coffee, we had two mignardises each : a mini lemon tartlet and a flaky danish filled with a vanilla whipped cream.

The wine
My friend could not drink wine, I had a glass of white wine recommended by the waiter. Cannot remember the name, sorry.

The customers and the decoration
La bigarrade is located in the 17th arrondissement near the Batignolles area. Not the most touristy part of Paris, it is more residential but you will have the opportunity to visit a picturesque and authentic part of the city.
Only 4 tables were reserved that day (which was surprising, but as Pelé told us, they could already feel the effects of the economic crisis as it was the first time the restaurant was not full for lunch), mostly by french customers apart from an Italian couple.
The decoration is very simple, but charming. It has a modern and fresh feeling with its white and green tones.The open kitchen is a key element in the decoration, it is extremely neat and the most surprising was the absence of cooking odors in the restaurant.

The Service
The waiters were corteous and friendly.They gave us detailed description of the dishes.

The choice and the Cost
Pelé works only with "blind" tasting menus : it means that you cannot choose on a menu, he decides for you after asking about your allergies or dislikes.
Two menus for lunch: 35 euros (fish only) or 45 euros (fish and meat).Each menu has an amuse bouche, two starters, two main dishes, cheese and a selection of several mini-desserts.
Two menus for dinner : 45 euros and 65 euros.

Chef Pelé's good addresses
Cheese : Ask for Philippe at the Batignolles organic market
Fresh herbs and edible flowers : Batignolles Market

As a conclusion
This restaurant is a bargain. For 35 euros (for lunch) only, you have the feeling of a Haute Cuisine food in a nice and modern atmosphere.Chefs are really nice and enthousiastic and the waiters are friendly.

Practical Information/Infos pratiques
Bigarrade
106, rue Nollet 75017
Tel : 01-42-26-01-02
Metro station : Brochant
Map : click here.

Open from Monday to Saturday for lunch (12pm to 2 pm) and dinner (8 pm to 10.30 pm).
Website : http://www.bigarrade.fr/

Pictures : copyright FoodieFroggy except cod picture by Lilibox.