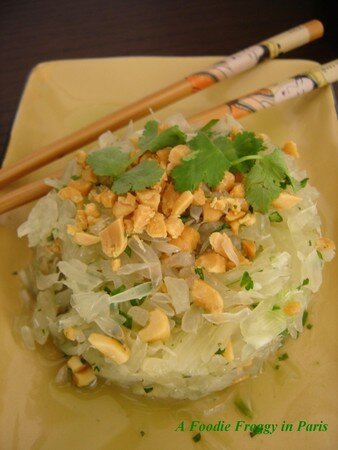 Recette déjà postée mais d'actualité car je l'ai refaite le week-end dernier et j'en suis toujours aussi fan. Et depuis ce billet...je suis allée en thaïlande plusieurs fois ! A recipe I had already posted, but as I made it last week-end, I though it would be great to re-post it ! And since this post, I finally went to Thailand ! Yeah !!
OK, OK, let's face reality : to my great, my immense sorrow, I have never set foot in Thailand, nor in any Asian country. So, for this recipe I had to totally rely on my friend Fred, who swore on his life that the recipe came from one of the Chefs of the Oriental hotel in Bangkok. As Fred is a frequent traveller to Thailand, I think we can trust him on that one…And if, like me, you are crazy about Thaï food, let me tell you that you will love, love, this recipe.
I used « honey pomelos », which are huge grapefruits (at least three times as big as the regular variety) imported from Asia. What I really love about them is that they are extremely easy to peel, they are seedless and they are not as "tart" as the grapefruit. They can be found in asian groceries and probably at supermarkets like « Wholefoods » or "Trader Joe's". If you really can't find them, substitute with oranges or Florida grapefruits, it will be -almost- as tasty ! So, to your woks !!
* Fred Chesneau : For me, simply the best cooking class in Paris...
Bon…j'avoue…à mon grand, mon immense regret, je n'ai jamais mis les pieds en Thaïlande, ni d'ailleurs dans aucun pays d'Asie (hormis le moyen-orient). Donc, autant la recette de « Popovers comme à New York » avait reçu mon sceau « goûté et approuvé sur place », autant, pour celle-ci, je ne peux que me fier à mon ami Fred* me certifiant l'avoir obtenue d'un des chefs du prestigieux hôtel « l'Oriental » de Bangkok. Si, comme moi, vous êtes accro à la cuisine Thaï, vous allez adorer cette entrée savoureuse.
J'ai utilisé des pomelos chinois, qui, outre leur taille impressionnante (le mien faisait 50 cm de circonférence !!), présentent l'avantage d'être plus aisés à éplucher et moins acides. Vous les trouverez facilement dans les épiceries asiatiques, chez Tang Frères ou bien encore au Bon Marché (et chez Carrefour et Champion, paraît-il). Mais si l'idée de traverser votre ville vous décourage à l'avance, n'hésitez pas à utiliser des pamplemousses roses ou bien encore des oranges. Ce sera tout aussi délicieux…Allez, à vos couteaux d'office et à vos woks !!
* Fred Chesneau : le meilleur cours de cuisine de la Capitale, tout simplement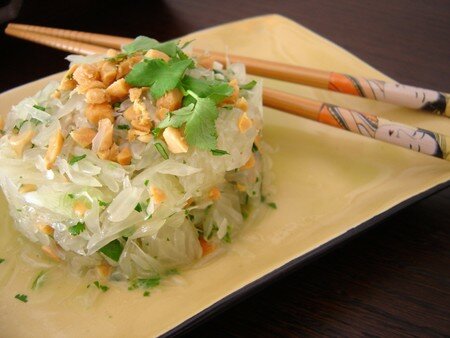 Spicy "Honey Pomelos » salad
Makes 6 servings
2 honey pomelos (chinese pomelos)
4 shallots, minced
3 garlic cloves, minced
4 scalllions, minced (or ¼ bunch of chives and 2 spring onions , chopped)
1 red chili pepper, seeds removed, minced
2 handfuls shelled roasted peanuts
The juice of 2 limes
2 tablespoons fish sauce
1 tablespoon granulated sugar
½ a bunch of fresh coriander (cilantro), finely minced
Canola Oil
Peel the pomelos as you would do for grapefruit and cut the segments into small parts. Make sure to remove all the white parts. Put them in a large bowl.
Heat two tablespoons oil in a wok. When oil is very hot, put shallots and sauté until golden. Add garlic and sauté again until slightly golden. Remove from the heat.
Put shallots and garlic in the bowl with pomelos. Then add all remaining ingredients: lime juice, fish sauce, red pepper, sugar, scallion (or chives and green onions), cilantro and peanuts. Keep some peanuts and cilantro sprigs for the decoration.
Refrigerate.Remove from the fridge at least half an hour before serving.
Divide the salad among 6 plates, decorate with peanuts and cilantro.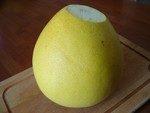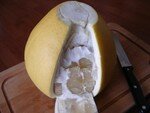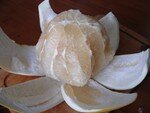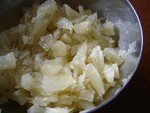 Salade de Pomelos épicée
Pour 6 personnes
2 pomelos chinois ou 10 pamplemousses « classiques »
4 échalotes hachées
3 gousses d'ail hachées
4 brins de ciboules (ou ¼ de bouquet de ciboulette et 2 petits oignons)
1 piment rouge épépiné et finement haché
2 poignées de cacahuètes grillées et grossièrement broyées
Le jus de 2 citrons verts
2 CS de sauce de poisson
1 CS de sucre en poudre
½ botte de coriandre finement hachée
Huile végétale
Pelez les pomelos, séparez les quartiers et retirez la peau blanche. Mettez ces « suprêmes » de pomelos dans un saladier.
Dans un wok, faites chauffer 2 CS d'huile et quand elle est bien chaude, ajoutez les échalotes. Faites dorer et ajoutez l'ail. Faites revenir le tout et retirez du feu.
Versez le mélange « ail-échalotes » dans le saladier des pamplemousses. Ajoutez le jus des 2 citrons verts, la sauce de poisson, le piment, le sucre, la ciboule (ou la ciboulette et les petits oignons), la coriandre finement hachée, puis les cacahuètes. Gardez quelques cacahuètes pilées pour la déco.
Mettez au frais.Sortez du frigo au moins une demi-heure avant de servir.
Répartissez cette salade en 6 portions égales dans de jolies assiettes exotiques, et décorez de restes de cacahuètes pilées.