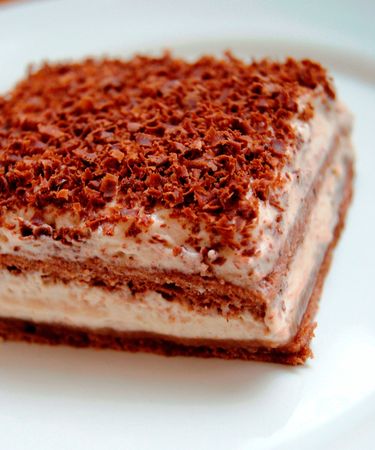 Il y a quelques années (vers 2008-2009), une subite passion pour la pâtisserie s'est emparée de moi ! Totalement inexplicable. Ceci dit, je venais de m'offrir le livre "les gâteaux classiques" de Christophe Felder, et même si les temps de préparation auraient logiquement dû décourager la plus motivée des foodistas, les photos, elles, me faisaient littéralement rêver ! Et puis, quel sacré challenge, quand même, ces gâteaux pour 20 personnes, dignes de pâtissiers pros ! A moi la maîtrise des grands basiques comme la crème pâtissière, la crème au beurre, le biscuit dacquoise, etc...Une fois lancée, je ne me suis plus arrêtée ! Le Succès Praliné a succédé au Framboisier et à la Dacquoise au citron vert ! Puis, par manque de temps, le soufflé est un peu retombé ...jusqu'à ce que je tombe sur l'émission "le meilleur pâtissier" en décembre dernier. Je vous ai dit dans mon dernier billet ce que j'en pensais ; toujours est-il que l'envie de pâtisser m'est de nouveau tombée dessus. Le résultat : après les macarons (enfin maîtrisés, alléluia), je me suis lancée dans le marronnier, un gâteau à base de deux couches de biscuits au chocolat et de mousse de marrons (j'avais des boîtes de crèmes de marrons qui sommeillaient dans mon placard depuis bien trop longtemps..). Une remarque : j'ai trouvé les biscuits au chocolat un peu trop fins, je recommande donc d'en augmenter les proportions. Allez, trêve de bavardage, bonne lecture et bonne pâtisserie !
4 years ago, I have been taken by an unexpected passion for baking. Classic French pastries to be more precise...I had just bought a wonderful cookbook and though the recipes needed utensils I did not have at that time and seemed to be very time-consuming, I decided to give them a try ! The very first one, a Framboisier for 20 people, was a hit ! Encouraged by this first "Mission Accomplished", I then fixed my choice on a Succès Praliné (hazelnut paste Cake) and a Dacquoise au Citron Vert (Lime Dacquoise). Unfortunately I got too busy with new professional projects and could not let my new passion get stronger by lack of time...until last december ! What happened, you may ask ? I stumbled upon a new TV show called "le meilleur pâtissier" (the best pastry chef) which is the french version of the "Great British Bake Off". I was hooked again ! First I tried a new recipe for macarons (see my last post) and then I made the recipe below : a Marronnier (Chestnut mousse cake). If you are interested in this recipe, I have one thing to say beforehand : I found the chocolate cake layers to be a bit too thin, so I suggest that you multiply the ingredients by 50% (I put the new quantities in red to make it easier for you). Happy pastry party !
Le Marronnier de Christophe Felder
Recette issue de "Les gâteaux classiques de Christophe"
Pour 1 gâteau de 20 personnes environ, à faire la veille
Pour le sirop à la vanille et au Rhum :
1 c. à café de rhum brun,

1/2 c. à café de vanille liquide
Pour le biscuit au chocolat ( soit 2 feuilles de 40cm sur 30cm) :
Note : j'ai trouvé les biscuits un peu fins, alors je vous conseille d'augmenter les quantités de 50%.
100g de jaunes d'oeufs (ma reco 150g)

130g de farine (ma reco 200g)

20g de cacao en poudre (ma reco 30g)

200g de blancs d'oeufs (le blanc d'environ 6 gros oeufs) (ma reco : 300g soit le blanc de 9 gros oeufs)

150g de sucre semoule (ma reco 220g)
Pour la mousse aux marrons :
12g de gélatine en feuille ou une c à café d'agar agar

550g (55 cl) de crème liquide
Pour la garniture :
Décoration :
Copeaux de chocolat noir.
Sirop au Rhum brun : mélangez au fouet l'eau tiède, le sucre, le rhum et la vanille liquide.
Biscuits au chocolat :
Préchauffez le four à 180°C.

Dans un récipient, travaillez légèrement les jaunes d'oeufs à la fourchette et réservez. Dans un autre récipient, tamisez ensemble le cacao et la farine et réservez.

Fouettez les blancs d'oeufs en neige au robot. Pendant qu'ils montent, ajoutez le sucre en poudre peu à peu afin d'obtenir une neige bien ferme. Versez lentement les jaunes d'oeufs pendant que le batteur du robot tourne doucement. Quand ils sont incorporés, sortez le bol du robot et incorporez le mélange tamisé farine/cacao, à la spatule. Remuez tranquillement afin de bien mêler les ingrédients.

Couvrez deux plaques de cuisson de papier sulfurisé. Divisez la pâte sur les deux plaques. Egalisez la surface à la spatule en inox. Enfournez 10mn en surveillant la cuisson. Laissez les biscuits refroidir sur une grille.
Mousse aux marrons :
Mettez les feuilles de gélatine dans de l'eau bien froide pour les ramollir. (Si vous utilisez de l'agar agar, lisez plus bas).

Réservez la crème liquide au frais (ou 15 mn au congélateur).

Avec une spatule, mélangez la crème de marrons avec 50gr (5 cl) d'eau.(Si vous utilisez de l'agar agar à la place de la gélatine, faites chauffez une partie de la crème de marrons (100g) avec l'agar agar pendant 2-3 mn, laissez refroidir un peu puis réintégrez-la au reste et continuez la recette normalement).

Versez les jaunes d'oeufs dans le bol du batteur, battez à vitesse lente.

Pendant ce temps, dans une casserole à fond épais, mélangez avec une spatule 40gr d'eau et le sucre. Faites chauffer sur feu moyen. Nettoyez les bords intérieurs de la casserole avec un pinceau trempé dans l'eau froide afin de nettoyer les parois.

Plongez votre thermomètre dans ce sirop, la température doit atteindre 115°C. Retirez aussitôt du feu et versez doucement ce sirop sur les jaunes d'oeufs. Lorsque tout le sirop est versé, battre à grande vitesse jusqu' à refroidissement, vous obtenez une préparation crémeuse.

Montez la crème liquide en chantilly.

Faites chauffer doucement les 3 cl de rhum. Versez-le sur la gélatine ramollie et égouttée. Mélangez bien (étape non necessaire si vous avez utilisé de l'agar agar). Versez le rhum et la gélatine dans la crème de marrons et remuez vivement avec une spatule. Incorporez ensuite les jaunes montés puis ajoutez la crème fouettée et mélangez doucement .Remuez délicatement.
Le montage :
Déposez votre cadre sur le biscuit au chocolat et découpez le surplus au couteau. Répétez l'opération avec le second biscuit. Laissez-le dans le cadre. A l'aide d'un pinceau, imbibez le biscuit de sirop au rhum préparé au début de la recette.

Étalez la crème de marrons (les 200g) sur le biscuit, puis versez la moitié de la

mousse

aux marrons et aplanissez. Déposez dessus le second biscuit, imbibez-le également de sirop au rhum et versez le reste de mousse aux marrons.Lissez bien à la spatule.

Placez 1 heure au moins au congélateur (si comme pour moi, votre congélateur est trop petit, laissez le gâteau toute la nuit au frais).

Au moment de servir, saupoudrez de copeaux de chocolat râpé.
Marronnier (chesnut mousse cake) by Christophe Felder
Adapted from "Les gâteaux classiques de Christophe"
Serves 20 people, to be made a day ahead
For the vanilla and dark Rum syrup :
70 ml (5 tbsp) tepid water

50g (1/4 cup) granulated sugar
For the chocolate layers ( 2 layers of 40 *30 cm each or 12½ x 15½-inch each)
Note: I found the layers a little too thin, so I suggest you increase the quantities by 50%.
100g ( 1/2 cup) egg yolks

(my reco : 150g or 3/4 cup)

130g (1 cup) all purpose flour (my reco : 200g or 1 1/2 cup)

20g (4 tbsp) cocoa powder

(my reco : 30g or 6 tbsp )

200g egg whites ( the whites of 6 large eggs) (

my reco: 300g or the whites of 9 large eggs

)

150g (3/4 cup) granulated sugar (my reco : 220g or 1 1/8 cup)
For the chestnut mousse:
12g (0.4 oz) gelatine leaves (see conversion from leaves to powdered gelatin : here) or 1 teaspoon of agar agar

550g (550 ml) (2 1/3 cup) liquid cream

500g (2 cups) sweetened chestnut spread

50g (50 ml or 3 tbsp) water

40g (40 ml or 3 tbsp) of water

70g (1/3 cup) granulated sugar

30g (30 ml or 2 tbsp) Dark rum
For the filling:
200g ( 3/4 cup) sweetened chestnut spread
Decoration:
Dark rum syrup:
Whisk in warm water, sugar, rum and vanilla extract.
Chocolate layers:
Preheat oven to 180 ° C (350°F°).

In a bowl, whisk egg yolks shortly and set aside. In another bowl, sift together the flour and cocoa powder and set aside.

Whisk the egg whites in the bowl of a standing mixer (a kitchen aid for instance), using the whisk attachment. Add sugar little by little to get stiff peaks. Put mixer on slow speed and slowly pour in the egg yolks. Remove the bowl from the standing mixer and stir in the sieved mixture flour / cocoa. Use a rubber spatula to get a smooth and creamy texture.

Line two baking sheets with parchment paper. Divide the dough evenly between the two sheets. Flatten the surface with a flat spatula. Bake both sheets 10 minutes, remove from the oven and let cool on a rack.
Chestnut Mousse :
Put the gelatin leaves in cold water to soften. (If you use agar agar, read below in red)

Refrigerate liquid cream or put 15 minutes in the freezer.

Using a spatula, mix chestnut spread (2 cups) and 3 tbsp water. (If you use agar-agar instead of gelatin, heat a small part of the chestnut spread (like 3 tbsp for instance) with the water and agar agar in a saucepan for 2 to 3 minutes until it boils, then let cool slightly and add back to the rest of the chestnut spread. Then follow the recipe normally).

In the bowl of your standing mixer, pour the egg yolks, beat at low speed.

In a heavy-bottom saucepan, assemble 1/3 cup granulated sugar and 3 tbsp water. Heat over medium heat. Clean the inside edges of the pan with a pastry brush dipped in cold water.

Dip your thermometer in the syrup, temperature should reach 115°C ( 220 °F) .

Remove from the heat and immediately pour the syrup slowly over the egg yolks, which are in the bowl of your standing mixer.When all the syrup is poured, raise the speed to high in order to cool the mixture. You should get a creamy batter.

In another bowl, whip the cream (the one that was in your fridge or freezer) until you get stiff peaks.

Gently heat the rum in a sauce pan.Add the softened and drained gelatin leaves and mix (of course, do not add gelatin if you have used agar-agar). Pour the rum/gelatin mixture in the chestnut spread and stir vigorously with a spatula. Then stir whipped yolks and add the whipped cream. Stir gently. You now have a

chestnut mousse

.
Assembling the cake :
Put a rectangular pastry ring a little smaller than 12½ x 15½ on top of the first chocolate cake layer and remove all the excess cake. Do the same on the second chocolate cake layer, so both of them are the exact same size.

Arrange the pastry ring back on the first layer and leave it. Using a pastry brush, glaze the first layer with rum syrup (the one you have made at the beginning of the recipe). Arrange the chestnut

spread

(not the chestnut mousse) on top, then pour half of the chestnut

mousse

. Smooth evenly. Arrange the second layer on top of that, brush it with the remaining rum syrup too and pour the remaining chestnut mousse.Smooth evenly, again.

Do not remove the pastry ring and let everything rest at least 1 hour in the freezer (if like me, your freezer is too small, let the cake cool overnight).

Just before serving, sprinkle with grated dark chocolate shavings (see muy picture).