French Wintery Menu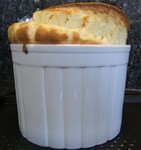 Stuffed Chicken Breasts "à la Fred"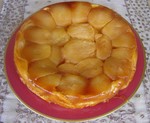 Tatin Apple Tart/Tarte Tatin aux pommes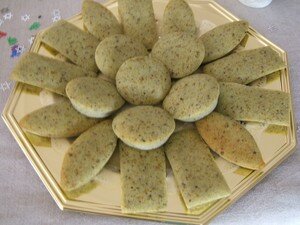 Pistachio Financiers, served with Café
Those little "cakes", made with egg whites, melted butter and almond (or pistachio or hazelnut) powder are called financiers (same root as "finance") because they have the shape of a gold bar.
Pour la recette en Français, contactez-moi !
You need for 15 mini-financiers
70g (2.4 oz) almond powder
70g (2.4 oz) wholewheat flour
70g (2.4 oz) shelled, unsalted pistachios, coarsely chopped
6 egg whites
120g (4 oz) brown sugar
2 tbsp orange blossom water
120g (4 oz) unsalted butter, melted
Pre-heat oven 160°C (325°F).
In a mixing bowl, assemble almond powder, chopped pistachios, wholewheat flour
and sugar, using a whisk. Add melted butter (melted in a sauce pan, over
medium heat) and the orange blossom water. In another mixing bowl,
beat the whites very slightly, using a fork.
Add the whites to the pistachio/almond mixture.
Mix well.
Fill up mini-financiers pans or mini-tartlet pans .
On the picture I have made different shapes.
Bake for 15 to 20 minutes, they have to be slightly golden.
Little tip : Keep the un-used egg yolks to make a tiramisu !