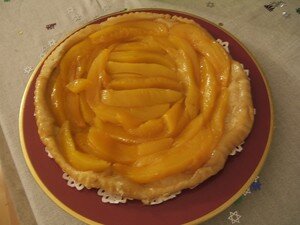 Yes, Tatin is not the french translation of "caramelized" even if it has become synonimous with it over the years. Actually, Tatin is a family name from the Center of France, a region called La Motte Beuvron. Two sisters, Stéphanie and Caroline Tatin were running a hotel/restaurant there in the early 19th century. During hunting season, the restaurant was very busy and one day, Stéphanie, known for being very clumsy, dropped an apple tart on the floor ! The apples were facing the floor and the pastry was on top. She decided to cook the tart like this ! The sugar, covered by the apples and the pastry, caramelized, and the dessert was a big hit among her clients. She had created a new dessert. Other versions say that she had forgotten the pastry and decided to add it over the apples at the last minute !
Now the "Tatin process" is declined with almost any kind of fruits (as long as they are not too juicy) and also some vegetables (shallots, endives, tomatoes and many others…) to make delicious starters.
As it is Mango high season in France and since I am addicted to them, I decided to make this colorful version of Tatin Tart.
Mango Tatin Tart
Salted Caramel Coulis
Pour la recette en Français, contactez-moi !
You need for a 10 inch-round cake pan
2 mangoes, thinly sliced
110g (4 oz) granulated sugar
1 already-made fresh shortcrust pastry
Some coconut powder
For the salted Caramel Coulis :
80g (2.5 oz) granulated sugar
60g (2 oz) salted butter, diced
15 cl (2/3 cup) liquid whipping cream, heated (30 seconds in the MW,
over medium power)
Some coarse salt (optional).
Pre-heat oven 190°C (375°F).
Make the Caramel coulis : In a skillet, melt 2.5 oz sugar until it gets golden.
Do not mix the sugar, just shake the skillet.
If you do not have a non-stick skillet, melt the sugar with 2 tbsp water.
Add the salted butter, mix, then the heated whipping cream .
Mix well and reserve at room temperature.
The salted caramel sauce can be kept several days at room temperature.
In a skillet, make another caramel with 4 oz sugar.
When caramel is golden, pour this caramel in the cake pan.
Arrange the sliced mangoes in the pan, overlapping them in a circular pattern.
Place the sheet of pastry over the top of the pan. Pat down, seal the edges
so that the pastry fits the pan. Evenly pierce with a fork.
Transfer the pan to a baking sheet, then bake for 30 to 35 minutes,
or until the pastry is golden brown.
Remove the tart from the oven. Place a plate over the top of the pan.
Quickly and carefully invert the two. Tap the bottom of the mold to loosen the
mangoes.
Sprinkle some coconut powder on top. Lime zests are nice, too.
Serve warm with Vanilla ice-cream and Caramel sauce