Do you remember my apricot tiramisu of last week ? Well, I had apricots and mascarpone cream left and I had to make another dessert for the following day, for a small number of guests. After a short brainstorming in my bath, "eureka", I found a new recipe idea, much lighter than another tiramisu again : so what do you think of my little apricots and rosemary skewers, served with a mascarpone/amaretto cream in a tiny vodka glass ???
By the way, did you know that rosemary was excellent to improve the..ahem..let see…well, can't remember what it was…oh yes, the Memory, lol !!

Vous souvenez-vous du joli tiramisu aux abricots et à l'amaretto de la semaine dernière ? Et bien, il me restait des abricots et de la crème de mascarpone et j'avais un autre repas prévu le lendemain pour un nombre de convives plus restreint. Qu'à cela ne tienne, une petite réflexion dans le bain, et les vapeurs d'huiles essentielles aidant, euréka, j'ai trouvé un substitut ma foi fort sympathique et surtout très différent (parce que tiramisu 2 soirs de suite, au secours !!). Que pensez-vous de mes petites brochettes d'abricots au romarin et à la crème Amaretto ?
D'autre part, saviez-vous ...euh… je ne sais plus…voyons, je l'avais sur le bout de la langue… Ah si !! que le romarin était réputé pour améliorer la mémoire ? haha…
Apricot and Rosemary skewers, Amaretto Cream
For 6 servings (2 skewers each) :
18 little apricots
12 sprigs rosemary
3 tablespoons melted unsalted butter
2 egg yolks
2 1/2 ounces granulated sugar + 2 tablespoons
1 cup unsalted mascarpone cheese, chilled
1 tablespoon sour cream
1 tablespoons vanilla extract
1 tablespoon Amaretto (almonds liqueur)
Preheat oven to 350°F.
Clean the apricots, dry and halve them.
In a bowl, assemble melted butter and apricots. Add 2 tablespoons sugar. Stir.
Clean the rosemary sprigs, dry and remove all leaves, apart from the top, so they look like mini palmtrees. Cut the bottom of the main stem, like an arrow. Finely chop the removed leaves (for the decoration)
Thread 3 apricot halves onto each rosemary skewer.
Using an electric mixer, beat egg yolks and sugar until pale yellow. In another bowl, beat mascarpone and sour cream. Add vanilla extract and amaretto.Using a rubber spatula, fold the egg yolks into the mascarpone mixture.
Arrange the 12 skewers on a baking sheet lined with parchment paper. Sprinkle some chopped rosemary leaves over the skewers. Bake for 10 to 15 minutes.
Carefully pour some mascarpone/amaretto cream in small vodka glasses.On each plate, arrange 2 skewers and amaretto cream aside. Put the remaining cream in a large bowl, so everyone can request for more.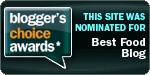 Vote for me by clicking on the badge. Thank You !
Brochettes d'abricots au romarin et à la crème Amaretto
Pour 6 personnes, 2 brochettes par personne.
18 petits abricots
12 tiges de romarins
3 CS de beurre fondu
2 jaunes d'oeufs
75g de sucre
125g de mascarpone
1 CS de crème fraîche épaisse
1 CS d'extrait de vanille
1 CS d'Amaretto
Préchauffer le four à 180°C.
Nettoyez les abricots et coupez-les en deux.
Dans un saladier, mélanger les abricots avec le beurre fondu et 2 CS de sucre.
Nettoyez le romarin, retirer toutes les feuilles sauf le sommet (afin de faire un petit plumeau). Taillez la pointe en bas comme une flèche afin de favoriser l'enfilage des fruits. Ciselez finement les feuilles de romarin retirées (pour la déco).
Enfiler 3 moitiés d'abricots par « brochette de romarin ».
Avec un batteur électrique, battre les jaunes d'œufs avec le sucre jusqu'à ce que le mélange blanchisse. Dans un autre saladier, mélanger le mascarpone et la crème fraîche. Ajouter l'extrait de vanille et l'amaretto. Mélanger le contenu des 2 saladiers.
Placer les brochettes d'abricots dans une plaque à pâtisserie, couverte de papier sulfurisé. Parsemez un peu de romarin ciselé sur les brochettes. Faire cuire 10 à 15 minutes.
Versez avec précaution un peu de crème mascarpone/amaretto dans 6 verres à vodka. Dans chaque assiette, présentez 2 brochettes, le verre à vodka rempli de crème sur le côté. Présenter le reste de crème dans une saucière collective.