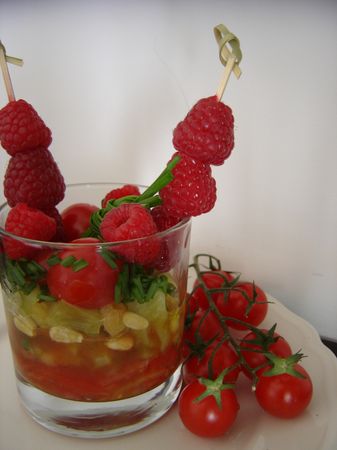 I came across this starter as it was mentioned on the blackboard of a new restaurant in the 10th arrondissement, close to Hubby's pharmacy. Since I have not ordered it (I chose a delish grilled squid, but the review will come very soon), I have no idea how it looked and tasted like, but I found it so interesting that I decided to create it in my own kitchen. The idea is quite basic : to propose in the same glass, three kinds of tomatoes, different in shape, color and taste. The textures and the seasonings would also be contrasted. I know that the presentation of a dish in a glass is no longer "glam" but, what do you want, I totally assume my « old-fashioned » attitude, lol !!
Idée aperçue au menu d'un nouveau petit restaurant du 10ème arrondissement, dont je vous parlerai très bientôt. N'ayant pas commandé cette entrée, je n'ai aucune idée de la façon dont elle était assaisonnée ni présentée, il s'agit donc de ma propre interprétation. Je suis d'ailleurs impatiente d'y retourner pour comparer nos versions. Mon idée était de proposer 3 types de tomates avec chacune leur propre assaisonnement et leur couleur, d'où la présentation en verrine transparente (oui, je suis au courant que la verrine n'est plus « glam » mais tant pis, j'assume ma « has-been attitude »).
J'en profite pour adresser un petit clin d'œil affectueux à Sophie, la « Madame Tomate » brillante de l'émission « un dîner presque parfait ».
Three-tomato Tartare with Raspberries
For 6 servings
6 red oval tomatoes, medium size (I think you call them "meat tomatoes", right ?)
6 green zebra tomatoesAbout 20 cherry tomatoes
2 handfuls pine nuts
3 tbsp freshly grated parmesan cheese
3 tbsp balsamic vinegar
3 tbsp extra virgin olive oil
9 oz, or 2 ½ cups fresh raspberries
Some chives, finely chopped
Sea salt and freshly ground pepper
You will need 6 whisky or Tapas glasses
Roast pine nuts in a skillet, with no oil, over medium heat. when golden, set aside.
Clean raspberries and put on absorbing paper.
Clean and halve cherry tomatoes.
Peel tomatoes (green and red, not the cherry tomatoes) : remove the stem, make a criss-cross incision on the opposite side and put them in a large pan filled with boiling water. Let for 10 seconds, then remove using a slotted spoon, and place in a bowl filled with ice-cold water. The tomatoes will be very easy to peel.
Cut the peeled tomatoes in quarters, remove seeds, and cut into small dices.
In a bowl, mix green tomato dices with balsamic vinegar and roasted pine nuts. Season to taste.
In a second bowl, mix red oval tomato dices with parmesan cheese and olive oil. Season to taste.
Refrigerate until ready to serve.
To serve, fill each glass as follows : 2 tbsp of red tomato mixture at the bottom, topped with 2 tbsp of green tomato mixture, topped with some chives and 4 or 5 cherry tomato halves and 1 or 2 raspberries. Arrange 3 raspberries per skewer and put 2 skewers in each glass.
Tartare aux 3 Tomates et aux Framboises
Pour 6 personnes
6 tomates olivettes de taille moyenne
6 tomates vertes
Une vingtaine de tomates cerise
2 poignées de pignons de pin
3 CS parmesan fraîchement râpé
3 CS de vinaigre balsamique
3 CS d'huile d'olive extra vierge
2 barquettes de framboises (soit 250g)
Quelques brins de ciboulette hachée au dernier moment
Sel et poivre du moulin.
Vous aurez besoin de 6 verres à whisky ou à tapas
Faire torréfier les pignons à sec dans une poêle jusqu'à ce qu'il soient dorés.
Nettoyer les framboises et les poser sur du papier absorbant.
Nettoyer les tomates cerises et les couper en deux.
Emonder les tomates olivette et les vertes : retirer le pédoncule, inciser en croix le côté opposé au pédoncule et plonger les tomates dans l'eau bouillante une dizaine de secondes. Retirer avec une écumoire et mettre dans un saladier d'eau glacée pour stopper la cuisson. Laisser quelques secondes ; la peau sera très facile à enlever.
Couper les tomates émondées en quatre quartiers, retirer les pépins et les cloisons et couper en petits dés. Prenez soin de les traiter séparément.
Dans un premier saladier, mélanger les dés de tomates vertes avec le vinaigre balsamique et les pignons rôtis. Assaisonner.
Dans un second saladier, mélanger les dés de tomates olivettes avec le parmesan et l'huile d'olive. Assaisonner.
Conserver au frais jusqu'au service.
Juste avant de servir, dresser chaque verrine : disposer 2 CS de tomates olivettes au fond, puis 2 CS de tomates vertes, quelques brins de ciboulette hachée, et terminer par 4 ou 5 moitiés de tomates cerise et 1 ou 2 framboises. Enfiler 3 framboises par « brochette », mettre deux brochettes par verrine.