Tartelettes aux tomates et poivrons grillés, Citrons Confits et Rougets
Tomato and bellpepper Tartlets with Red Mullets and Preserved Lemons
Can someone tell me if Spring has finally made its official arrival ? Rather than playing "hide and seek" with our nerves, it would be greatly appreciated if we could have pleasant temperatures a bit longer than three days in a row. So my dear spring season, it is really time to finally go to work ! At least, the great thing when you cook is that you can make sunny dishes whatever the freaks of nature : roasted bellpeppers and tomatoes, with red mullet and preserved lemon. What could be more mediterranean, mmh ?
Bon, quelqu'un peut me dire si le printemps a finalement fait son entrée officielle ? Au lieu de jouer avec nos nerfs en se montrant avec parcimonie, un coup j'suis là, un coup j'suis pas là, ça serait sympa qu'il s'affiche plus de 3 jours d'affilée. Ça fait un mois qu'il devrait faire doux, alors au boulot, maintenant. Non mais...Bon, enfin, l'avantage quand on cuisine, c'est que l'on peut faire appel à des recettes ensoleillées pour oublier la grisaille qui nous plombe le moral. Petits poivrons grillés (bien plus digestes), citron confit et rouget. Mmmmh, on dirait le Sud...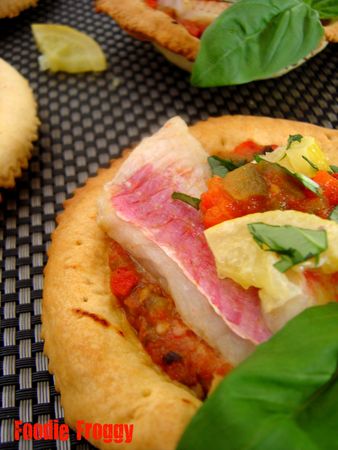 Tomato and Bellpepper Tartelette with Red Mullet and Preserved Lemon
For 6 servings
12 red mullet fillets
1 preserved lemon
Saffron (1 pinch)
Olive oil
Fresh Basil
Roasted tomatoes and bellpeppers :
2 pounds tomatoes
2 green bell peppers
2 red bell peppers
6 garlic cloves, with their skin
6 tablespoons olive oil
Salt and Pepper
Home made Shortcrust Pastry :
7 oz all purpose Flour
4.4 oz salted Butter, cold
1 Egg
2 tbsp cold water
Make the tartelette dough :
Make the shortcrust pastry : Cut the butter into 1.5cm (½ inch) dices and rub into flour, lifting the mixture to add air, until it resembles breadcrumbs. Make a well in the middle of the mixture and stir in the egg and water.
You obtain a soft but not sticky pastry.Cover tightly and sit in a fridge for 30 minutes.
Make the roasted tomatoes and bellpeppers :
Preheat oven on grill position (450°F).
Halve the bell peppers, scrape off the seeds and strings of membrane. Arrange bell peppers halves, tomatoes and garlic cloves on a grill (the garlic on foil paper as not to fall from the grill). Roast for half an hour (garlic only 15 minutes), turning tomatoes and bell peppers every 10 minutes as to roast them evenly.
When skins of tomatoes and peppers have black blisters, switch off oven, remove roasted vegetables and put in a plastic bag. Close plastic bag tightly.
Half an hour later, open plastic bag and peel vegetables (including garlic cloves). The skin will be very easy to remove, but wait until they are cool enough to handle.
Put all peeled vegetables in a bowl and cut using two knifes simultaneously, one in each hand. You must obtain very small pieces. Add olive oil, salt and pepper and harissa (optional).Refrigerate as soon as the salad is at room temperature.
Assemble the tartlets :
Cut the red mullet fillets into triangles. Prepare the marinade : 3 tablespoons of olive oil + saffron + salt and pepper. Mix gently. Cover the fillets with the marinade and refrigerate for half an hour.
Roll out the dough to the required thickness.Cut 6 small circles (5 to 6 in.diameter) using a small bowl and a fluted wheel.Pierce the pastries with a fork. Brush the pastries with the marinade, using a pastry brush. Then bake them in the oven (on a baking sheet covered with parchment paper) 10 minutes, temperature 210°C (410°F).
Turn the pastries over (so you can use the "flat" side). Arrange the roasted tomatoes and peppers, top with rhe raw red mullet triangles and preserved lemon cut into slices. Sprinkle some chopped fresh basil.
Just before serving, pre-heat oven 210°C (410°F). Bake the pastries 8 minutes or so. Season. Serve hot with a baby spinach salad and balsamic dressing.
Tartelettes aux tomates et poivrons grillés, Citron Confit et Rouget
Pour 6 personnes
12 filets de rouget barbet, écaillés, nettoyés, desarêtés
1 citron confit, coupé en fines rondelles
Quelques filaments de safran (0.1g)
Huile d'olive
1 botte de basilic hachée
Salade de poivrons et tomates grillés :
1 kilo de tomates
2 poivrons verts
2 poivrons rouges
6 gousses d'ail avec leur peau
6 CS d'huile d'olive
Sel et poivre
Facultatif : de l'harissa selon le goût
Pâte brisée
200 g de farine
125 g de beurre demi-sel , froid
1 œuf
Un peu d'eau froide
Faites la pâte à tartelettes :
Mettez la farine et le beurre froid coupé en petits morceaux dans le bol de votre robot. Actionnez-le pendant 10 secondes environ, jusqu'à ce que le mélange ressemble à une chapelure.
Ajoutez l'œuf, actionnez le robot et ajoutez un peu d'eau froide par la cheminée. Arrêter le robot dès que la pâte forme une boule. Mettez la pâte dans un bol puis au frais une demie-heure.
Préparez les poivrons et tomates grillés :
Préchauffer le four sur position grill (275°C).Couper les poivrons en deux, ôter les parois blanches et les petits pépins.
Disposer les tomates, poivrons, et gousses d'ail sur une grille (l'ail étant disposé sur du papier d'alu afin de ne pas tomber). Enfourner cette grille au deuxième rang en partant du haut et laisser rôtir une demi-heure (seulement 15 minutes pour l'ail) en tournant de tous les côtés.
Lorsque la peau des tomates et des poivrons est bien noircie, éteindre le four, les retirer et les enfermer dans un sac plastique. Attention à ne pas vous brûler.
Laisser une demi-heure, la peau sera plus facile à retirer.Peler tomates, poivrons et ail. Tout mettre dans un grand saladier et hacher en faisant se chevaucher deux couteaux, un dans chaque main. Les morceaux doivent vraiment être minuscules.
Ajouter l'huile d'olive, le sel et poivre et l'harissa (facultatif).
Mettre au frais dès qu'elle est à température ambiante.
Assemblage des tartelettes :
Préparez une marinade : dans une assiette creuse, mélangez 3 CS d'huile d'olive, quelques filaments de safran, du sel et du poivre.Découpez les filets de rougets en triangles. Faites les mariner dans la marinade mentionnée ci-dessus.
Déroulez la pâte brisée et découpez-y 6 mini-cercles. Disposez ces cercles à plat sur une plaque à pâtisserie recouverte de papier sulfurisé et piquez avec une fourchette. Piquez chaque cercle avec une fourchette, badigeonnez-les de marinade (celle qui a servi pour les rougets) au pinceau et faites-les cuire à four chaud (210°C) pendant 10 minutes. Retirez-les du four et retournez-les (on utilisera le côté plat).
Sur chaque cercle de pâte cuit, étalez tout d'abord la salade de poivrons et tomates grillés, puis les triangles de rougets marinés (mais encore crus) et enfin les rondelles de citron confit. Passez au four chaud 8 minutes, juste avant de servir. Retirez du four et saupoudrez de basilic frais ciselé.