Mini-paniers apéro aux Olives
Olive mini-cuttie Baskets
Some puff pastry in the fridge ? A handful olives and a can of tomato paste in your pantry ? Woohoo, good news, you have everything on hand to make those cute little baskets for a wonderful aperitive snack ! When I saw them in Christophe Felder's lattest cookbook, "Les mignardises de Christophe" (mignardise means bite-size delicacies), I found them totally irresistible ! And as Christophe is one of my favourite Pastry Chefs (I have 4 of his cookbooks, and already posted 5 of his recipes), my next post will also be one of his miniature creations, but this time,they will be sweet ! Speaking of "sweet", who do you think is the kindest girl on earth, mmmhh ?
Un peu de pâte feuilletée au frigo, quelques olives et du concentré de tomates dans vos placards ? L'air de rien, vous avez tout ce qu'il faut pour concocter de petites bouchées apéritives complètement craquantes ! En tout cas, moi, j'ai littéralement fondu lorsque je les ai vues dans le livre "Mignardises" de Christophe Felder. Et oui, Christophe est l'un de mes chouchous, et je n'ai pas moins de 4 de ses livres de recettes. Et rien que dans ce blog, 5 de ses recettes (en plus de celle-ci) ont été testées et...plus qu'aprouvées ! Et comme je suis une gentille fille, mon prochain billet vous proposera une autre bouchée de Christophe, mais sucrée cette fois-ci ! Alors, on dit merci qui ?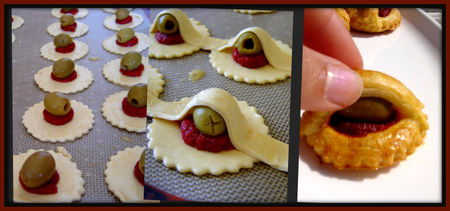 Olive and Tomato Paste "mini-cuttie" Baskets
Recipe by Christophe felder, in "Les Mignardises de Christophe"
For around 20 little baskets
A sheet frozen puff pastry, thawed
1/3 cup tomato paste
20 pitted green olives
1 egg, slightly beaten and salted
Preheat oven 350°F.
Cut small circles in the puff pastry, using a cookie cutter or the edge of a small shot glass. Also cut three long 0.4-inch wide pastry strips.
Arrange the circles on a baking sheet lined with parchment paper (or silicon mat, even better) on 3 or 4 rows. It is important that they are rows. Glaze circles and strips, using a pastry brush, with the beaten egg.
In the center of each circle, put a little tomato paste, the size of a hazelnut. It is better to use a pastry bag, but if you don't have one, use a small spoon.Top the tomato paste with a green olive.
Cover the olives with the pastry strips (see photo above) and press pastry on the sides of the circles. Cut the pastry strip parts between each basket to separate them from one another.
Season with salt and bake for 12 minutes (15 for me, actually). Serve warm or at room temperature.
Mini-paniers aux Olives et Sauce Tomate
Recette de Christophe felder, dans "Les Mignardises de Christophe"
Pour une vingtaine de mini-paniers
200g de pâte feuilletée
100g de concentré de tomate
Une vingtaine d'olives vertes dénoyautées
1 oeuf battu avec une pincée de sel pour la dorure
Préchauffez le four à 180°C.
Découpez des petits cercles dans la pâte feuilletée à l'aide d'un découpoir cannelé de 5 à 6cm de diamètre. Si vous n'avez pas d'emporte-pièce, utilisez le bord d'un verre étroit (genre verre à vodka). Découpez également 3 longues bandes de 1 cm de large.
Déposez ces cercles, en les alignant bien, sur une feuille de papier sulfurisé ou un tapis silpat posé(e) sur une plaque à pâtisserie. Dorez les cercles et les bandes à l'oeuf battu à l'aide d'un pinceau.
Au centre de chaque cercle, déposez une noisette de concentré de tomates à l'aide d'une poche à douille (une petite cuillere peut aussi faire l'affaire). Posez une olive dénoyautée sur chaque noisette de tomate.
Recouvrez les olives avec une bande de pâte feuilletée comme sur la photo (d'où la nécessité d'aligner les paniers). Appuyez bien sur les côtés des feuilletés comme si vous pinciez les olives. Découpez les bandes entre chaque panier, grâce à une roulette ou tout simplement un couteau.
Salez légèrement les feuilletés et enfournez 12 minutes (15 pour moi).
Ces recettes peuvent vous intéresser/ You may also consider :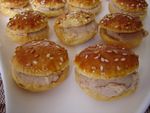 Mini hamburgers au thon et citron confit/ Baby Burgers with tuna dn preserved lemon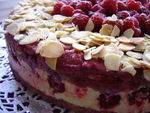 Le Framboisier de Christophe Felder/ Felder's Framboisier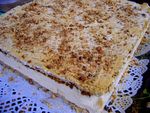 Le Succès Praliné de Christophe Felder/ Felder's Succès Praliné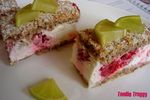 La Dacquoise Citron vert de Christophe Felder/ Felder's Lime Dacquoise

Les Pains au Chocolat de Christophe felder/ Felder's home made Pains au Chocolat