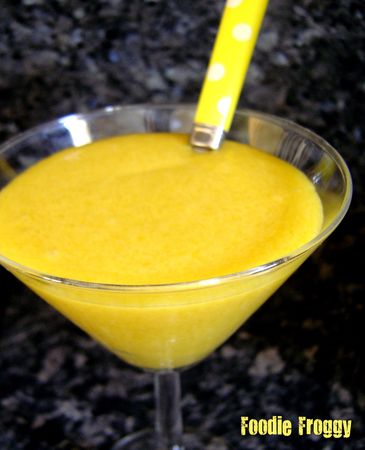 Yes, lemon curd is not the only curd one can make; almost any fruit can do the trick.I have seen plenty of Passionfruit, Kiwi, Lime, Orange, and even Raspberry Curds on foodblogs from all over the world ! As for me, I have opted for Mango as I had two very "ripe" mangoes on my kitchen counter, starring at me every morning like they were begging "what are you waiting for ?". One morning, I decided that "enough was enough" and within 15 minutes, they were transformed into this scrumptious Mango Curd. Yum !
Great, I was then left with one crucial question : what to do with it ? Curds are not commonly eaten in france, so I was a bit skeptical. I knew that in great Britain, they are spread on scones or bread for the traditional afternoon tea, or used as toppings for desserts or yogourts.
To help me, I took a look at all my desserts and tea-time cakes, and this is what I have come up with (click on the words in bold) :
- as macarons fillings (make lemon-flavoured shells)
- as a filling in this Meringue Tart or in these speculoos-based tartlets
- as a substitution for Passionfruit coulis in this trifle
- in accompaniment to home-made amaretti or meringues (perfect to use the leftover egg whites)
- as a topping for a rice pudding
- as a thin layer on top of a panna cotta
- to stuff crêpes, chouquettes or even better, this amazing brioche
- inside and on top of these muffins
- to flavour these madeleines
- and, finally, on top of these cute mini-cheesecakes

Tout d'abord un petit éclaircissement. Autant pour les bloggeurs ou cuisiniers avertis, les curds de toute nature (lemon, passion, kiwi,...) n'ont aucun secret, autant ce mot peut sembler "barbare" à un non initié. Il s'agit d'une crème à base de pulpe ou chair de fruit, de jaunes d'œufs, de beurre et de sucre, que l'on cuit à feu doux jusqu'à épaississement. La plus connue, le lemon curd, est souvent utilisée en pâtisserie pour garnir les tartelettes au citron.
Ayant deux mangues bien "fatiguées", je me suis lancée dans cette confection car maintenant que vous me connaissez un peu, vous savez que j'ai de plus en plus de mal à jeter de la nourriture. L'âge, probablement...En dix minutes, l'affaire était réglée, mais une question demeurait : que faire avec ?
L'usage "classique" veut qu'on l'utilise comme nappage dans des desserts ou yaourts ou, à l'anglaise, tartinée sur des scones ou du pain lors du traditionnel "afternoon tea".
Pour ma part, j'ai passé en revue mes recettes et voici mes suggestions (cliquez sur les mots en gras) :
- comme garniture de macarons (faire des coques parfumées au citron)
- à la place de la crème au citron dans cette tarte meringuée
- dans ces tartelettes crémeuses aux speculoos
- en remplacement du coulis de passion dans ce trifle
- avec des amaretti maison, ou des meringues (l' idéal pour recycler les blancs d'œufs non utilisés)
- en nappage d'un riz au lait
- en couche fine au-dessus d'une panna cotta
- pour farcir des crêpes sucrées, des chouquettes ou mieux encore cette superbe brioche
- à l'intérieur et sur le dessus de ces muffins
- pour parfumer ces madeleines
- ou encore, par-dessus ces mini-cheesecakes...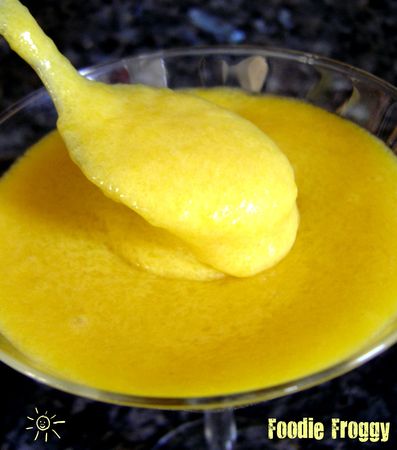 Mango Curd
Recipe courtesy of Joelle
1 1/2 cup Mango flesh
3 oz or 6 tbsp butter (half unsalted butter and half salted butter)
3/4 cup granulated sugar
3 egg yolks

Blend Mango flesh.
In a heavy bottomed pan over medium heat, cook mango flesh and butters until butters are melted.
Add sugar and mix for 2 to 3 minutes.
Lower heat and add slightly beaten egg yolks, little by little, stirring constantly. Stir for 10 minutes until curd thickens.
Remove from the heat and let cool. Strain the curd through a sieve to obtain a smooth texture.
When at room temperature, pour in a jar and refrigerate.

Mango Curd
Recette de Joelle
250g de chair de mangue bien mûre (soit 1 grosse ou 2 moyennes)
90g de beurre (50g doux et 40g demi-sel)
150g de sucre
3 jaunes d'oeufs

Mixer la chair de la mangue.
Dans une casserole, chauffer à feu moyen la chair mixée et les beurres.
Quand les beurres sont fondus, ajouter le sucre. Mélanger pendant 2 à 3 minutes.
Baisser le feu sur faible et ajouter petit à petit les 3 jaunes légèrement battus, sans cesser de remuer. Continuez à mélanger pendant 10 minutes jusqu'à épaississement.
Retirer du feu et laisser refroidir. Passer le curd à travers une passoire afin d'obtenir une texture bien lisse.
Verser dans un pot et mettre au frais.