Chestnut Velouté with Cep flavored Poached Meringues,
Velouté de Châtaignes et Meringues pochées aux Cèpes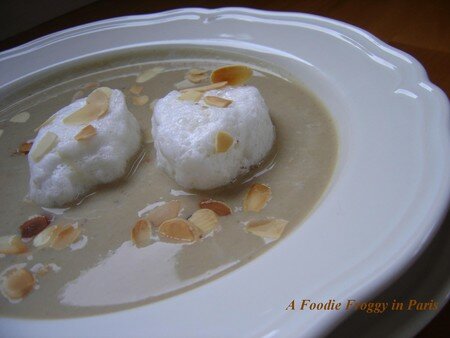 I really need to get back to reality ; my brain is still in heaven after all the nice comments and emails I received about my Starry Lemon Meringue Pie ! Thanks a bunch for all those lovely words !
So, what's up today ? A shift of dessert into a savory dish !! Sorry, I can't help it, I love to do that. Remember my savory Cheesecake with Salmon and Beetroot Coulis ? Well, my craziness has stricken again ! My "victim" today is a typical French farm dessert : Ile Flottante (or Floating Island). It usually consists of an "island" of sweet meringue floating in a "sea" of vanilla custard. But today, it has been transformed into a Chestnut Velouté with Cep-flavored Poached Meringues. And as if it was not enough and to make it look even more confusing, I added some toasted sliced almonds !!
The verdict : the contrast between the fluffiness of the meringue and the toasted almonds was great and the Velouté really tasted fantastic ! Don't you think this recipe could make a very romantic appetizer for Valentine's day ?
Oulala, j'ai un p'tit peu d' mal à redescendre sur terre, moi, après tous ces merveilleux commentaires et emails au sujet de ma Tarte au Citron Meringuée Etoilée ! Jamais recette n'avait suscité autant d'émois sur ce blog. Encore un grand merci à toutes et tous !
Aujourd'hui, un détournement de dessert, cela faisait longtemps... Souvenez-vous du Cheesecake au Saumon et coulis de Betterave : et bien mon esprit tordu a encore frappé ! Cette fois-ci c'est le dessert fermier par excellence, l'île flottante, qui en a fait les frais : hopla , transformée en Velouté de châtaignes et Meringues pochées aux Cèpes. Quelques amandes effilées torréfiées pour couronner le tout et ajouter encore à la confusion ! J'ai même failli décorer l'assiette de filets de caramel durcis, mais cela aurait été « too much », non ?
Verdict : la sensation en bouche de la meringue aérienne mélangée au velouté était totalement inédite et très amusante. Et c'était délicieux !
Ce velouté est soumis au concours « Soupe qui peut ! » du site « 750g »et au concours "le sucré devient salé".

Chestnut Velouté with Cep-flavored Poached Meringues
For 6 servings
Chestnut Velouté
0.9 lb cooked chestnuts, canned or vacuum packed
2 or 3 Portobello mushrooms, cleaned and finely sliced
2 cups fresh milk
2 shallots, peeled and minced
A Bay leaf
4 cups chicken broth (home made, read here, or prepared with chicken cubes)
Olive oil
Cep flavored Poached Meringues
5 egg whites, room temperature
1 pinch of salt to whip the whites
5 g of salt to season
¾ oz Dehydrated Cep mushrooms
Decoration
3.75 oz (1/2 cup) Thinly sliced almonds
Chestnut Velouté
Make the chicken broth : read recipe here or make with chicken cubes.
In a large sauce pan, cook the shallots and minced Portobello mushrooms with one tablespoon olive oil. Add the bay leaf. When shallots and mushrooms are cooked through, add the chestnuts and cover with fresh milk. Bring to a simmering point. Then add half the chicken broth (2 cups).Cover and cook for 20 minutes or until chestnuts are melty (check with a knife). Remove the bay leaf and transfer to a large blender. If you have a small blender, proceed in two steps. Process for one to two minutes until the soup is smooth. Taste and add more chicken broth (or not), according to the consistency you like.
Transfer back to the pan, season to taste. You will reheat the soup at the last minute (do not bring to a boil, just to a simmering point).
Cep flavored Poached Meringues (12)
Bring salted water (about cups) to a simmering point in a large sauce pan. .
Put dehydrated mushrooms in an electric mixer. Process until reduced to powder. Pass he powder through a sieve to remove coarse parts.
Beat egg whites and a pinch of salt until they form soft peaks, using an electric beater.
Add the remaining salt, and powdered Ceps. Continue beating until stiff. Scoop out portions of egg whites by the large spoonful, and slide into simmering water. Poach for about 3 minutes and then turn with a slotted spoon. Poach on other side for another 3 minutes.
Repeat the operation 4 by 4 portions until you have a total of 12 poached meringues.
Toasted Sliced Almonds
Heat oven 400°F. Arrange almond slices on a single layer over a pastry sheet lined with parchment paper. Toast until golden (watch carefully).
In each soup plate
Spoon some Velouté, arrange poached meringues on top and sprinkle with toasted almonds.
Velouté de Châtaignes et Meringues pochées aux Cèpes
Pour 6 assiettes
Velouté de Châtaignes
400g de châtaignes cuite, sous vide ou en bocal
2 ou 3 Champignons de Paris, nettoyées et émincés
½ litre de lait frais entier
2 échalotes, pelées et émincées
Feuille de Laurier
1 litre de bouillon de Poulet maison (lire recette ici) ou confectionné à partir de bouillon cube
Huile d'olive
Meringues pochées aux Cèpes
5 blancs d'œufs, à température ambiante
1 pincée de sel pour monter les blancs
5 g de sel pour assaisonner
20g Cèpes déshydratés
Décoration
100g Amandes effilées
Velouté de Châtaignes :
Préparer 1 litre de bouillon de poulet selon cette recette ou à l'aide de bouillon cubes.
Dans une grande casserole, faire revenir les échalotes et les champignons de Paris avec une CS d'huile d'olive, sur feu moyen. Ajouter la feuille de Bay.
Quand les échalotes et les champignons sont tombés, ajouter les châtaignes et recouvrir du lait frais. Amener à frémissement.
Ajouter ensuite la moitié du bouillon de poulet chaud. Couvrir et faire cuire pendant 20 minutes, ou jusqu'à ce que les châtaignes soient tendres. Retirer la feuille de bay.
Transférer délicatement le contenu de la casserole dans un blender de grande contenance (s'il est trop petit, procédez en deux fois. Si vous n'avez pas de blender, utilisez un mixer plongeant directement dans la casserole). Mixer pendant une à deux minutes. Goûter et ajouter ou non du bouillon selon la consistance désirée.
Transférer le contenu du blender dans la casserole, et rectifier l'assaisonnement. Vous réchaufferez la soupe au dernier moment (sans faire bouillir).
Meringues pochées aux Cèpes (12) :
Mettre de l'eau salée à chauffer dans une grande casserole.
Mettre les cèpes déshydratés dans un mixer électrique. Les réduire en poudre et les passer à travers une passoire afin de n'avoir que de la poudre fine. Ne soyez pas rebuté(e) par l'odeur, les champignons déshydratés, cela ne sent pas bon, mais vous verrez que l'odeur disparaîtra au profit du goût.
Monter les 5 blancs en neige ferme avec la pincée de sel. Des blancs d'œufs à température ambiante monteront mieux que des œufs froids directement sortis du frigo.
Ajouter le reste de sel et les cèpes en poudre et battre encore un peu. Façonner 4 quenelles de blancs à l'aide de deux cuillers à soupe. Les disposer délicatement sur l'eau salée frémissante. Faire cuire 3 minutes de chaque côté et disposer sur du papier absorbant. Répéter l'opération 2 fois avec 4 quenelles à chaque fois, vous en aurez donc 12 en tout (2 par assiette).
Amandes effilées torréfiées
Allumer votre four Thermostat 200°C. Disposer les amandes en une seule couche sur du papier cuisson. Surveiller attentivement jusqu'à ce que les amandes soient dorées.
Dressage de chaque assiette
Verser 2 louches de velouté, disposer 2 « Meringues pochées» par-dessus et parsemer d'amandes effilées torréfies.